In the heart of one of the world's great mountain ranges, the Sierra Nevada, lies the crown jewel of the American National Park system – Yosemite National Park. This temple of granite, ice, water, forest, and meadow boasts some of the most iconic landscapes and destinations in the American West, including Half Dome, El Capitan, Yosemite Falls, Glacier Point, and dozens more. This is a comprehensive list of the ten best hikes in Yosemite.
There's no shortage of great hikes in Yosemite, but we here at Modern Hiker have put together a collection our favorite hiking experiences in the park. These experiences range from all-day treks to the summit of Half Dome to quiet walks around meadows in the heart of Yosemite Valley to the second highest point in the park at Mount Dana. Links to writeups for each hike can be found embedded in the title of each subsection.
So, if you hear the mountains calling, and you decide you're finally going to stop letting them go to voicemail, consider this your starting point for planning a memorable adventure to John Muir's stomping grounds and America's greatest mountain paradise.
Yosemite's marque hike features a pair of stunning waterfalls, stellar views, and a summit ascent to the most iconic formation in the park – Half Dome. This highly sought-after hike requires a fair amount of red tape, but lucky souls who emerge from the permit process with permit in their heavy-duty gloved hands get the chance to pull themselves up the fabled cables to the summit of Half Dome. There's a reason this is on so many lists of the best hikes in Yosemite.
Yosemite's largest, most beautiful, and most historically significant sequoia grove features hundreds of mature trees, history courtesy of the advocacy efforts of Galen Clark and John Muir, and the sort of forest rambling that makes sequoia groves so sublime. The Grizzly Giant is the star here, but the entire grove, including the California Tunnel Tree, Maripoa Grove Cabin, Wawona Point, and several other unique features have much to offer the dendrophiles among us.
Although this gentle route doesn't ascend any great heights or traverse epic terrain, it does visit a trio of meadows in the heart of Yosemite Valley beneath the shadow of Yosemite Falls, the park's tallest waterfall. Wildflowers proliferate in spring, while fall color graces every corner in October and November. Views of Yosemite's famous landmarks, including Yosemite Falls, Sentinel Rock, Half Dome, Glacier Point, and the Three Brothers, make this the best destination for anybody looking for a pleasant stroll in Yosemite Valley. Our route also stops at Lower Yosemite Fall, another iconic destination in the park's embarrassingly rich roster of iconic destinations.
Named for an American President who made a game effort to enjoy some open air exercise, this promontory juts into space above Yosemite Valley, revealing some phenomenal views ranging from El Capitan to Mount Hoffman. While many of the hikes on this list are pretty strenuous and involved, this easy trail provides a huge scenic payoff and makes it one of the best hikes in Yosemite.
This delightful one-way route traverses Yosemite Valley's southern rim from Glacier Point to Tunnel View. Along the way, the Pohono Trail stops at a number of world-class viewpoints, including Taft Point, Dewey Point, Stanford Point, Crocker Point, Old Inspiration Point, Inspiration Point, and Artist Point. Each point offers a different perspective on the valley's classic landscape, and this route also functions as a great overnight hiking trip.
The sibling to the Pohono Trail, this route skirts the northern rim of Yosemite Valley, stretching from North Dome, Yosemite Point, Yosemite Falls, Eagle Peak, and El Capitan. Best done as a three-day hike with lots of time set aside for gawking at Half Dome, Clouds Rest, and the Clark Range, this one-way hiking route offers some of the best views in the park.
With no fewer than five named waterfalls and countless unnamed cascades, this full-day adventure is a waterfall lover's delight. A short stint on the Pacific Crest Trail leads through forests, meadows, granite outcrops, and long passages along the Tuolumne Rivers, which drains a vast watershed and thus carries prodigious amounts of water during early spring. Cap this route off with an overnight stay at the Glen Aulin High Sierra Camp to add a touch of luxury to the adventure.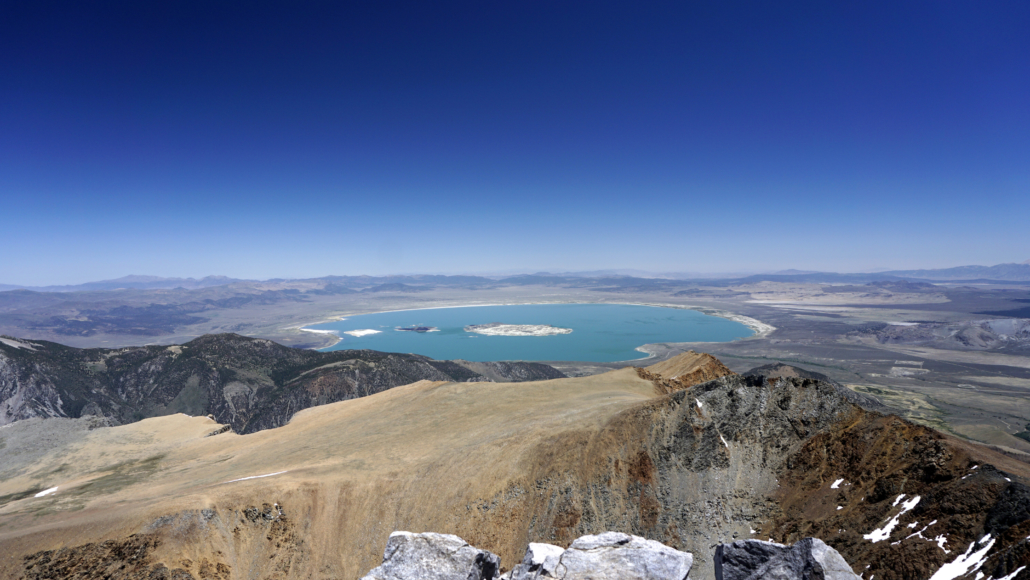 Yosemite's highest point, Mount Dana, is surprisingly accessible. A short, but steep and rocky hike from Tioga Pass Entrance Station leads to panoramic views encompassing the Mono Basin, the eastern half of Yosemite National Park, and a multitude of other alpine landmarks crowning the Cathedral Range. Hikers will want to prepare for this route, as altitude issues can be severe without proper acclimation. With the right amount of preparation, this is an alpine experience you won't soon forget.

This challenging, winding route climbs from the bottom to the top of one of the tallest waterfalls in the world, Yosemite Falls. There are numerous up-close-and-personal looks at the upper falls, as well as a heart-stopping peak over the lip of the falls from the very top. The trip to the top of the falls alone would be enough to land this hike on any top ten list, but the additions of Yosemite Point and Eagle Peak, which offer some terrific views of Yosemite Valley, makes it a certified lock for one of the best hiking experiences in the park.
If you've got the Half Dome blues because you couldn't get a permit, or if you're simply looking for an outstanding hiking experience that may just be a little more enjoyable than Half Dome, consider this full-day ascent of Clouds Rest. This glacial arete scrapes 10,000′, and owing to its central location in the park, the summit views encompass everything from the Merced River Gorge to Mount Conness on the Sierra Crest.
Find Accommodations Near Yosemite National Park:
Tags: Artist Point, Bridalveil Creek, California Falls, Cascade Creek, Cathedral Range, Clouds Rest, Cooks Meadow, Crocker Point, Dewey Point, Eagle Peak, El Capitan, four mile trail, Giant Sequoias, glacier point, Glen Aulin, half dome, High Sierra Camps, inspiration point, LeConte Falls, Leidig Meadow, Lower Yosemite Fall, Mariposa grove, Merced River, mist trail, nevada falls, north dome, Old Inspiration Point, Pacific Crest Trail, panorama trail, Pohono Trail, Sentinel Meadow, sierra nevada, sierras, Stanford Point, Sunrise Lakes, Taft Point, Tamarack Flat, Tenaya Lake, Tunnel View, Tuolumne Falls, Tuolumne Meadows, vernal falls, Waterwheel Falls, wawona, White Cascade, Yosemite, Yosemite Falls, Yosemite National Park, Yosemite Point, Yosemite Valley