What comes to mind when you hear the words "San Diego County?"
Surfboards and Shamu? Wild Animal Parks and microbrews? Beaches and navy bases? Tom Cruise on a motorcycle? Staying classy?
Even though this is a city seemingly obsessed with getting outside and soaking in every single molecule of vitamin D possible, many residents of the county don't know what secrets lie hidden in the folds of their massive, rugged, and extremely diverse backcountry. It is entirely possible to visit a palm oasis, a mixed-conifer forest, a boulder-studded peak carpeted in chaparral, a riparian gallery forest, a stretch of pristine beach, and one of the rarest pines on the planet all within a few hours of driving.
While this list is by no means an exhaustive survey of the great hikes in the county, this is a great place to start for novices to San Diego or for hiking enthusiasts looking to venture beyond the heavily-developed coast.
COASTAL

Between the shimmering blue water of the Pacific and the unrelenting drone of I-15, hikers can find long stretches of pristine beaches, lush riparian strips nestled into the city's vast complex of canyons, the famous Torrey pines atop the bluffs of Del Mar, and numerous intertidal lagoons that also feature world-class bird watching.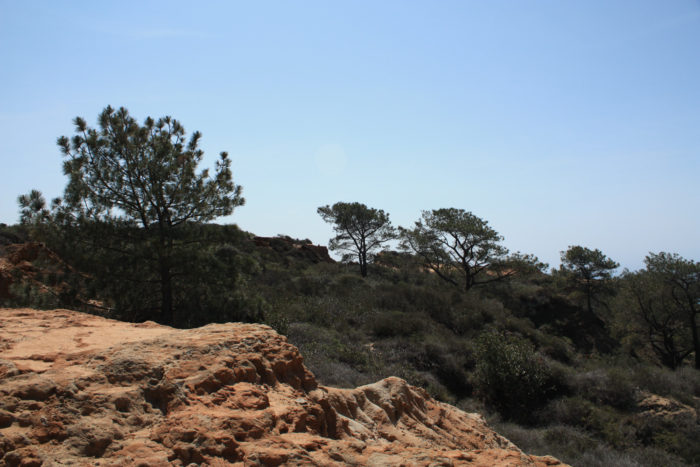 These two separate locations are part of one over-arching park designed to protect the rare Torrey pine, which is believed to have the smallest distribution of any pine in the world. In addition to the trees, you'll enjoy sculpted sandstone bluffs with views over the infinite blue of the Pacific as well as a chance to walk along a stretch of primeval beach protected by the state.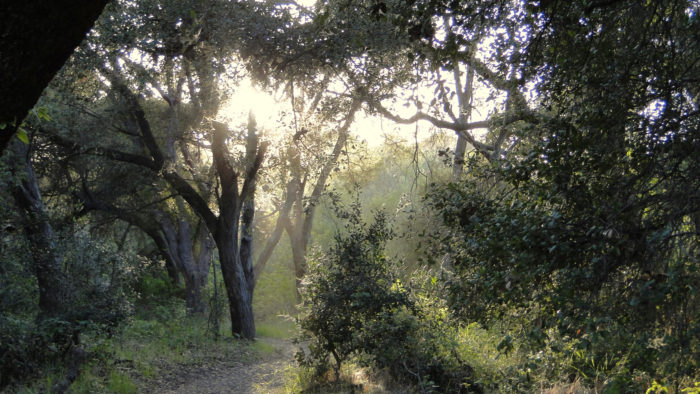 The entirety of Penasquitos Canyon runs several miles from the inlet of Penasquitos Lagoon to I-15 at Knott Grove, but it is the section between Black Mountain Road and the waterfall that shines brightest. You will pass through dense riparian vegetation that is so lush that it sometimes gets confused for land in Florida. After the cool shade of oak trees and sycamores, you get to enjoy a cascading waterfall spilling over an outcrop of volcanic rock.
San Diego has lost approximately 90% of its former wetlands, but the intertidal lagoon and marsh at Batiquitos Lagoon remains the best preserved in the area. This smooth, easy 3.2 mile hike is inviting for hikers of all ages and skill levels. It's also a haven for dog walkers.
This hidden gem in Fallbrook is a popular local hotspot that escapes the notice of the rest of the county due to its relative remoteness. Here, you can enjoy the last undiverted and undammed river in Southern California as well as beautiful swimming holes, park-like oak woodlands, and even a dab of late fall color from the numerous cottonwoods and sycamores lining the river.
FOOTHILLS

Inland San Diego comprises a vast and sparsely developed patchwork of National Forest, Indian reservation, and low-density suburban sprawl punctuated by rugged chaparral-clad, boulder-studded peaks that offer epic views. Due to the difficulty of many of these hikes combined with summertime heat, the inland region is best hiked during the cooler months. Some of these hikes are considered strenuous and are not suitable for beginners. Whether you hike in the cooler winter months or the summer, bring a lot more water than you think you need.
Sprawling Daley Ranch is generous with its natural beauty throughout its boundaries, but no section is more beautiful than the Engelmann Oak Loop. Here, the views, oak woodlands, and a stretch of rare Engelmann oaks combine for one of the most scenic, peaceful, and rewarding hikes in the inland region.
Alternatively known by the misnomer "Potato Chip Rock," this grueling climb through a wilderness of granitic boulders rewards the hiker with staggering views across the western half of the county as well as a chance to pose for the classic shot atop Potato Chip Rock. This strenuous 6.6 mile hike is not recommended for beginners.
Although the falls have been overshadowed by tragedy and red tape during recent years, the fact remains that the falls and the San Diego River Gorge within which they are found are one of San Diego's iconic and essential inland hikes. Here, you can enjoy a descent into a spectacular gorge across San Diego's major river before reaching the cool shade of a grotto into which Cedar Creek flows. This is also a strenuous hike not recommended for beginners.
This rugged beast of a hike is not just one of the best – it's one of the hardest. The steeply inclined trail runs up, down, up, down, and finally back up again before reaching the panoramic summit views before inviting you to climb down, up, down, up, and then finally down. It's an exhausting journey that sounds a lot more like the cheat codes to an 80's Nintendo game, but the views and sense of accomplishment are hard to top.
Perhaps as popular as Mt. Woodson and Cowles Mountain, this moderate summit hike invites devotees from all over the county. While the terrain and views are similar to those found on Mt. Woodson, the easier route makes it more suitable for novice hikers and is a perfect place to start for those looking to cultivate a taste for peak-bagging. Bonus points for the viewfinder at the summit.
MOUNTAINS

San Diego's mountains don't reach the same soaring heights as the San Gabriels, San Bernadinos, and the San Jacintos, but they offer a wealth of natural beauty that takes even the most jaded San Diego hikers by surprise. Here, you will find trickling streams, gently rolling hillsides studded with black oaks and conifers, vast meadows, and jaw-dropping views over both the coast and the desert.
Lower Doane and French Valleys in Palomar Mountain State Park comprises the single most beautiful landscape in the county, if not Southern California. If one could drop a Yosemite Valley meadow upon a rolling ridge with views so good that the National Forest operates a pair of fire lookouts from the area then fill it with mule deer, relict species of banana slugs, and beautiful fall color in season, Lower Doane and French Valleys would be the result. This easy trail is the perfect respite from the hot, arid interior and the monotonously mild coast.
Nowhere else in San Diego, can you merge a cool forest of pine and oak, expansive meadows, a lake, views that stretch all the way to Arizona, and a stretch of the Pacific Crest Trail onto one 10 mile loop. The BLT offers all of that, plus excellent fall color during late October to mid-November. For an added bonus, take the short spur trail to Monument Peak to experience epic-view overload.
Volcan Mountain proves that there is more to Julian than pie and apples. This gently rolling mountain looks like it belongs on the highlands of the Central Coast. The numerous black oaks on the slope provide prime fall color, while the views from the summit offer the unique experience of being able to see the shimmering cobalt arc of the Pacific and the arid badlands of Anza-Borrego Desert State Park at the same time.
While Stonewall Peak still suffers from the lasting effects of the worst fire in California history, the 2003 Cedar Fire, the trail's popularity has not diminished, and nor have the views. After an easy hike to the summit, you can enjoy views over the rolling Cuyamaca Mountains combined with views over the desert that reach the Salton Sea.
This short, easy hike features everything from Cuyamaca's best preserved pine and oak forest, a tranquil lake with excellent bird-watching and fishing, a stroll around a wooded island, fall color in season, and a dose of gold rush history.
DESERT

San Diego's desert is mostly contained within the sprawling Anza-Borrego Desert State Park. While the Colorado Desert featured here does not give up its secrets easily, the landscape contained herein offers scenes of sublime beauty and disquieting vastness. It's not all sand and cacti, as ABDSP features oases, badlands, geological oddities, waterfalls, pinyon-juniper woodland, and views for days.
Waterfalls, ferns, and cool shade are not the sort of things you'd associate with the low desert, yet you'll find all of that and then some at Lower Hellhole Canyon. Fed by springs and rain run-off from the highlands of the San Ysidro Mountains, this idyllic spot is a magnet for water loves in a parched, arid land.
This popular ecological island and 5,370′ summit features a beautiful patch of pinyon-juniper woodland to go along with its mind-blowing 360 degree views over the southeastern corner of Southern California from Mt. San Jacinto, west to the Laguna Escarpment, east to Arizona, and south to the vast dry lakes of Northern Mexico.
This memorable hike passes through a gap between two mountain ranges that appear to have been cut as neatly and cleanly as a slice of birthday cake. After passing through the Split and the geological oddity of the Anticline, you will emerge on a rippling landscape of mud hills capped by fossilized coral reefs and a garden of wind caves. This place is as weird as it is gorgeous.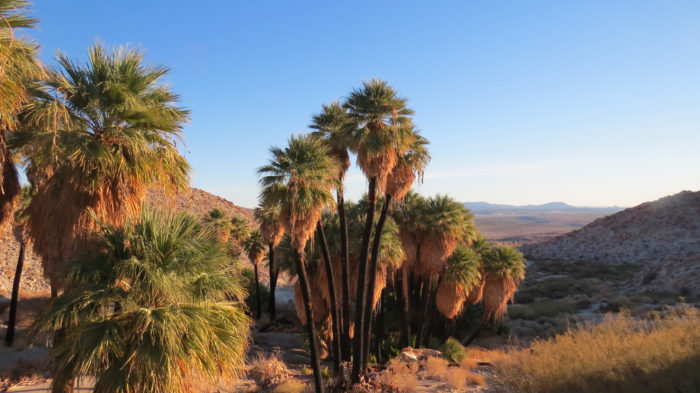 Fed by water seeping up from fissures along the Elsinore Fault, Mountain Palm Springs supports a number of the finest California fan palm groves in Southern California. This less visited corner of the park also features the rare elephant tree, which Native Americans believed to have magical powers so intense that the average person was forbidden to touch it.
This is the quintessential hike in Anza-Borrego State Park. It travels into a deep, spring-fed canyon with abundant water nourishing a grove of palms. This is also where you're most likely to spot bighorn sheep (known in Spanish as "Borrego") that have become somewhat inured to human presence.
Find Accommodations Near San Diego: