North Coastal San Diego County – more popularly known as "North County" while managing to exclude everything east of the 15 and north of the 56 – contains some of the nicest places to live in Southern California. There are beaches, safe neighborhoods, good schools, great yoga studios, and shopping galore. However, what North County does not have a lot of is great hiking. Coastal sage-scrub unfortunately does not generate revenues the way high-value developments do, and so it was inevitable that many of the natural features on the north San Diego coast have been partially or completely lost.
The Batiquitos Lagoon in Carlsbad is a notable exception, with groves of eucalyptus trees, sun glinting off the lagoon, and the presence of a wide variety of birds. Sure, this all comes with a golf course, the sound of the freeway, and the occasional power walker talking loudly on a cell phone – but with so much of North County transfigured into comfortable suburbia by the wizards of real estate, what nature remains becomes that much more valuable.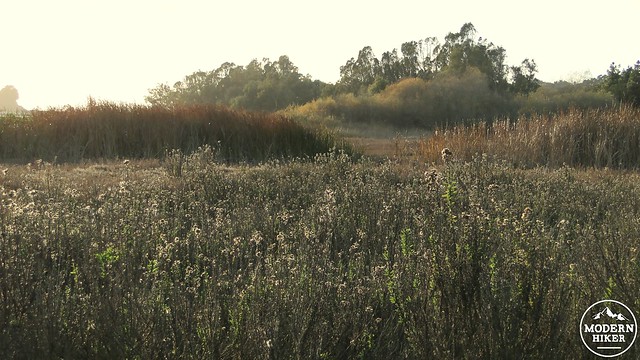 Sunset walks along the lagoon show how lovely the place remains in spite of man-made incursions. The lagoon has always been popular with people, as Native Americans made their home along its banks. The constant influx of seawater leads to a productive marine ecosystem. If you look in the right spots, you may even find old piles of mollusk shells left from the people who lived here before the conquistadors claimed the land in the name of Spain. According to the Batiquitos Foundation, '"Batiquitos" is probably a regional Mexican word meaning, "a shallow trough formed in dirt used as a watering hole or for the collection of fresh water.' While that's a very dull way to put it, watering holes mean food, and food meant life. Besides, the temperature never seems to go above 72, and the surfing isn't bad nearby. People nowadays pay millions for that.
The trail is well-maintained and well-traveled, thanks to Audobon's Batiquitos Lagoon Society. It is impossible to get lost, and so this is a great trail for anybody of any skill, inclination, age, or physical ability. And while this pales in comparison to the more dramatic trails in SoCal, the lagoon is a good way for everybody to enjoy nature. You'll see a wide variety of people of all ages walking the lagoon in the evening when the light is best. And while I normally shy away from crowds (I'm looking at you, Cowles Mountain), the pace is so laid back here that it turns into a relaxing evening near the beach while still getting the blood flowing. I'll drive miles and miles for the most challenging hikes, but I hike to have fun, and being relaxed is pretty damn fun.
Follow this simple trail description. Start at the trailhead, walk along the wide path, and turn around when you're ready. The nearly 3.5 mile (out-and-back) length is fun if you want to jog. Looping back where the trail forms a small lasso is also enjoyable. Along the way, you'll see the occasional side trails leading off to alternate neighborhood trailheads, but there's no need to move further from the water. You'll pass over a few trickling streams and through a few groves of eucalyptus as the trail weaves along the shoreline. You'll likely see all kinds of birds, from pelicans to large egrets who nest in the trees. You'll definitely see a wide variety of canine breeds, as this is a haven for dog-walkers. All the while you can stroll casually, which doesn't happen often on a hike. Folks are often in such a hurry to get from A to B. Sometimes, it feels nice to walk serenely along a path smooth enough to roller skate on.
For people in North County, this is not a bad way to spend a morning or an evening, provided the traffic isn't too snarled. For people further afield, this is a good place to get out and stretch the legs before you get to your destination. Many people who visit San Diego don't usually get east of the 15, and for those who don't have cause to go out there, this is a great way to catch a glimpse of some of San Diego's rich biodiversity. I've developed great affection for the place. Even though I love much more to be in places that block out all signs of the outside world. It's a relaxing place, and most people these days can use a lot more of that.
Things to know:
– Bikes are not allowed on this trail.
– This is a popular spot for bird watches, as the salt marsh ecosystem attracts a number of different species. If you enjoy birdwatching, this is one of San Diego's better spots.
– There are multiple entry points for this trail, and it's pretty easy to see where side trails join the main trail. As the side trails all travel uphill, you will know that if you start to climb, you are probably leaving the main trail and should turn back.
– The Batiquitos Lagoon Foundation is an excellent source of information for those looking to learn more or donate their time.
Camping
Kid-Friendly
Shade
Views / Vista
Water Features
Browse all 9 images
Trail Conditions
The trail is about as well-maintained and easy to follow as it gets. There are almost always people on the trail, mostly locals stretching their legs. It is exceptionally safe at this location and easy to follow the route.
How to get there
From Interstate 5, exit at Poinsettia Lane. Head east from the freeway, and then turn right at Batiquitos Drive. Turn right again onto Gabbiano Lane and follow it to the cul-de-sac. Park in either the small lot or on the street.