When San Diego County residents seek options for great backpacking trips, they often look to the north for hikes as far as the Sierra Nevada Mountains or as close as the San Bernardinos. Some of the savvier residents know that great backpacking options can be found right in their backyard. This should come as no surprise, since San Diego County features the greatest biodiversity in the nation, as well as a National Forest, the largest State Park in California, and an impressive array of habitats open to dispersed camping.
For SoCal residents seeking great backpacking options nearby, we at Modern Hiker offer up some of our favorite San Diego backpacking trips to help you narrow down your options.
For those considering backpacking in San Diego, please review this quick primer on our local climate. Interior San Diego can become dangerously hot. This is particularly true of Anza-Borrego Desert State Park, but even the local mountains at higher elevations can occasionally reach triple digits during July, August, and September. Most of these routes are at their best in fall, winter, and spring. These seasons line up with the High Sierra's off-season, which allows Southern Californians to backpack all year long.
Cuyamaca Rancho State Park's 26,000 acres include habitats as diverse as riparian zones, mixed-conifer forests, oak woodlands, grasslands, and chaparral. While most areas of the park are open only to day-use, the park does feature two backcountry campgrounds at Arroyo Seco Primite Camp and Granite Spring Primitive Camp. Our route exploring East Mesa leads through rolling grasslands rich with wildlife to Granite Spring Primitive Camp, which features over half-a-dozen campsites and one large group site. There are also reliable water sources along this route to ease the burden of schlepping your water.
San Diego County's oldest and largest Federal wilderness area, encompasses Agua Tibia Mountain, a conifer-crowned-summit whose flanks are cloaked in old-growth chaparral. A 20-mile loop encircles Agua Tibia Mountain by way of the Dripping Springs Trail, the Magee-Palomar Road, and the Wild Horse Trail. There are no reliable water sources on this route, which means you will have to bring all the water you need. Hikers should also note that the chaparral on the west face of Agua Tibia Mountain can become overgrown, making passage nearly impossible. We update this blog regularly from information gained from trail volunteers who work on keeping the vegetation cleared.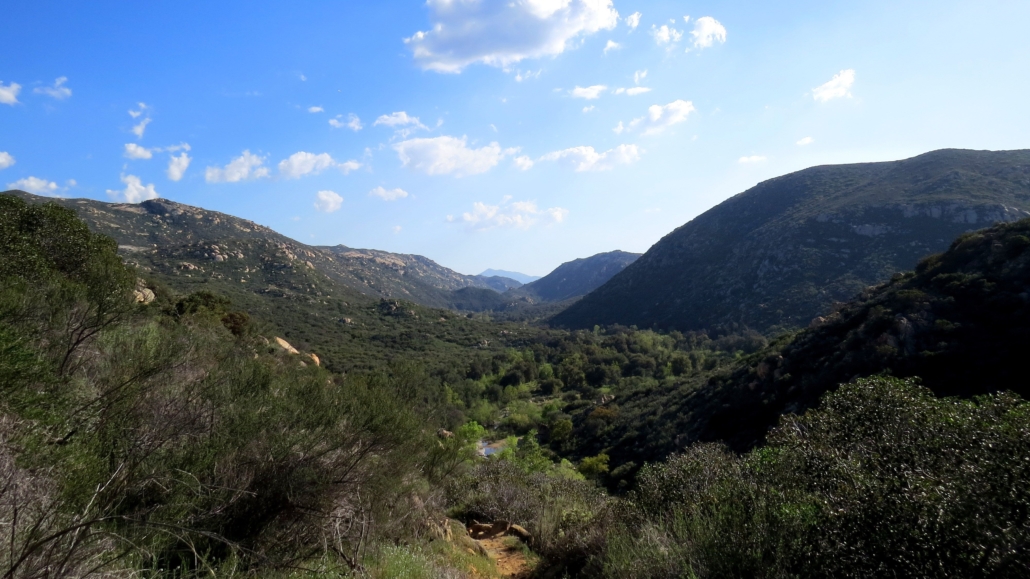 This 15.6 mile point-to-point route travels through the heart of Cleveland National Forest's Pine Creek Wilderness. The Secret Canyon Trail follows Pine Creek, which rumbles along melodiously through winter and spring to provide a reliable source of water. This route can become dangerously hot and dry during summer and early fall, and the best times to visit are generally in March and April. In addition to reliable water, there are some interesting historical features along the way, including an old flume grade that was intended to carry water from the Cuyamacas to the city of San Diego.
This monster of a hike ranks high on the list of toughest hiking experiences in San Diego County. This 21 mile hike gains 8,300 feet of elevation over rough terrain with no formal trail. There's no water anywhere to be found, and the sun exposure is relentless. This isn't a casual endeavor, but for those skilled enough, prepared enough, and determined enough, Rabbit Peak is the ultimate backcountry experience in Anza-Borrego Desert State Park.
This island in the sky towers thousands of feet above the desert floor and occupies a spot roughly in the center of Anza-Borrego Desert State Park. The flat summit features numerous campsites and comfortable boulders from which you can watch the sun sink over the Cuyamacas into the Pacific. Sunrises are also sublime here. Note that the trail is informal, the road is rough, and there is no water to be found along the route.
San Diego County contains roughly 120 miles of the Pacific Crest Trail, including the Southern Terminus at Campo. There are only a few spots in the county where the PCT runs along a reliable water source for any length of time, and of those spots, the segment along Agua Caliente Creek might be the prettiest. After an undulating approach through mature chaparral, the PCT follows a riparian corridor along Agua Caliente for a couple of miles, stopping at a number of good campsites. Be aware that if you backpack here during spring, you will end up competing with PCT hikers for campsites.
Caliente Wilderness
One slated for wilderness study, this rugged drainage above Agua Caliente Creek features everything you'd hope to find in a wilderness area: silence, solitude, and beauty. A delightful stretch of the PCT climbs away from Warner Springs into a rocky highlands dominated by chaparral and featuring fantastic views of San Diego's highest point, Hot Springs Mountain. There's no reliable water on this route, although in wet years there might be running water in an oak-dotted swale in the center of the valley.
This rugged ridge divides Borrego Valley from San Felipe Valley, and it boasts stellar views, spring wildflowers, and abundant opportunities for camping. Unlike most routes in Anza-Borrego, there's actually a discernible trail here, which minimizes some of the usual risks and challenges with cross-country navigation. Cap the route off with a scramble to the top of Wilson Peak to enjoy far-ranging views across the Anza-Borrego Desert.
While the name of this mountain isn't exactly creative (it's the highest point in the Palomar Mountains, hence, "High Point") the scenery is phenomenal. There are two potential water source (you will definitely want to filter them though), and there are a number of dispersed campsites near the summit. The views are the principal attraction – those views are so good that Cleveland National Forest continues to operate a fire lookout tower from spring to winter due to the peak's nearly 360-degree views across most of Southern California.
Much like the Caliente Wilderness, Barker Valley is too small for official wilderness designation, but it retains the look and feel of a true wilderness. The fledgling San Luis Rey River runs through the heart of the valley, providing a water source through winter, spring, and occasionally early summer. There's an old stone weir at the end of a game trail that once served as a test site for hydroelectric power. Campsites abound in the heart of the valley not far from the river.
Find Accommodations Near San Diego:
Tags: Agua Tibia Loop, Agua Tibia Wilderness, Anza-Borrego Desert State Park, Backpacking, best hikes in san diego, Cleveland National Forest, Cuyamaca Mountains, cuyamaca rancho state park, East Mesa Loop, Pacific Crest Trail, Palomar Mountains, Peninsular Ranges, Pine Creek Wilderness, Rabbit Peak, San Diego County, San Ysidro Mountains, Santa Rosa Mountains, Secret Canyon, Vallecito Mountains