"How can I see the Hollywood Sign?"
It's perhaps the most frequently asked question of visitors to Griffith Park. The Sign's increasing popularity – combined with the increased visitation in the park – has wrought more than its share of issues on L.A.'s unique urban wilderness.
Until a few years ago, Griffith Park had few trail signs and out-of-date park maps. Visitors turning to the internet or GPS for directions were often sent down narrow, winding residential roads built in the 20s and 30s that could barely handle modern automobiles, let alone throngs of tourists looking to snap selfies and see the Hollywood Sign.
Nobody was happy.
So a former City Councilman lobbied our information overlords to route anyone looking for the Hollywood Sign over to Griffith Observatory, instead – a place the L.A. Times said "offers a nice view, but … certainly not the only view or even the best view. It just happens to be the most politically expedient view."
After some fits and starts, increased crowding at the Observatory led to a new paid parking system that funded a more frequently-run DASH shuttle into the park from the nearby Los Feliz neighborhood and a Red Line Metro stop – a welcome move toward making more parts of Griffith Park accessible without a car. But people still wanted to get close to see the Hollywood Sign, so cars kept coming, followed by raised tensions, complaints, lawsuits, and locked access gates.
All of this stress because we can't seem to find a good way to get people in one of America's most park-poor cities to its largest, most rugged, and most centrally located park without a car.
So one day I wondered: how many places could you actually hike to see a good view of the Hollywood Sign … and could you reach all of them in a day without bringing a car to a place that would bother somebody?
After nearly 14 miles on trails, ride-shares, trains, and DASH shuttles, here are 16 spots we got nice views of That Famous Sign — with photos and selfies so you can see exactly what kind of vista you can get from each.
See the Hollywood Sign from Hollywood and Highland
Distance from Sign: 2.4 miles
Quality of View: Fair. This view has the most urban development and is quite a ways from the Sign itself, but it definitely has its own charm
Selfie Quality: You'll have to explain where the Sign is
Crowd Size: Tourist Trap
How to Get There: Metro bus lines 212, 217, 222, 237, 312, Rapid 780, Red Line subway, DASH Hollywood, Paid Parking
Noteworthy: Need to go shopping at American Eagle Outfitters, too? You're all set here.
I happily left my car in my neighborhood and began this adventure with my friend Cameron from SoCal Travels on L.A.'s Red Line subway, with a stop at Hollywood and Highland.
You may think it is highly unusual for a day of hiking to begin at a crowded outdoor shopping mall where people wander around dressed like fictional characters, and you would be correct. However, the City often touts this tourist hot spot (locals might use more colorful terms to describe this particular intersection) as a fine viewing place for the Hollywood Sign.
The Intolerance-themed Babylonian outdoor courtyard is certainly angled toward the Hollywood Sign, and you can take an elevator or walk up a few flights of stairs to a platform that will put you front and center with it. But you're quite a way away from the Sign here, which means you'll probably have to tell people that you're in front of the Hollywood Sign when you show off your selfie.
That said, a camera with a decent zoom lens can take a fine photo of the Sign from here – and this is by far the most "Hollywood" of the Hollywood Sign scenes. You'll see the crowded lanes of Highland Ave, lots of billboards for movies and TV shows, and the Hollywood United Methodist Church. There's also a machine that will sell you gelato, so not too shabby.
See the Hollywood Sign from Mulholland Dam
Distance from Sign: 1.3 miles
Quality of View: Very good – generally clear, with water in the foreground
Selfie Quality: Surprisingly good
Crowd Size: Low
How to Get There: On foot. There is a small amount of street parking coming from the south on Weidlake Drive, and a slightly larger number of non-residential spots on Lake Hollywood Drive. No reasonable mass transit stops, but the Lake Hollywood Drive side is easy for rideshare drop-offs.
Noteworthy: Historic art-deco architecture and unique views of the Sign. Timed gates lock access from both directions – trail access only during daylight hours.
There is no reasonable way for people to reach the Mulholland Dam on transit … and even though this trip could not really be described as "reasonable" in any sense, we didn't want to start out a full day with a 2 mile walk from Hollywood and Highland to the end of Weidlake Drive. So instead, we took a rideshare and got dropped off on the north end of the Hollywood Reservoir – an area with relatively wide roads and decent parking that's not near a lot of houses.
We began with an easy, flat hike on the paved path that rings the Hollywood Reservoir. There are some very nice views of the Sign from the west bank of the Reservoir – with lots of trees and greenery framing what can often look like a fairly barren landscape, especially in the dry season. This track is a lovely little hike and a popular route for runners and stroller-pushers, but to get really nice shots you're going to have to stick your camera through the chain link fence that surrounds the reservoir.
However, if you keep hiking to the south, you'll get to the stunning Mulholland Dam. Originally called the Weid Canyon Dam, then Hollywood Dam, what's now known as the Mulholland Dam was built between 1923-1924 and is still an active property of the Los Angeles Department of Water and Power. It's also a nice little selfie spot for the Hollywood Sign.
If you hike around the reservoir, you'll walk on top of this striking Art Deco structure, which features unique bear fixtures on the south-facing walls and truly lovely views of the Hollywood Sign to the northeast.
See the Hollywood Sign from Mulholland Highway
Distance from Sign: 1.2 miles
Quality of View: Good – a bit of blockage from brush and chaparral, some fancy houses.
Impressiveness of Selfie: You'll definitely look like you're hiking
Crowd Size: Very small
How to Get There: On foot. There is a small amount of street parking coming from the south on Weidlake Drive, and slightly larger number of non-residential spots on Lake Hollywood Drive. No reasonable mass transit stops, but the Reservoir side is easy for rideshare drop-offs.
Noteworthy: Some of the best "through the chaparral" views of the Sign on a route used mostly by trail runners and neighborhood hikers. Gates prevent pedestrian access after dark.
This viewpoint is reachable as a short spur from the walk around the Hollywood Reservoir or as a way to connect the Reservoir to the popular Lake Hollywood Park (which, despite its name, is not actually next to the reservoir itself). Reachable via an unpaved section of the Mulholland Highway, this short hike is inside a sliver of Griffith Park that stretches between the DWP land around the reservoir and provides a nice bit of green-space connectivity.
You may spot some sections of old asphalt, as well as short spur trails that connect into the Hollywoodland neighborhood – but you'll probably be distracted by the exceptional views of the Mulholland Dam and the quite-lovely views of the Hollywood Sign when they aren't blocked by a hillside palatial estate.
The last portion of this hike – right before you reach Lake Hollywood Park – is on an unmaintained section of Mulholland Highway that also serves as a driveway, so please be courteous and quiet when hiking here.
See the Hollywood Sign from Lake Hollywood Park
Distance from Sign: 0.6 mile
Quality of View: Fantastic
Impressiveness of Selfie: Very good. The Sign is clear and there are several locations for nice views.
Crowd Size: Early in the morning on weekdays, you can almost have this park to yourself – but later in the day and especially on weekends, you can expect some significant crowding here. The Lake Hollywood Park is a popular park in its own right and the viewpoint where Canyon Lake Drive intersects with Mulholland Highway is a place where lots of tourists end up (despite official direction to other viewpoints).
How to Get There: This is really the end of the road for anyone wanting to use a car to drive to a viewpoint – the roads further in Hollywoodland (to the east of this viewpoint) are restricted for parking and in some cases, even access – they're really not built to deal with tourist traffic. There is some parking for Lake Hollywood Park near its entrance but no mass transit access at all. Your best bet, honestly, is to park or get dropped off near the Hollywood Reservoir and walk along the street or hike in from Mulholland Highway. No parking 8PM – 6AM.
Noteworthy: It's a dog park that's not actually a dog park – despite LOTS of very clear signs stating this is not an off-leash dog park and frequent visits by rangers with citations, there's at least a decade of history of people using a large meadow for off-leash canine cavorting.
… and now we start entering the controversial sections of the viewpoints.
Lake Hollywood Park does, in many aspects, seem to be the perfect spot for a Hollywood Sign viewpoint – a situation that was made even more picturesque (some locals say without input or comment from them) when crews cleared some of the brush above the park to provide a nicer view. There is a small amount of decent unrestricted daytime parking nearby before the road narrows into the old Hollywoodland neighborhood.
The park also seems like a no-brainer for a DASH shuttle stop for those looking to get here without a car – and I think there's a scenario where the neighborhood could get more restricted street parking to encourage folks to leave their cars somewhere else. But for now, this low-impact spot to soak in the Hollywood Sign views remains woefully disconnected.
Although you can get out to grab a quick selfie with the Sign here, the park and the region itself is a nice spot to spend some time. Head out here with a picnic (or your pooch) and really enjoy the park, or for a full hiking experience, make this part of a longer route starting down at the Hollywood Reservoir.
See the Hollywood Sign from Innsdale Trail
Distance from Sign: 1350 feet
Quality of View: Excellent
Impressiveness of Selfie: You'll get some oohs and aahs on this one
Crowd Size: Relatively low, considering
How to Get There: Get dropped off near Lake Hollywood Park or (if you get there early) snag one of the few parking spots. Your other option is to hike in on-foot from further away. There are no mass transit connections to this area.
Noteworthy: No parking in the evening. Gates locked sunset to sunrise.
Even people who frequently hike in Griffith Park will be hard-pressed to tell you where the Innsdale Trail is. And the reason for that is when you look at it on a map, it's a strange little anomaly. Seemingly going from nowhere to nowhere, this very short stretch of unpaved road grade does not connect to any other trail in the park, and just heads from one part of a residential neighborhood to another residential neighborhood. So if you're just going by the map, you'd probably assume it wasn't really worth the effort to get to this trail.
But, if you combine this section with a day spent in Lake Hollywood Park, or a longer hike up from the Hollywood Reservoir … or an improbably long fool's errand hike to a whole bunch of Hollywood Sign viewpoints … the Innsdale Trail is a short, sweet route that's definitely worth hiking at least once.
Starting from the Lake Hollywood Park, this route will run you 0.8 mile one-way with an option to return 0.4 mile on a roadside loop.
See the Hollywood Sign from the End of Mulholland
Distance from Sign: About 1100 feet
Quality of View: Excellent
Impressiveness of Selfie: This is some postcard-quality stuff
Crowd Size: There was a moderate number of hikers and tourists walking through this area in the early morning on a weekday. I wouldn't be surprised if this was much more crowded at other times — and a potential flashpoint for resident conflict.
How to Get There: Foot only. There is NO auto access – not even for rideshares. You know those signs that say "Don't Even THINK About Parking Here"? It's that.
Noteworthy: If you're going to hike up to this location, you'd better be VERY courteous, quiet, and clean up after other hikers and tourists.
This northernmost empty residential lot in Hollywoodland sits undeveloped on an unpaved stretch of the Mulholland Highway. At a bend in the dirt road – between private property on both sides of said road – determined (and courteous) explorers can find some of the best and closest views of the Hollywood Sign.
If you want to reach this area, you will need to hike. There is no parking anywhere nearby, and a growing number of streets are closed to non-local traffic, so don't even think about trying to take a rideshare up here either. Lake Hollywood Park is the furthest you should drive looking for parking, and because there are no sidewalks you'll have to stay on the road itself to reach this location.
See the Hollywood Sign from Tyrolean Tank
Distance from Sign: About 1388 feet
Quality of View: Excellent
Impressiveness of Selfie: Very impressive. From this viewpoint, you won't have any houses or powerlines in your selfie, either.
Crowd Size: I'd rate this moderate for crowd size, but again we hiked here on a weekday morning. You've got to put some effort in to get here.
How to Get There: Foot only. No auto access for parking or rideshare drop-off. Should be reached from inside Griffith Park if you want to avoid dealing with neighborhood conflicts.
Noteworthy: Probably better as a side-stop on a hike to the summit of Mount Lee from Bronson Canyon
If you're looking for relatively close views of the Hollywood Sign, this is your best bet for a place that's entirely on public land inside Griffith Park – even if it may be a challenge to reach. You can hike here from the Bronson Caves – or deal with a hike through a neighborhood where you won't be able to park or drive. A gate provides access from the west during daylight hours – for now. This gate has been vandalized in the past to deny pedestrian access.
Honestly, this is a nice viewpoint, but if you're looking for a hike it's much more rewarding as a side-stop on a trip to the summit from the trailhead near the Bronson Caves. It's an extra 0.7 mile one-way from that route, and you can find more info by checking out that trail description.
See the Hollywood Sign from Mount Lee
Distance from Sign: 150 feet (behind)
Quality of View: Backside of the Sign, but terrific view of Griffith Park and the L.A. region
Impressiveness of Selfie: Still pretty good – it's not the front-facing shot most folks want, but it's still nothing to sneeze at.
Crowd Size: Large, considering you have to put in some effort to get here.
How to Get There: On foot only, but you can get here from several trailheads.
Noteworthy: Enjoy this now before someone puts a stupid gondola here.
Popular with hikers and adventurous tourists, it's hard to tell exactly how many people have hiked up here hoping for the perfect Hollywood Sign selfie only to realize the trail takes you behind the sign – and puts a chain link fence between you both. Still, a small dirt area on the summit of Mount Lee does provide some excellent views of the L.A. area, the "behind the Sign" view is a fun twist on the postcard tourist photos, and the hike to get up here is a solid trek in its own right. The longer but gentler route from Brush (Bronson) Canyon is the easier way, but experienced hikers will enjoy tackling the rougher route from Cahuenga and Burbank Peaks.
See the Hollywood Sign from Hollyridge Trail
Distance from Sign: 0.5 mile
Quality of View: Very good
Impressiveness of Selfie: Extra rustic if you can get some of the Sunset Ranch in your shot
Crowd Size: Now, almost none. If you're not on a ride with the Sunset Ranch folks, you've got to go out of your way to get here since the gate was locked on Beachwood Drive.
How to Get There: Foot from inside Griffith Park, or on horseback from Sunset Ranch.
Noteworthy: See the view that ignited a contentious and ongoing battle about access to public lands in Los Angeles!
Standing at the viewpoint overlooking the Hollywood Sign and Sunset Ranch, it's easy to see how this place was totally taken over by crowds once GPS directions came on the scene. Before the gate at Beachwood Drive was locked, this was by far the easiest hike to a terrific viewpoint of the Sign. It was also clear coming up to the other side of the gate with KPCC that the neighborhood is really not equipped to handle that onslaught of cars.
If you know all that history, your first reaction when you arrive here is probably going to be "so this is was what all that fuss was about?" And that reaction will probably followed by "hey, nobody else is here!" because now that you have to actually hike to get here, the number of lookie-loos is almost nil.
See the Hollywood Sign from Bronson Cave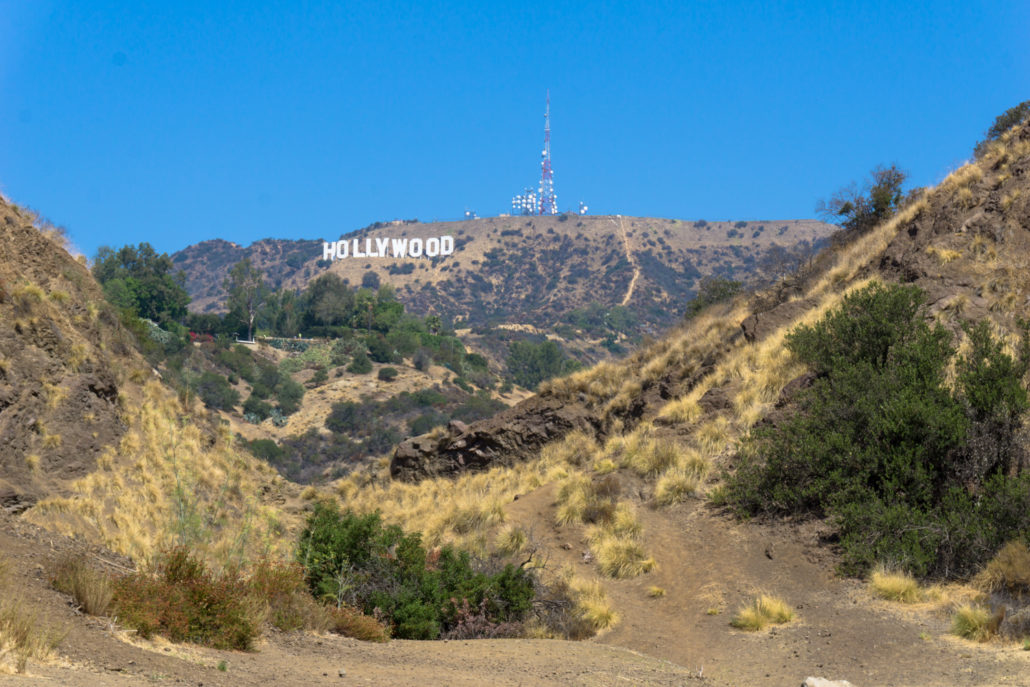 Distance from Sign: About a mile
Quality of View: Surprisingly good
Impressiveness of Selfie: Pretend you're in Army of Darkness or The Searchers or a bunch of other movies
Crowd Size: Probably smaller than you'd expect, depending on the day
How to Get There: A short hike from the developed trailhead at the end of Canyon Drive. There's a decent amount of parking here, but no transit connections. We did see a couple of those civilization-destroying rideshare scooters near the trailhead, though.
Noteworthy: Baaaaaaatmaaaaaan!
I'll be honest – I was expecting this area to be a lot more crowded than it was. By the time we reached the Bronson Cave it was early afternoon and definitely warming up, but we had seen a decent number of locals and tourists at the other spots on this route so far. When we hiked through the caves to the viewpoint at the backside of the canyon, there were literally five other people there – one person working on her Instagram shots with a friend and a small family just out exploring.
This is another lovely place to see the Sign and a fun place to explore for film buffs, families looking to enjoy the picnic area and playgrounds nearby, or hikers starting off on a longer trek inside Griffith Park.
See the Hollywood Sign from West Observatory Trail
Distance from Sign: About 1.5 miles
Quality of View: Not too shabby
Impressiveness of Selfie: You might have to point it out, but you can definitely see the Sign from here
Crowd Size: Usually none.
How to Get There: Hike from Fern Dell / the Trails Café to the Griffith Observatory on the West Observatory Trail. There's free parking near the Fern Dell entrance or about a ten minute walk from the Metro Hollywood and Western red line stop, Bus lines 180/181, 780, 217, 207, and 757. The Hollywood DASH stops at Franklin and Western (this is NOT the DASH that goes to the Griffith Observatory, though).
Noteworthy: Not too far from two great Griffith Park attractions
There is currently no way to get from the west side of Griffith Park to the Fern Dell area / Southern entrance via mass transit, so we used a rideshare from the Bronson Caves to Trails Café.
The viewpoint on the West Observatory Trail is located almost at the exact halfway point between Trails Café and the Griffith Observatory – and honestly I think the only reason this area isn't more popular is because it's a pretty steep and mostly shadeless hike no matter which way you're heading. This location is on one of my regular Griffith Park loop hikes, and while I usually do see people snapping selfies here, there isn't anything approaching what I'd call "crowding."
If you're a hiker, this is definitely one of the better viewpoints for the Sign — and it's part of a trail network you can use to make a killer loop inside the park.
See the Hollywood Sign from Griffith Observatory
Distance from Sign: 1.5 miles
Quality of View: Mostly decent
Impressiveness of Selfie: There's a white thing in the distance
Crowd Size: Mornings are good – any other time, it can be crushing
How to Get There: Lots of options! Hike up via the West Observatory Trail from Fern Dell or Trails or Boy Scout Trail (East Observatory) from the Greek Theater. You can also fight to the death for paid parking or take the easy DASH shuttle ride or Griffith Parkline (weekends only) from the Los Feliz neighborhood or the Metro Red Line stop at Vermont / Sunset.
Noteworthy: The Griffith Observatory is worth a trip in its own right, even with the crowds.
Arriving at the 'official' viewpoint for the Hollywood Sign, the first thing you'll notice are just how many people are here – especially if you made the mistake of trying to bring your car up to park. But let's be fair: the Griffith Observatory is a beautiful building with wonderful exhibits and events and exceptional views of the city and park – if not just OK views of the Hollywood Sign.
On the plus side, there's lots of infrastructure here to deal with the crowds. A recently updated one-way street traffic plan with paid parking helps fund an extremely useful (and frequently-running) DASH shuttle line that makes it very convenient to get to the Observatory even if you don't want to hike in. For non-hikers or those with mobility issues, this is definitely the best place to see the Sign (and you can take time to see a show at one of the country's first planetariums, too!).
But if you're looking to hike, you can get to some better viewing areas with even a small amount of effort. For instance …
See the Hollywood Sign from the Berlin Forest
Distance from Sign: 1.4 miles
Quality of View: Similar to the Observatory, but with more trees and fewer people
Impressiveness of Selfie: You'll probably get a better selfie from the Observatory, to be honest
Crowd Size: Mild. Usually there are some picnickers or folks just enjoying the shade and views
How to Get There: On foot from the Observatory Parking lot, which you can drive, hike to, or take the DASH shuttle or Griffith Parkline to.
Noteworthy: You also get to visit a living gift from one of L.A.'s sister cities
The Berlin Forest was planted in the early 1990s to celebrate the 25th anniversary of the designation of sister cities between Los Angeles and Berlin, Germany. The forest has been through a lot since then – including a 2018 wildfire that singed its northern reaches – but it still survives as a rare grove of dense pine trees and welcome shade in the otherwise sunny chaparral and sage scrub region of the Santa Monica Mountains. And you only have to walk 0.3 mile round trip from the Charlie Turner Trailhead (water fountain nearby!) to get to it.
To be honest, it's not a great spot for selfies – there are either some trees blocking a clear wide view of the Sign or what you will see looks pretty scorched from the wildfires, but for your non-Instagram enjoyment it's a lovely spot to visit.
See the Hollywood Sign from the Tiffany & Co. Foundation Overlook
Distance from Sign: Just over 1 mile
Quality of View: Nice views of both the Sign and the surrounding terrain and cityscape
Impressiveness of Selfie: Surprisingly good
Crowd Size: Small to moderate
How to Get There: On foot, hiking from the Griffith Observatory parking area / Charlie Turner Trailhead. Trailhead can be reached on foot, by car, or via DASH shuttle or Griffith Parkline.
Noteworthy: The public land you're looking at was not always public
In 2010, the Tiffany and Co. Foundation donated $1 million to the Trust for Public Land when that organization spearheaded the efforts to purchase privately held land on Cahuenga Peak that was under threat of development. The Foundation had previously done similar work on urban parks in other cities, but it was their first major initiative in Los Angeles.
After more donors chipped in (including well-known folks like Aileen Getty and Hugh Hefner) and a massive public awareness campaign from the city itself, the land was acquired and annexed into Griffith Park. This Viewpoint is one of the few markers that memorialize that event (the others are near the summit of Mount Lee and near the base of Burbank Peak) and it's the only one that also makes a nice place to sit and soak in the views of the Hollywood Sign.
This viewpoint is on what is probably the most popular loop route to the summit of Mount Hollywood, so you're not likely to have this spot to yourself – but folks don't tend to linger here for long so there's usually a good turnover for the primo selfie views, not to mention other selfie-snappers who are often more than willing to help you get a better shot of your own.
See the Hollywood Sign from Mount Hollywood
Distance from Sign: 1.25 miles
Quality of View: Great view – but the Hollywood Sign is at a tough-to-read angle here
Impressiveness of Selfie: Impressive for the hiking effort, but it's a little tough to make out the Sign
Crowd Size: Usually not too bad, but it's rare to have the summit to yourself
How to Get There: Hiking on foot from the Charlie Turner Trailhead, reachable by further hikes, paid parking, or DASH shuttle or Griffith Parkline
Noteworthy: It's the fourth-tallest peak in Griffith Park but probably the most-visited
Hiking up to Mount Hollywood's 1625-foot tall summit is without a doubt one of the best and most popular hiking routes in Griffith Park (for lighter crowds and a tougher workout, we recommend coming up via the Hogback Trail). In addition to being a great workout that hits some of the most interesting highlights in this part of the park, it's also a fine place to gaze upon the Hollywood Sign, too – as long as you don't mind more of a "Hollywoo" view.
The summit provides unparalleled views of the park and the surrounding city, and is one of the best places in L.A. to hike around sunset. But because it sits at an angle from the Hollywood Sign it's not the best place to get a clear shot – although it is one of the more impressive hiking selfies you can take in Griffith Park. If you're an L.A. hiker, this is a summit you should hike to regardless of whether or not you're looking to snap some photos of the Hollywood Sign.
See the Hollywood Sign from Mount Hollywood Drive
Distance from Sign: About 1 mile
Quality of View: Very good
Impressiveness of Selfie: Also very good!
Crowd Size: Usually small – this one's a little out of the way for most hikers and tourists
How to Get There: On foot via a hike from Mount Hollywood or walk from the DASH / Parkline stop, or on a bicycle!
Noteworthy: On one of the very few paved roads in Los Angeles where you can bike without worrying about getting hit by a car
Mount Hollywood Drive has the distinction of being one of the few paved surfaces in Los Angeles that cars aren't allowed to drive on (with a few exceptions). Save for a few months back in 2015 when the Park was testing out a pilot program running shuttles along the road, this street (along with Vista del Valle Drive) has been closed to traffic since 1992.
In the 70s and 80s, when parks across the state had to slash services due to reduced funds (thanks, Prop 13!), the interior of Griffith got pretty trashed pretty quickly. When the Park closed the roads in 1992, this section had a chance to recover from graffiti, vandalism, and illegal dumping – and recreationists rediscovered the natural beauty here.
Aside from that brief onslaught of foot traffic from the shuttle program, this stretch of the park remains more lightly visited, and in comparison to the Griffith Observatory or even Mount Hollywood it can feel absolutely abandoned – which means you're probably not going to run into too many folks here.
As far as views are concerned, it's slightly closer than the one you'll get at the Tiffany Viewpoint for a bit more work.
Conclusion
In total, this trip put almost 14 miles on our hiking boots. Not including walking to and from Metro stops (or in the Hollywood and Highland Mall), our route from the Hollywood Reservoir to the Bronson Caves was 9.2 miles long, and our hike from Trails Cafe to the DASH stop at Mount Hollywood Drive was 4.7 miles long. We used Metro and DASH service whenever we could, but the fact that we had to use rideshare services twice highlights the work that still needs to be done connecting the different sections of Griffith Park and giving visitors ways to get into and around the park without a car.
Recent expansions of the DASH shuttle around the Observatory are a great step forward for Griffith Park, and although there are lots of challenges in terms of planning, a park-wide shuttle system would go a long way toward improving the park for tourists and locals alike — not to mention helping alleviate car traffic in neighborhoods or the "need" to build a gondola in one of the last relatively untouched areas of the park.
Due to the lack of hiking (and driving) infrastructure and the increasing pressures on the residents, I would only recommend people hike-in to destinations in the western side of the park. The route to Lake Hollywood Park and the Innsdale Trail from the Hollywood Reservoir is a great little hike with wonderful views that keeps you mostly out of the residential areas near Griffith Park, and the tougher ridgeline hike across Burbank and Cahuenga Peaks to the back of Mount Lee is a fantastic way to reach the back of the Hollywood Sign. If you're intent on reaching places like the Tyrolean Tank or Hollyridge Trail, starting at the Canyon Drive Trailhead is still the best way to reach those areas for now (although I personally like the view from Bronson Caves better). DO NOT ATTEMPT TO TAKE YOUR CAR PAST LAKE HOLLYWOOD PARK, and if you can, just get dropped off near the Reservoir and hike in. These are public places that should be accessible to the public, but as users of this park we also need to do our part to reduce pressures on the residents who live here. Being a good neighbor goes both ways.
If you're Sign-spotting as part of a trip to the Griffith Observatory, you have lots of options and much more accessibility without a car. And if you're willing to put in even a small amount of hiking, you can leave the crowds at the Observatory itself to get to some excellent views (and excellent hiking, too).
Now, the next time someone asks you if you could take them on a hike to see the Hollywood Sign, you have 16 different ways to respond!
Read More
A longer version of this adventure is included in my book Discovering Griffith Park. You'll also get in-depth trail guides and TONS of history and stories about the park.
Find Accommodations Near the Hollywood Sign:
Tags: Griffith Park, Hiking, hollywood sign, viewpoints