I get a lot of emails from people asking me for personal trail recommendations in and around L.A. If I can find the time, I'm happy to oblige, but one of the questions I seem to get fairly frequently (in some phrasing or another) is "What are some hikes I can do around here to REALLY give my legs a thrashing?"
It's summer, so I'm getting that question a lot more … so here are my Top 5 leg-blasters within an hour's drive of downtown Los Angeles (give or take). Tackle these trails after you've had a bit of practice and get ready to ice those calves when you're done.
5. Twin Peaks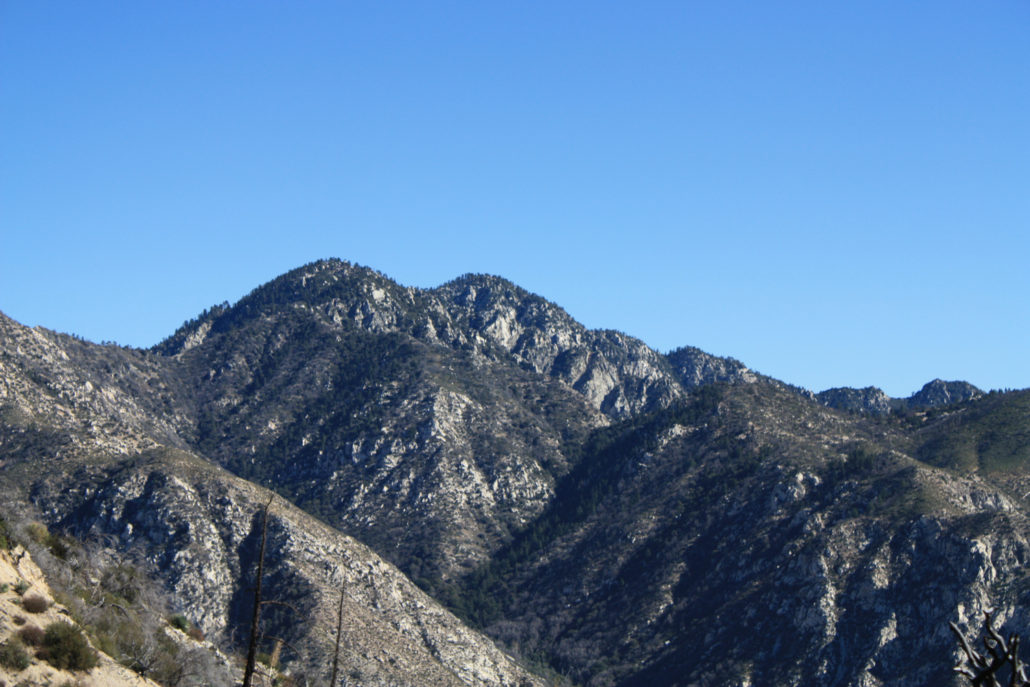 Deep in the San Gabriel Wilderness, massive Twin Peaks looms over the landscape. Yet few hikers venture here because it's one of the most remote regions in the San Gabriel Mountains — most hikers on this trail tackle nearby Waterman Mountain instead. But if you've got a full day (and seriously, book out a full day for this) and don't mind a bit of up then down then up then down then up then down again on your hiking days, this peaceful high-altitude adventure is well worth your time.
4. Ontario and Bighorn Peaks
This 13.9 mile round trip hike heads up Icehouse Canyon and tops out at two of the most prominent mountains in the San Gabriels – Bighorn Peak and Ontario Peak. This route travels through some incredible alpine scenery, which might help distract you from the 3710 feet you'll gain in elevation along the way. There's a fairly tough stretch right before Icehouse Saddle, but from there you still have to climb your way up to the high ridge between Bighorn and Ontario. This is a full-day adventure to be sure, but you can make it a bit more leisurely (but heavier) on yourself by bringing your tent to Kelly Wilderness Camp and spending a night.
3. Jones Peak
Just above the town of Sierra Madre, Jones Peak rises to about 3300 feet above sea level … and you'll feel almost every one of those feet on the trail to the summit. This route passes through some beautiful shaded oak glens before making a no-nonsense switchbacking climb up 2240 feet with very few breaks of level ground. But those who make it to the summit are rewarded with exceptional views of the front range of the San Gabriels and the San Gabriel Valley below.
2. Mount Wilson via Firebreaks / Winter Creek Trails
Mount Wilson can be approached more ways than any other peak in the San Gabriels, but there's a reason my friends have nicknamed this route the Mount Wilson Death March. This 13.3 mile round trip starts off on fire roads, but quickly cuts into steep, shadeless firebreaks. On the ascent, you'll gain 3800 feet on steep, unmaintained use-trail that rises and falls in full sunlight. It's grueling and tough, but when you get to that summit, you'll know you've earned it. And don't worry – the return route is all on mostly shaded single-track. If this one sounds too rough, a loop trail on the northern side of the mountain is no slouch either.
1. Mount Baldy
If you want to go big, you can't get any bigger than Mount Baldy (Mount San Antonio), the highest point in Los Angeles County. At 10,064 feet, this mountain is a monster by any approach. Starting at Manker Flats, the trail gains 3950 feet in 10.33 miles and hits two peaks. The counter-clockwise route (heading to Baldy Notch, then west across the Devil's Backbone) is slightly easier, so if you're looking for a workout forget that and go clockwise, climbing up past the Sierra Club Ski Hut and heading right to the summit. This is some of the most jaw-dropping scenery in all of Southern California, and when you get to the peak you will literally feel like you're on top of the world. Bring plenty of sunscreen and water, and don't freak out about the Devil's Backbone unless it's really windy or icy … in which case you probably shouldn't be up there in the first place. But this is really a trail that you MUST do at some point in your hiking life here in SoCal – so make it a summer goal!
Tags: Angeles National Forest, best hikes, exercise, Hiking, Los Angeles, top 5 leg-buster hikes, toughest hikes in l.a., workout