Utah's Big Five parks have garnered a lot of attention over the past decade, which has catapulted Zion National Park and Bryce Canyon National Park to the tops of many hikers' bucket lists. Both parks showcase the effects of water and time on the southwestern margins of the Colorado Plateau, a geological layer cake of white, pink, red, gray, and yellow rock encompassing much of Southern Utah. Wildlife, including the endangered California Condor, abounds throughout both parks, and jaw-dropping views are a dime-a-dozen.
Easily accessible trail networks lace the landscapes, providing up-close and personal encounters with these natural wonders. We here at Modern Hiker have spent the last twenty years wandering and wondering through both parks, writing dozens of trip write-ups and a print hiking guide in tribute to one of our favorite desert landscapes. We've compiled our favorite hikes here in this handy compendium of standouts.
Links to each article are embedded in the title of each section to help you learn more and begin planning your trips.
This one-way route stretching from Lava Point to the Grotto Trailhead offers one of the most comprehensive experiences in the park as it traces the spine of the Horse Pasture Plateau en route to a spectacular descent into Zion Canyon. Far-reaching views that extend as far south as the Mojave Desert also take in the sculpted buttes, towers, and pinnacles of the Zion Highlands. This hike also doubles as an outstanding overnight route with campsites scattered along the upper elevations of the route.
While tourists teem on the Queens Garden and Navajo Loops, far fewer people explore this relatively quiet corner of the Bryce Amphitheater region. This long, looping route explores several massive hoodoo constellations, including the Tower Bridge hoodoos that so resemble the eponymous British landmark. This route also includes a long stretch on the Rim Trail, which skirts the rim of Bryce Amphitheater and dishes up spectacular views across Utah's central interior.
Aside from Angels Landing, there is no more recognized or sought-after hike in Zion than the Narrows. Given all of the hype this route receives, we were a bit skeptical about whether it would live up to its reputation. We were pleased to find that this hike was a memorable, one-of-a-kind experience worthy of the kudos. Our write-up touches on the safety and preparation features hikers need to know about.
In many ways, the route to the Subway is similar to the Narrows with a lot of walking in the water through narrow canyons. However, that's where the similarity stops. The hike up the Left Fork of North Creek visits several cascading waterfalls, some unique geologic features, and fossilized dinosaur tracks before culminating in a convex slot canyon with surreal pools of translucent green water. This photographer's paradise might be at its best in late October/early November when the cottonwoods and box elders along the route flash gold under a mild Utah sun.
Angels Landing may get all of the glory, but it's a fairly open secret that Observation Point has the superior views. Prior to the East Rim Trail's long-term closure due to a landslide, the challenging hike to Observation Point from Weeping Rock was one of the best bottom-to-top experiences in Zion Canyon. The views from the point itself take in just about all of the canyon's higher points. We're all crossing our fingers that the route opens up soon so that we can get back to enjoy the sweeping views and spectacular ascents.
Bryce Canyon's marque hike weaves and wends its way through the wilderness of hoodoos, a name for free-standing rock pillars, within Bryce Amphitheater. There are a number of ways to approach this hike, but we're pretty fond of this variation, which takes in the Queens Garden area, segments of the Navajo Loop, and the Peek-a-Boo Loop. Try this one out after a spring snowstorm to see pink pillars of sandstone frosted with streaks of white.
It's short, it's sweet, and the views are stellar. This short out-and-back trail passes through a beautifully eroded landscape before culminating at the rim of a canyon. From the rim, the views encompass much of the southern half of Zion Canyon, with the West Temple, Altar of Sacrifice, Beehives, and other famous formations taking center stage. For a real treat, try to hike this route immediately after a rain or snowstorm to watch water spilling from dozens of hanging canyons in ephemeral waterfall display.
Weird history, startling views, and miles of peaceful hiking are the order of business on this half-day route to a plateau above Zion Canyon where an elaborate mechanism once lowered high-elevation timber into the canyon below. That timber was used to construct the Zion Lodge nearly 100 years ago. The views straight down into the Weeping Rock area are exhilarating, and it's always a treat to look down at the crowds on Angels Landing when you're the only one on top of your own mountain.
And speak of the Devil. . . .
Yes, yes. There are always a billion people on this hike. And, no, it doesn't need any more publicity. But what can we say? It's a really amazing hike, even if acrophobia might stop a lot of people short of the famous chain section. This hike is justifiably famous for numerous reasons, and it's not just because of the cables. It's a unique, memorable trail from start to finish, and the soaring views from the summit give's a condor's eye view at the heart of Zion Canyon. Be sure to grab a permit if you're hiking during peak season!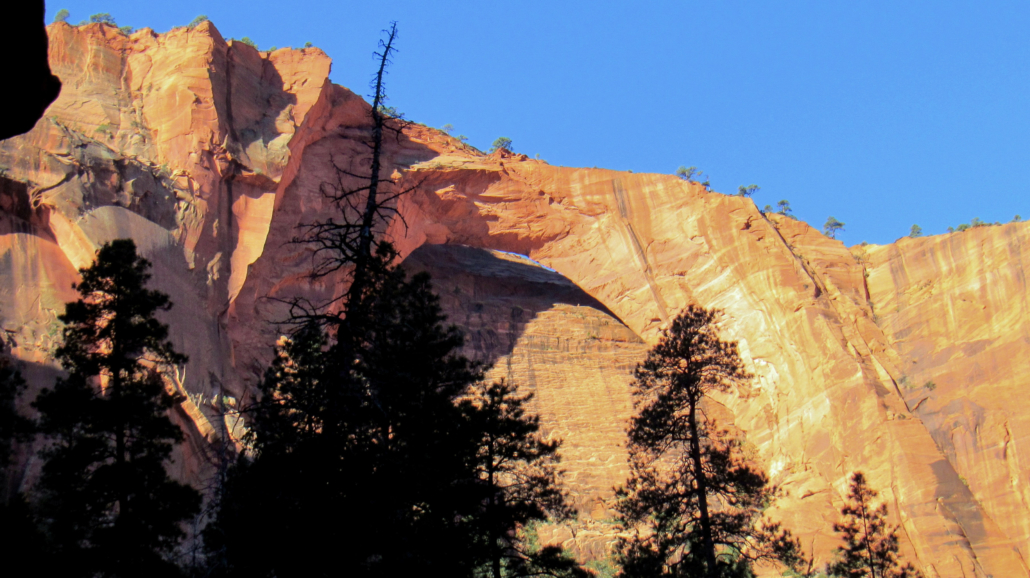 This gorgeous hike lies in the lightly-visited Kolob Canyons section of the park. It's a haul to reach the arch, but the scenery, dominated by towering red sandstone buttes and riparian vegetation along La Verkin Creek, packs every mile of this route with beauty. Kolob Arch itself is one of the largest free-standing arches in the world, and it dominates a vast amphitheater carved into a massive, red butte. This route also doubles as a great overnight hike, and it kicks off the opening segment of the famous Trans-Zion route.
Find Accommodations Near Zion and Bryce National Parks:
Tags: Angel's Landing, Big FIve Parks, bryce canyon national park, Canyon Overlook Trail, Colorado Plateau, Deertrap Mountain, Fairyland Loop, Kolob Arch, observation point, Peek-a-Boo Loop, Queens Garden, the narrows, the Subway, utah, Virgin River, West Rim Trail, Zion Canyon, zion national park