When you think about Los Angeles, what comes to mind first?
Celebrities?
The Walk of Fame?
Taco trucks and In-N-Out?
Uncontrollable sprawl and thick, gross smog in the air?
Los Angeles is not a city known for its hiking — but it should be.
With a variety of distinct climate zones, fascinating geology, nearby wilderness areas and nearly-perfect weather year-round, L.A. really does have something for everyone who's looking to get outside. And in some case, you might not even have to leave your neighborhood!
Here is a list of some of the distinct hiking areas of the Greater Los Angeles area, with my picks for the trails that will give you the best feel for the region. As the site expands, so will these lists. Be sure to investigate Best Hike drop-down menu for lists like the 5 Best L.A. Hikes for Beginners, and check out the Trail Map for Los Angeles County for a lot more hikes in the L.A. area:
SANTA MONICA MOUNTAINS
Rounded, rolling hills and low mountains nestled near the Pacific Coast and stretching into Hollywood. Trails here generally have lower elevation gains than the San Gabriels, and are less shaded. Here, you'll find large swaths of native California Grassland and incredible wildflower blooms in the spring.
Best Hikes:
SANDSTONE PEAK

The Mishe Mokwa Trail to Sandstone Peak and Tri Peaks might just be my favorite hike in all of Southern California. This trail will take you to the highest point in the Santa Monica Mountains, past jagged peaks, riparian canyons, and popular rock climbing routes. With killer views of the Pacific Ocean and the Santa Monica Bay, this is an absolute must-hike.
LOS LIONES TRAIL to PARKER MESA

The Los Liones Trail to Parker Mesa is a lush, moderate trail that climbs from the Pacific Palisades into Topanga State Park to the top of Parker Mesa and one of the most incredible coastal views in Los Angeles.
TEMESCAL CANYON

Temescal Canyon's loop trail offers a steep, shaded canyon or a more gradual sunny ascent. It also features a seasonal waterfall, strange rock formations, and stunning coastal views – all right at the Westside's doorstep.
MALIBU CREEK STATE PARK

Rock climbing, lakes and rivers, twisted California geology, ranching and film history – oh, and gorgeous scenery. Malibu Creek State Park has it all – and whether you're taking a flat stroll along the Canyon floor or climbing the ridge of the Castro Crest, this park is definitely worth your time.
SOLSTICE CANYON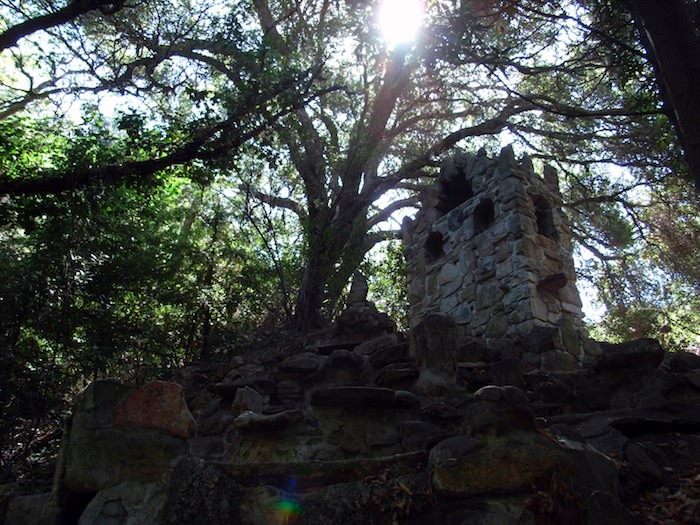 The popular Solstice Canyon Trail will take you through a shaded canyon past the oldest standing stone structure and oldest living tree in Malibu to the ruins of a 1950s mansion nestled beside a small, tiered waterfall.
SAN GABRIEL MOUNTAINS
655,000 acres of rugged mountain terrain, right in L.A.'s backyard. From the ruins of turn-of-the-century resort hotels to the highest peak in Los Angeles County, this region runs the gamut from easy walks to intense backcountry adventures.
MOUNT BALDY

No SoCal hiker's journey is complete until they've summited Mount San Antonio, better known to locals as Mount Baldy. At 10,064 feet, this is the highest point in Los Angeles County, the highest peak in the San Gabriel range, and the third highest peak in Southern California. This leg-busting and exhilarating loop route features jaw-dropping views and hair-raising ridgeline trails that will make you question whether or not you're really only an hour from L.A.
SANTA ANITA CANYON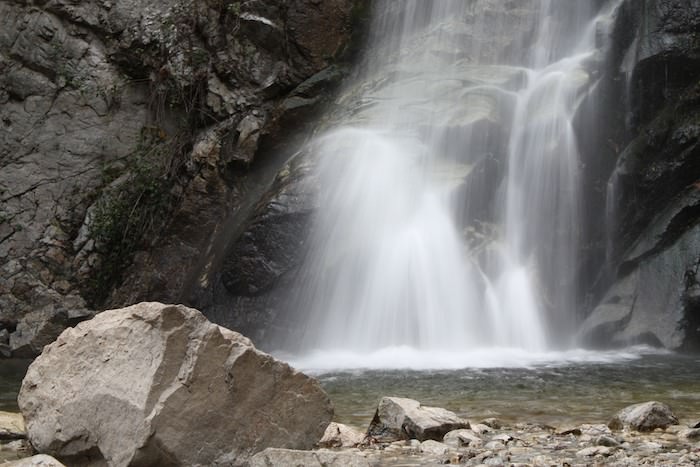 Santa Anita Canyon is probably the most beautiful river canyon in Southern California. This stellar loop winds through a canyon dotted with historic cabins and two waterfalls, including 50-foot Sturtevant Falls. While the falls can be crowded, the trail above the falls is idyllic and serene, the canyon floors covered in ivy. There are several campsites here and junctions with longer trails – and you won't be able to believe you're in Southern California.
BRIDGE TO NOWHERE

If you like river crossings and forgotten L.A. history, put the Bridge to Nowhere on your list. This epic 10 mile out-and-back follows (and crosses) the East Fork of the San Gabriel River deep into the mountains, where engineers tried to cut a road in the 1930s. The great flood of '38 washed most of the road away, except for a 120-foot concrete arch bridge that still stands. This flat hike is great in the summer and will wipe you out – and is definitely worth fighting the crowds at the trailhead.
ECHO MOUNTAIN

After the Civil War, the nation's first military aeronaut retired to Southern California and built a sprawling resort and observatory complex in the San Gabriel Mountains. You could take the old Red Car train from downtown L.A. right to the hotels via a winding railway or an exciting funicular. Time and fire have claimed most of the buildings, but many ruins of the resort are still waiting for you just north of Altadena.
MOUNT BADEN-POWELL

This prominent and popular peak is a bit of a drive down the long and winding Angeles Crest Highway, but the trip to Mount Baden-Powell is worth it. This beautifully designed trail switchbacks its way up to the 9,407-foot high summit named in honor of the founder of the Scouting movement. Along the way you'll get incredible views of the Antelope Valley, hike past 1500 year-old limber pines (and probably some snow), and end up on a summit with nearly 360 degree views of the landscape. This trail is a short spur off the Pacific Crest Trail, too, so if you're lucky you might even run into a Thru-Hiker!
CITY PARKS
These city, county, and state parks are good for getting your hiking fix when you don't want to spend a full day out on the trail. Just because they're close by doesn't mean they're not worth hiking!
RUNYON CANYON

While a lot of hikers who enjoy the solitude of longer trails in the wilderness will turn their nose up at Runyon (and I used to, too), this is one of the most popular and most accessible hikes in L.A. – and for good reason. There's a gently graded paved path for beginners, a rare off-leash dog area for our canine friends, free yoga near the Fuller Avenue entrance, and a surprisingly rugged outer loop that will definitely give you a good workout. Yes, there are celebrities hiking the trail – and people who are desperately trying to be celebrities – but don't let that stop you from hiking this trail – it's a great place to watch the sun set!
CAHUENGA PEAK AND THE WISDOM TREE

There are many ways to hike to the back of the Hollywood Sign in Griffith Park, but only one that feels like an actual wilderness adventure. The relatively new trail to Cahuenga Peak passes the beloved Wisdom Tree (the only tree in the area to survive an early 2007 fire), hops along a ridge on some gorgeous single-track, and then finally joins with the more tourist-friendly paved route on the back of Mount Lee. If you want to hike to the Hollywood Sign and still have a bit of solitude, this is the hike for you.
BEAUDRY FIRE ROAD to the VERDUGOS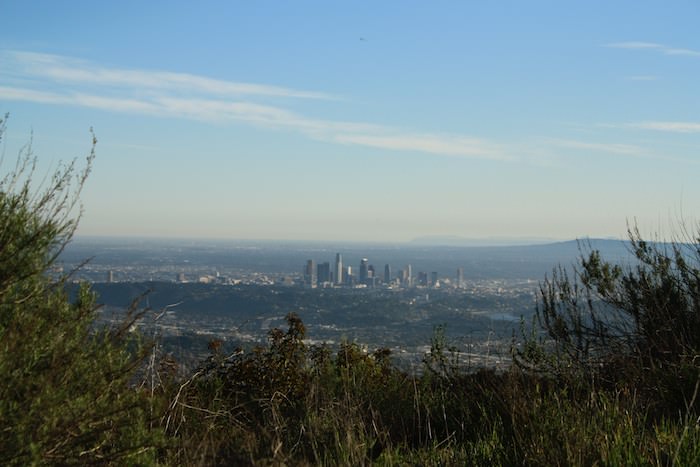 North of Glendale and east of Burbank lie the Verdugo Mountains, a rugged little island of nature inside a sea of urban sprawl. These peaks are lined with old fire roads and ridge trails and are a popular yet uncrowded destination for hikers and mountain bikers alike. On clear days, you'll have commanding views of the L.A. Basin and you won't have to drive very far to get there.
ERNEST E. DEBS REGIONAL PARK

This lovely park next to the Arroyo Seco is a great, dog-friendly gem with a variety of terrain and great views. The top-notch Audubon Center near the park's western entrance hosts family friendly events, is staffed by friendly and knowledgeable volunteers, and will even let you take out a pair of binoculars for some of the park's excellent bird-watching. And it's just a short walk from a Gold Line stop!
KENNETH HAHN COMMUNITY LOOP TRAIL

Chances are you've driven through this park on the way to LAX, noticed the oil rigs and just kept driving. But if you stop to explore you'll find a hidden gem – one of the largest open spaces in Los Angeles. Featuring strands of dense wood, huge open meadows, and some fascinating L.A. history, this park is also a destination for photographers on those gorgeous, clear L.A. days. With views stretching from the Pacific Ocean past Hollywood and downtown Los Angeles with the San Gabriel Mountains in the background, it's not hard to see why.
Find Accommodations in Los Angeles
Tags: best hikes, best hikes in l.a., best hikes in los angeles