It's been more than a month since the first statewide stay-at-home orders were issued. If your sense of time is as warped as mine has been over the past few weeks, it's worth remembering that when those issues were ordered, initially going outside for hikes was considered a good thing. It's good physical exercise — and as any hiker will tell you — it's also good for your mental well-being.
But in the dense, urbanized sprawl of Southern California, it became clear that trails were at a premium. With not much else to do — and blessed by some very late season rain and spectacular sunny days following — a huge number of people flocked to the trails and parks. And unfortunately, it was a mess. Parking lots overflowed, advice was ignored, and far too often, people didn't adhere to the recommended 'social distancing' rules.
We didn't keep our end of the bargain, so agencies started closing parks down for hikers (with some exceptions: most L.A. parks still allow walking, just not on trails). Hopefully trails in Los Angeles will re-open soon, when it's safe to do so. And when trails do start to re-open, we can learn a lot by watching how others are doing it.
When We Open Trails, Let's Do It Right
Just across the border in Ventura County, the Conejo Open Space Conservancy Agency is taking a conservative approach and hitting all the right notes in their communication. It's clear. It's easy to read and understand. It encourages people to avoid the popular areas. And most importantly, it hammers home the idea that if people do treat this as a free-for all, the trails will close again.
COSCA's trial run of what it's calling a "phased re-opening of trails" begins today, Wednesday, April 22nd. To further control crowding, the parks will remain closed on the weekends and parking lots will be closed to discourage folks from traveling to these neighborhoods. They also repeated this message on a Facebook post this morning:
https://www.facebook.com/ConejoOpenSpace/posts/2796674000402078
The City of San Diego is also doing some trial runs at what they're calling "limited re-openings of neighborhood parks" beginning this week. Mayor Faulconer has maintained limitations on most of the major parks in the city for now, but is allowing trail usage in open space parks. Two of the city's most popular hiking areas — Cowles Mountain and Los Peñasquitos Canyon Preserve Trail will remain closed, as will Balboa Park's central mesa.
The City of Carlsbad in northern San Diego County is taking San Diego's lead and is also building its own plan to re-open trails.
How To Open Trails in Los Angeles
As L.A. and other large cities begin to consider re-opening trails, it will be important to learn from the successes (or failures) of other regions and to remember what went wrong during the announcements of closures.
Coordinate Communications. When the Stay At Home orders were first issued, everything seemed to be coming in with no rhyme or reason or apparent coordination. The Mayor of Los Angeles was literally issuing orders at the same time the Governor of California. Whose restrictions had authority? Who should people listen to? I know the L.A. region is a complex mish-mash of different cities and jurisdictions, but it would probably be easier for everyone if y'all could get together and chat before proclamations started coming out.
Assume Nobody Knows Who's In Charge Of Your Trails. How many times did you read a story that declared "All Trails in Place X Are Closed" only to discover that wasn't exactly true? There are dozens of wonderful land management agencies that administer our trails in the L.A. region, and they all had different recommendations and restrictions. In addition to the National Park Service and National Forest Service (which manages both a National Forest and a separate National Monument), we also have City Parks, County Parks, Regional Parks, State Parks, land trusts, easements, and 88 incorporated cities in L.A. County that may all have their own policies. Even for experienced park-goers, it can be overwhelmingly confusing. With respect to local autonomy, a coordinated and broad policy would do wonders on avoiding that confusion.
Phase Out Restrictions Gradually. I strongly believe that we would not have had as many issues with crowded trails at the start of the Stay At Home order if we had restricted parking near trails. That would discourage people from traveling and cut down on congestion at more popular parks and beaches. Ventura and San Diego Counties seem to be taking up this strategy already, and are placing heavier restrictions on weekends, holidays, and regularly crowded trailheads.
Enforce Restrictions. We found out pretty quickly that asking nicely didn't really do much to ensure folks were adhering to safe practices.
Hikers, Follow Restrictions. We're all in this together. Let's act like it.
UPDATE 4/24
The East Bay Regional Park District, which manages 73 parks and over 1300 miles of trails in the San Francisco Bay Area, has issued new "Cover Your Face" orders as well as a thoughtful and clear list of guidelines for safely recreating in the outdoors. Most trails in the District are accessible via foot and bicycle, while parking areas have been closed to limit use and control crowds.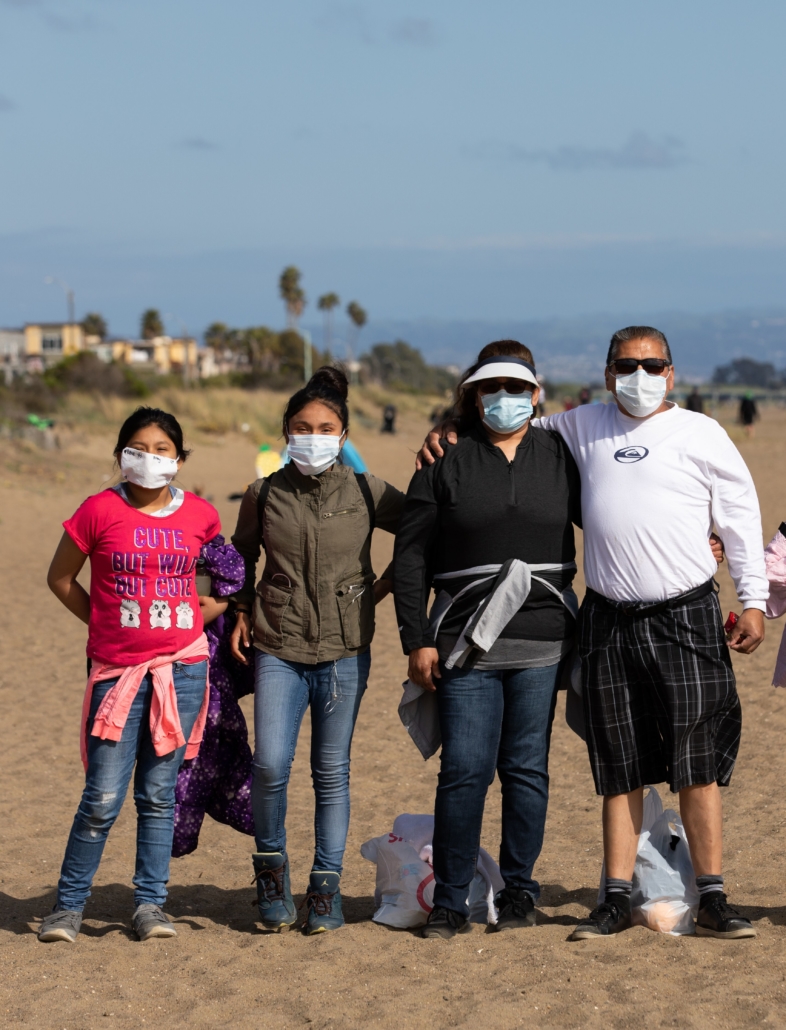 The order requires visitors to wear cloth face coverings when in crowded areas like parking lots, staging areas, and entrance gates. Hikers are asked to have cloth face coverings on hand to use when hiking on narrow areas of trails or near crowded parts of a trail.
The order also recommends runners and cyclists, who they note "more forcefully expel airborne particles," should take a few extra steps to help keep their fellow visitors healthy, including:
Wearing a Face Covering when possible
Crossing the street when running to avoid sidewalks with pedestrians
Slowing down and moving to the side when unable to leave the sidewalk and nearing other people
Never spitting
Avoiding running or cycling directly in front of or behind another runner or cyclist who is not in the same household.
Because the District covers a large area and so many different kinds of parks, they are maintaining an updated page that tracks which parks are open and closed, and restrictions relevant to each park — which is very important and helpful for people who are trying to be outdoors and stay safe and healthy at the same time. Note to other agencies around the country: THIS IS HOW YOU DO THIS.
…
Meanwhile, the first on-the-ground reports from the San Diego area are … not too good:
UPDATE 5/6/2020:
Mayor Garcetti has announced the opening of most trails in L.A. City and County on May 8th. Head here for more info.