The pumpkins are out on porches and supermarkets are being flooded with fun-sized candies, which means Halloween is right around the corner.
But what if your idea of a spooky good time involves fewer costumes and more time out in the woods? Well worry not, because L.A. has more than its fair share of ghostly history for you to hike through. Here are our 7 favorite haunted (or maybe just spooky) trails in Los Angeles:
Solstice Canyon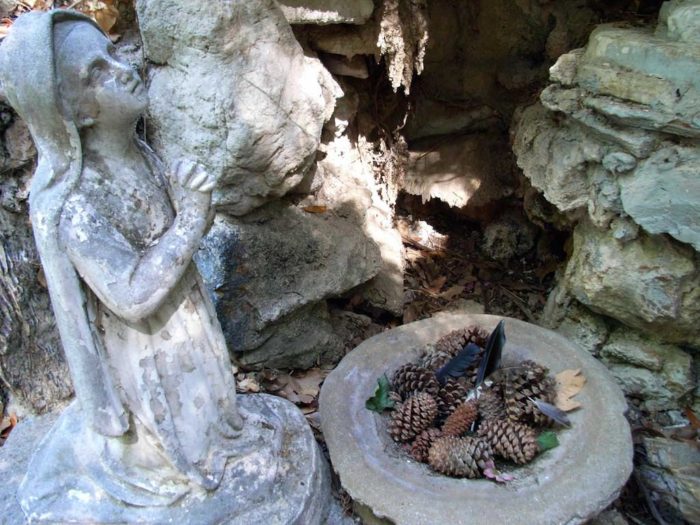 You put an abandoned, burned down house on a trail and you're going to instantly up the spook factor. The main attraction here is the ruins of the Tropical Terrace House, which burned down in a wildfire in 1982, but along the trail you'll also pass the oldest still-standing structure in Malibu – the Keller House – which was built in 1865. The Terrace used to have religious statues near its waterfall grotto but they've vanished. Ghosts or people? Come hike in the early morning marine layer and find out for yourself.
Corralitas Red Car Path
You've no doubt seen these strange stone obelisks as you drive near Riverside and Fletcher? Are they Satanic altars? Energy vortexes? Or – even scarier – ghosts of Southern California's former mass transit system? (Cue thunderclap) Spoiler: it's the last one. A Red Car route used to travel through across Fletcher on a trestle bridge here, but all that remains are these cement foundations, some scattered staircases in the surrounding neighborhoods, and a sliver of land that locals have been trying to turn into a bona fide park. In 2011, an LA Weekly reporter with an overactive imagination described the trail as "bordered on both sides by the skeletons of abandoned cars and old machinery" (it isn't). But who's to say you won't see a ghost train in the woods here? Hey, even the dead need a way to get to Glendale.
South Mount Hawkins
Not only is the loop trek to South Mount Hawkins a beautiful hike, but it also has some hellish history. As you're hiking down the Hawkins Ridge, you'll be in view of the results of the disastrous 2002 Curve Fire (click for scary shots from the Mount Wilson webcam). Investigators concluded the fire was started by the candles of cultists who were sacrificing animals in the area – and maybe if you stand at the ruins of the old South Mount Hawkins Fire Tower, you'll sense the ghostly spirits of those sacrificed animals. If you don't, you can always stop in at the Crystal Lake Cafe to visit their non-haunted feline ambassador, Bubba the Cat.
Murphy Ranch
Murphy Ranch has a history that almost seems like the setting of an American Horror Story season – A self-sufficient ranch hidden in the Santa Monica Mountains that was manned by armed Nazi sympathizers and planned as Adolf Hitler's west coast getaway once they won the war, the Ranch was later seized by the city and used by an ultra-conservative artists' colony. If there are spirits anywhere they are definitely here. Some of the structures like the abandoned stable pictured above have been torn down, but many still stand – including an old powerhouse, gardens, water reservoirs, and terraced gardens. Hike down through the brush on one of the many long and creepy stone staircases and keep your eyes peeled for shades of the Fifth Column.
…
And now, we go to one of the most haunted places in all of Los Angeles – Griffith Park.
According to legend, in 1863, Don Antonio Feliz willed the lands of Rancho Los Feliz to Don Antonio Coronel. This didn't sit too well with Feliz's 17-year old niece Doña Petronilla, and she was so miffed she supposedly put a curse on the land and all its owners. From CreepyLA, which does a great job of recounting this and other ghostly tales around the city, Doña
"shouted out vexatiously that the cattle and fields would become diseased and die; and that no one will ever profit from this land." As for the land's new owner, and the man who helped with the acquisition, Petronilla swore, ""the one shall die in an untimely death and the other in blood and violence." C.V. Howard, who negotiated sale of the land's water rights, was shot dead in a local saloon. A subsequent owner was killed by banditos on a trip to Mexico. And, of course, there was Colonel Griffith J. Griffith, who the curse was most determined to afflict.
Once Griffith came into possession of the land, wildfires, droughts, and a wicked storm stripped most of the vegetation from the area and killed most of Griffith's livestock. In 1891, Griffith was shot by a business rival outside the Old Calvary Cemetery (he survived), and afterward started giving away most of Rancho Los Feliz to the City of Los Angeles. Griffith shot his wife in Santa Monica in 1903 (she survived, too – tough blood, those Griffiths) and was imprisoned in San Quentin for the crime, eventually dying of liver disease in 1919.
The Old Zoo Trail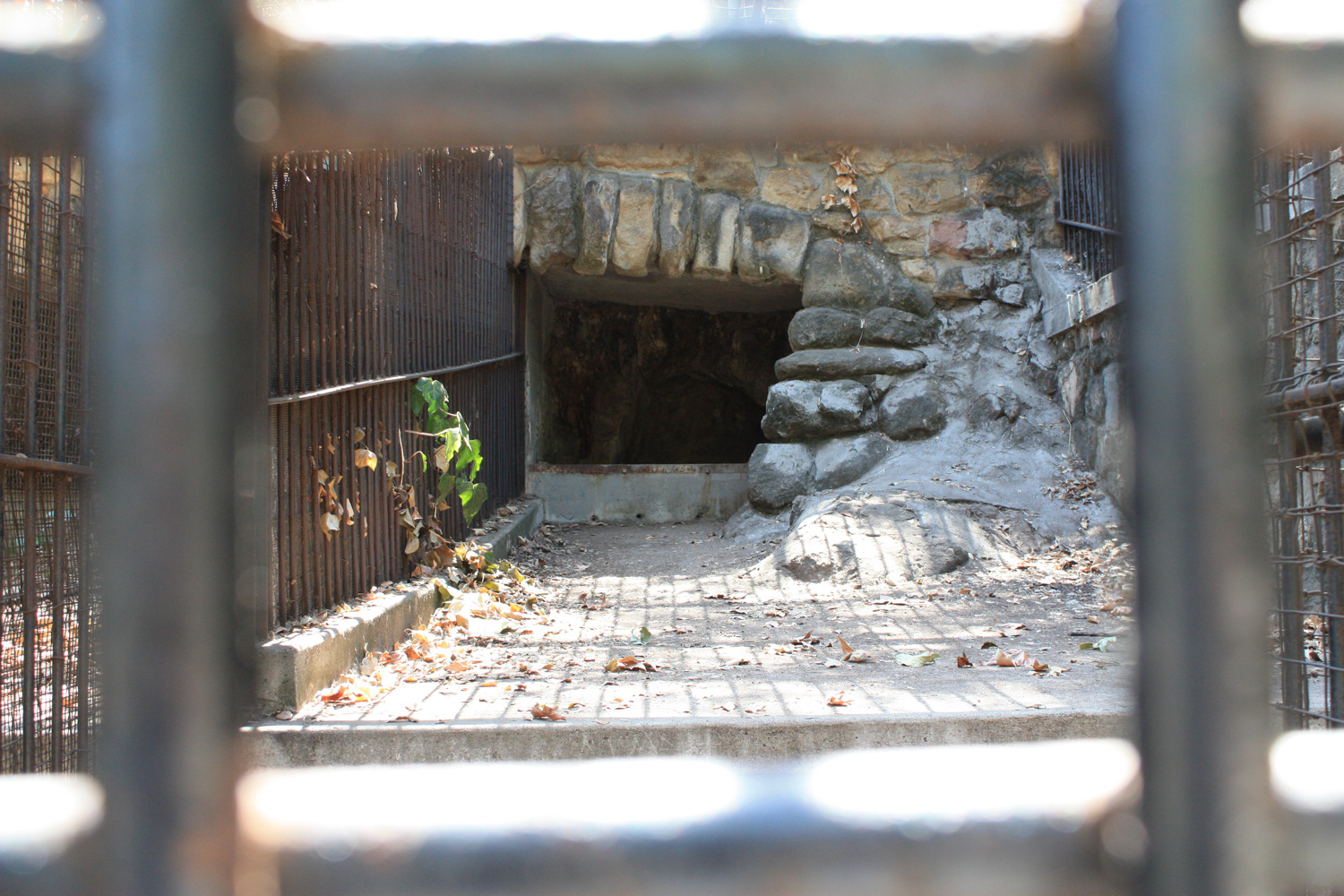 This trail starts near the Crystal Springs Ranger Headquarters, where the Feliz Adobe (the park's oldest structure) rests. Some say at midnight – especially on (rare) rainy nights, the ghost of Doña Petronilla can be seen watching from the windows. Across the street is the circa 1926 wooden carousel, where others claim to have seen a ghostly man descending a nearby staircase and disappearing – and additionally, the ghost of Griffith himself is said to be seen riding on horseback in this part of the park. The trail will take you up through some tough chaparral to the fenced-off ledge of Bee Rock (which some say resembles the face of Petronilla), and on your way back down you'll walk through the ruins of the Old L.A. Zoo – where no doubt some tormented, caged animal spirits still linger. If not, you may still see the more modern spirits of the Haunted Hayride setting up for that evening's scares.
Hollywood Sign
One night in September, 1932, the distraught silent film actress Peg Entwhistle climbed the back of the H of the Hollywood Sign and leapt to her death. On Sunday, September 18th, a woman hiking nearby said she found a woman's shoe, purse, and jacket underneath the then-Hollywoodland sign and told police she found a suicide note inside the purse. The note read "I am afraid, I am a coward. I am sorry for everything. If I had done this a long time ago, it would have saved a lot of pain. P.E."

Entwhistle's body was cremated and buried in Ohio, but believers claim to have seen her apparition falling from the top of the H and vanishing before hitting the ground, as well as seeing a woman matching her description and in period clothes wandering the hiking paths of Griffith Park as well has near her old residence on Beachwood Canyon Drive. Some say you can still smell the lingering scent of her favorite gardenia perfume in those locations, as well.
Today, hikers can reach the Hollywood Sign from several routes, including a trek passing the Wisdom Tree and Cahuenga Peak and a longer route starting in Bronson Canyon.
Haunted Picnic Table 29
One of the most enduring Griffith Park ghost stories is that of Haunted Picnic Table 29, a picnic table deep inside the park that's been crushed by a tree and apparently left to fend for itself after a half-hearted attempt to saw off a larger branch. According to legend (and more accurately, an LA Times Halloween spoof web site from 2006), on Halloween Night in 1976, a young couple died in flagrante delicto after being crushed by a tree on this picnic table. They had their ashes scattered over the location and strange occurrences began shortly thereafter. A tree trimmer sent to cut back the fallen branches was met by a violently shaking tree, ghostly voices that whispered "leave us alone" and supposedly saw the message "next time you die" appear in the fog on his truck's windshield before he drove away. A supervisor who went up to do the job himself never came back alive.
Whether it's hoax or reality or something in between, the legend of Picnic Table 29 endures. You can hike up there for yourself, coming from Bronson Canyon in the south or by taking a short spur from our Northside Loop. Just don't say we didn't warn you…
Image from Late for Nowhere
Find Accommodations Near Los Angeles:
Tags: ghosts, halloween, haunted hikes, Los Angeles, spirits, trails