In our previous post – 9 Rules for Hot Weather Hiking – we told you all of our favorite tips for still getting outside in Southern California during miserable late summer heat waves. But – as with most hiking experiences – your choice of trail has the biggest impact on your hiking experience.
If you're up for hiking in hot weather, we recommend you take three things into consideration – Shade, Water, and Elevation. Here are what we think are the 15 Best Hot Weather Hikes in Southern California.
Important Element for Hot Weather Hiking 1: SHADE
By far the easiest way to make sure you keep a sensible temperature is to pick a trail that isn't in direct sunlight. While most of the trails near the major population centers of Southern California are in the shade-poor coastal scrub or chaparral regions, it is, indeed, still possible to find shade without having to drive too far. These are some of our favorite shaded trails.
Solstice Canyon
The trail to the ruins of the Tropical Terrace House in Solstice Canyon can be reached via a 3.2 mile round trip path along a creekbed that's almost completely shaded. There is often a stream running alongside the house that will also help cool you off. Family and dog-friendly (on leash).
Franklin Canyon Reservoir Loop
An easy 1.4 mile stroll around the reservoir, this loop has lots of trees – along with plenty of birds and other wildlife. In addition to being close to many areas of the Westside of Los Angeles, this park is also dog-friendly (on leash) and features several other trails if you're feeling energetic (and a visitor center if you want to retreat indoors). Just make sure you keep an eye out for their notorious stop-sign cameras.
Murphy Ranch
We get it – sometimes you want more than just trees and shade on a summer hike. Sometimes you want a little adventure, too … for instance, descending into the ruins of an old Nazi sympathizer compound designed to be Hitler's California Hideaway after they won World War II. The City of Los Angeles keeps threatening to tear down all the fun parts of this trail, so get in while you can!
Palomar Mountain
There's a lot to hike in Palomar Mountain State Park but the Doane Valley Nature Trail really hits the spot in the summer months. Beautiful sylvan scenery, a popular campground, and the gurgling sounds of Pauma Creek all make this loop a welcome retreat in northern San Diego County.
Big Laguna Trail
Jeffrey pines and Black oaks provide ample shade in the summer on this route on the Big Laguna and Pacific Crest Trails. A great hike in any season, if you wake up early enough it's also a spectacular place to catch the sun rising over the Anza-Borrego Desert.
Hot Weather Hiking Element 2: WATER

Of course, it also makes sense that a trail near a good source of water will also provide some easy opportunities to cool down – and if the trail is in a shaded canyon or near the ocean the temperatures should be slightly cooler, too. It goes without saying that during drought conditions some of the water flow in these regions will be less than spectacular – but most of these trails have year-round flow.
Malibu Creek
There are plenty of hikes to choose from in Malibu Creek State Park – from easy strolls to leg-busting full day loops. Go as far as you'd like on this route through the old ranch buildings and movie sets in Malibu Canyon. And take a dip in Malibu Creek itself or wade into the Rock Pool or the reservoir above Century Dam to drop that internal thermometer a few degrees.
Santa Anita Canyon
Santa Anita Canyon is one of our favorite places to hike in LA – no matter what time of the year it is. In the summer, the year-round flow of Santa Anita Wash and Winter Creek provide wonderfully cool natural air conditioners near Sturtevant Falls and Hermit Falls. Even if the water is low from dry winters, the canyon directly above Sturtevant Falls is one of the most beautiful, lushly shaded places you'll find in the San Gabriels.
Bridge to Nowhere
Let me be clear – the Bridge to Nowhere is not a cool trail. Depending on the time of day you're hiking (you are planning an early start, right?) you'll most likely be in full sun the entire 10 miles. But what makes it perfect for the summer are the multiple crossings through the ice-cold East Fork of the San Gabriel River – and the amazing pools just past the Bridge. Whenever I hike this, my group usually spends at least an hour just floating in the water there – and we start our hike back out fully refreshed. Water levels are lower than usual right now but there's still enough to sit and soak in.
Switzer Falls
The short and simple hike to Switzer Falls is a favorite for Angelenos. The trail is almost completely shaded, has plenty of barbecue pits for family picnics, and can take you right to the base of lovely Switzer Falls with a little effort. Reports have said that the Falls themselves are just a trickle right now due to the drought, but when we have water it's a great place to cool off (and go swimming if you scramble above the falls!). The devastating Station Fire burned most of the surrounding area but thankfully left most of the vegetation in the canyon intact, so it's still a great place to find shade. More adventurous hikers can continue down Bear Canyon, although some areas of the trail there are thick with debris.
Los Peñasquitos Canyon
Although it's technically inside San Diego, Los Peñasquitos Canyon seems a world away. This year-round creek and thick riparian wilderness is tucked directly within the North County sprawl and is a fantastic place to cool down while still getting exercise. Take an easy hike to idyllic Carson's Crossing or go slightly further to scramble around a series of two waterfalls!
Hot Weather Hiking Element 3: ELEVATION
If shade and water aren't your thing – or if you're still itching for a tough hike in the midst of the heat – your other option is to go up. Generally, for every 1000 feet you climb, you lose about 3.5 degrees Fahrenheit in temperature – so when it's scorching down here on the coastal plain it's often more tolerable up in the mountains. You'll have to keep your eye on the weather forecast for monsoon thunderstorms and bring plenty of sunscreen, but hiking a taller mountain is a great option when the heat is oppressive in the cities. Also note that if you're reading this looking for warm weather hikes and we're still technically in the wet season (January through March or April), there's a very good chance these high-elevation trails will still have a decent amount fo snow and ice on them. Make sure you call nearby rangers before you head out to one of these trails!
Throop Peak and Mount Hawkins
This moderate trail in the heart of the high San Gabriels is a wonderful introduction to this part of the mountains. A beautiful trail to Throop Peak winds through thick forests (and some burned ones, too) before delivering fantastic vistas. Adventurous hikers can string together trips to Mount Hawkins, Mount Islip, South Mount Hawkins, or even our next mountain …
Mount Baden-Powell
Baden-Powell is a popular and challenging peak in the San Gabriels. Topping out at 9,407 feet, this peak offers spectacular views of the surrounding terrain and is also home to some 1500 year-old limber pines. This switchback-loving trail is predominantly on the cooler north side of the mountain, which means you'll have extra time in the shade in the mornings and afternoons.
Mount San Jacinto
At 10,834 feet, San Jacinto Peak is not only one of the tallest in Southern California – but it's also one of the most prominent peaks in the entire United States. Rising in sharp relief from the desert floor, this mountain can be reached via a beautiful hiking or backpacking trip from Idyllwild or via a much less strenuous aerial tram ride from Palm Springs. If you're coming up from Mountain Station, there's also a great little cafe and restaurant near the tram station (with ice cream and air conditioning!)
Mount Baldy
The highest point in Los Angeles County and the highest peak in the San Gabriel Mountains (10,068 feet), Mount Baldy (officially Mount San Antonio) is one of the best and most challenging day hikes in Southern California. This is another trail that's still going to make you sweat – but at least you'll have cooler air and mountain breezes to keep you going. To cut off some of the distance and elevation gain either going up or coming down, there's a ski lift that operates on Friday, Saturday, and Sunday that will take you to or from the Mount Baldy Lodge – which is also a great place to grab lunch or a cool drink on the mountain.
Icehouse Canyon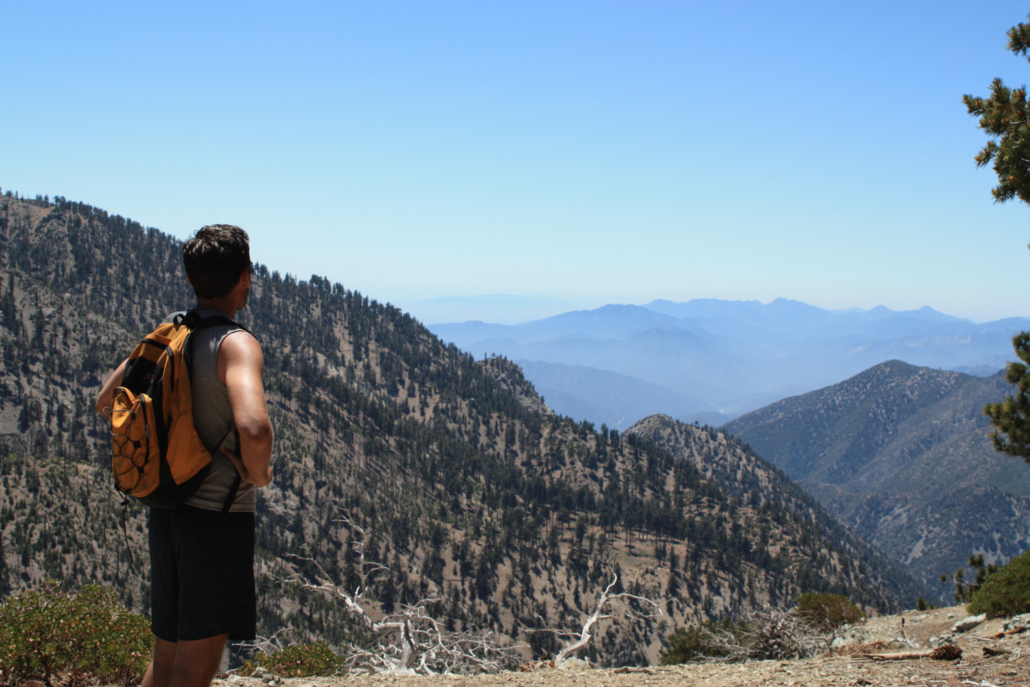 Icehouse Canyon may just be the best summer hike in all of Southern California. Not only is it at a decently high altitude (the trail starts at about 5000 feet), but it's also heavily forested and there's also a year-round creek running through the lower canyon. A hike from the trailhead to the Wilderness Boundary is a moderately easy way to spend a day while feeling like you're far from Southern California – and you can tackle a ton of mountains if you want to press on. Timber Mountain, Cucamonga Peak, Bighorn Peak, Ontario Peak, and Telegraph Peak and Thunder Mountain via the Three Tees Trail are all options from this canyon – and are all worth doing.
Did you favorite make the list or did we miss a great summer trail? Let us know in the comments!
Find Accommodations Near Los Angeles:
Tags: cool trails, hot weather hikes, southern california, summer hiking