Given how desirable and spectacularly expensive the San Diego coastline is as real estate, it may come as a welcome surprise that several large, undeveloped parcels exist with a minimum of development. Beyond the numerous State Beaches that abut large stretches of astronomically priced residences, there are three stretches of coast where you can experience the coastline in a reasonably pristine state: San Onofre State Beach, Border Field State Park, and the magnificent sea cliffs stretching from La Jolla Shores to Torrey Pines State Reserve and Beach.
The third area of that triad features some of the most beautiful coastline in Southern California. Characterized by a lack of apparent development, towering sea cliffs, local color, and some fine surfing, the coastline described here is perhaps San Diego County's most beautiful and best preserved stretch of beach. Hikers can enjoy the one-way route heading south to north any time of year, and there's a fair amount of solitude to be found in the stretch between Scripps Pier and Flat Rock at Torrey Pines Beach.
This hike is best taken as a one-way hike starting from La Jolla Shores. You could set up a shuttle by leaving one car at Torrey Pines State Beach, but you may also want to utilize Uber or Lyft to drive you back to your car in La Jolla in order to avoid the usual parking nightmare at Torrey Pines. Additionally, you will want to time your hike carefully to take advantage of low tides. There's a rocky section just beyond the Scripps Pier that becomes impassable when the tide is up or rising.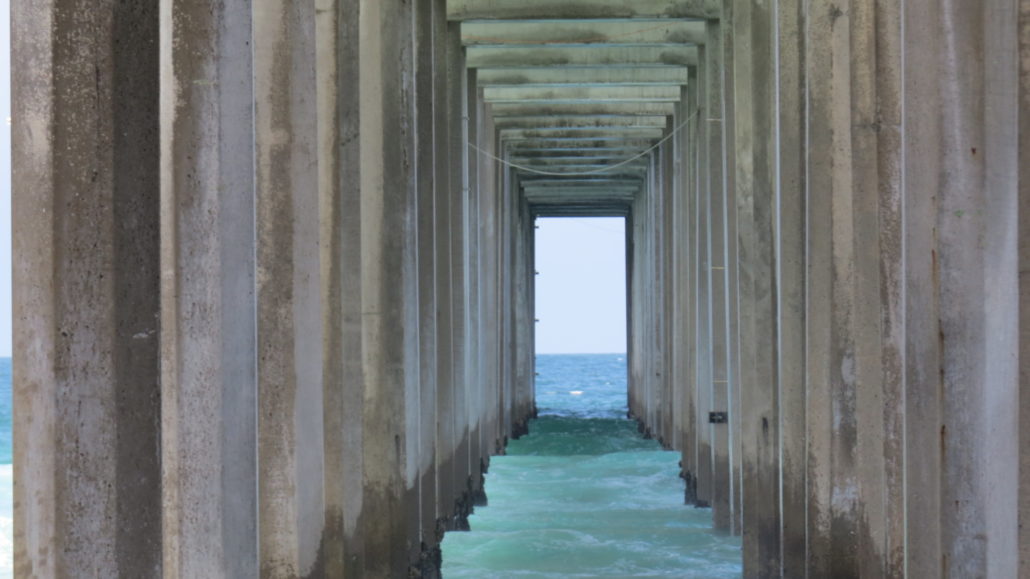 From La Jolla Shores Park, walk toward the beach and turn right when you reach the tide line. This is the only real turn on the hike as you will be following smooth sand due north for the remainder of the hike. If you are so inclined, you can kick off your hiking shoes to enjoy the pleasant sensation of firm sand and cool water beneath your bare feet. If you keep to the tide line, the sand remains firm and easy to walk on. Rest assured that there are only a handful of rocky spots to work around. This beach is exceptionally smooth and soft.
After crossing under the Scripps Pier at 0.6 mile, you pass over the rocky section that can become impassable at the high tide. This is the toughest bit of walking along the route, and barefoot hikers may be obligated to put the shoes back on and scramble along the base of the cliffs if you don't time your visit according to low tide. Also be warned that the sedimentary cliffs are in a constant state of erosion, and rocks routinely tumble down hundreds of feet to land with conviction. Do not linger beneath these cliffs, as you risk getting bashed on the dome. I sat in this spot (stupidly) for about 10 minutes and took a baseball-sized rock to the knee.
After navigating through the rocks, you skirt the base of a jutting cliffside to come face-to-face with the "Mushroom House," a circular building accessed by a towering funicular that descends from a home at the top of the cliffs. Odd and fascinating as the house is, be sure not to explore it up close as this is private property.
One other point of interest comes as you pass the Torrey Pines Glider Port (just before Blacks Beach). Gliders and parasailors lunch from this promontory to glide along a few hundred feet above.
Beyond the Mushroom House, you settle into a nice grove along the shoreline as you approach Blacks Beach . This stretch of beach is notorious for being San Diego's unofficial nude beach. If you are squeamish about naked men and women, especially since you may find them doing things like jumping jacks as I did on a memorable March morning, you may want to avoid this hike. If you are worried about your children learning lessons about human anatomy, you may want to leave the kids at home as well. Human regalia aside, Blacks Beach is quite a beautiful place with the now ubiquitous sandstone sea cliffs setting the backdrop to one of the finest beaches in Southern California.
The scenery remains consistent through Blacks Beach and beyond. At 4.2 miles, you will approach Flat Rock, a Torrey Pines landmark often covered with curious hikers and tourists. The colorful cliffs jut out toward Flat Rock, which obliges you to pick your way along a narrow, grooved footpath worn into the base of the cliff before dropping down at the terminal point of the Beach Trail leading into Torrey Pines State Natural Reserve. At this point, the relative solitude on the hike gives way to a sudden and severe increase in hiker traffic as you merge with Torrey Pines traffic.
From Flat Rock, the way ahead is clear. Continue along the tide line keeping generally clear of the cliffs to avoid falling rocks until you reach the Torrey Pines parking lot and your waiting car, Lyft, or Uber. Conversely, you could turn right onto the Beach Trail and follow either that trail or the Broken Hill Trail into the reserve. Your increased distance will vary depending on any number of side trips you take, but you can count on adding at least another 300-400′ of elevation gain as you ascend to the top of the Torrey Pines bluffs.
Tags: Blacks Beach, La Jolla, Scripps Pier, Torrey Pines Beach, Torrey Pines Gliderport, Torrey Pines State Beach