As of 9/2/2017, this trail is closed for the foreseeable future due to the Eagle Creek Fire.
This is it folks, THE trail to do in the Columbia River Gorge (okay, well, I think so anyways). Have a day in Portland? Or, do you live in Portland and have somehow missed this one? Do this hike.
I will admit: I have now lived in Portland for five months, and have consciously avoided this trail. The few times I've seen Multnomah Falls while cruising east on I-84 I thought to myself, "so many cars, so many tourists. Nope. Not for me." Multnomah falls is undeniably spectacular. Who wouldn't be impressed by a 620 feet double-tiered waterfall, or be utterly speechless standing at bottom, listening to the water hit the rocks and feeling the rumble through the earth itself? It's powerful stuff. It's also unfortunately crowded … even during the winter; even in the rain. (For more info on that crowded but easier route to the top of Multnomah, head here!)
That's where this hike comes in. Sure, you'll never have this trail to yourself, but after this 5.5 mile trip you'll finally understand what all the fuss is about. While you'll be ending at Multnomah Falls with its crowds of selfie-taking tourists, you'll also see five other breathtaking falls, probably have lots of quiet moments to appreciate the lush greenery, contemplate the enormity of existence, AND see parts of the Gorge that most Multnomah visitors never see from the parking lot.
Here are a few tips to navigate around the crowds when visiting any popular trail in the gorge:
The fall, winter or early spring are great times to visit. The falls are still beautiful and flowing, but you'll avoid the summer crowds. If you go during winter, it's highly advisable that you pack some traction (such as these) in case of ice.
Hike further. The crowds noticeably thin out even a mile from the parking lots.
Utilize weekdays if you can.
With that, on to the hike! While 5.5 miles in length, the elevation gain on the trail offers a great workout with numerous opportunities to enjoy a snack while taking in the views. Starting at the parking lot, you'll find the signed trailhead to your right. You'll begin to climb a series of paved switchbacks, reaching Wahkeena falls after a short .2 mile walk. Meaning "most beautiful" in the Yakima language, a lovely stone bridge crosses directly in front of the falls.
Continuing onward, you'll continue to travel up several more paved switchbacks, with a stop at Lemmon's Viewpoint, with its excellent views of the Columbia river and across to Washington. Named after Keith Lemmons, its also great spot for a quick break before continuing uphill following Wahkeena Creek. All along this section, water cascades downhill amidst breathtakingly beautiful greenery.
The section in between Lemmon's Viewpoint and the next waterfall is utterly breathtaking (and in large part why it's worth making this hike a loop, rather than just skipping right to the Multnomah Falls section). Following Wahkeena Creek, you'll shortly encounter a lush green canyon, where the trail will cross two small wooden foot bridges. With a glance back in the direction you've come from, you'll notice at this small canyon features rocky moss-covered walls, resembling a short slot canyon at times. There are a few small muddy sections here, but these can be easily traversed.
0.8 miles from the trailhead, you'll encounter Fairy Falls, falling 20 feet down a wall of basalt. A wooden bench has been conveniently built next to the falls, offering another perfect opportunity for a break on your upward hike.
As you guessed, the trail steadily heads up several more switchbacks. Continue straight at the junction with Vista Point Trail 419, as well as Angels Rest Trail 415. At this point, the trail climbs less steeply, gradually traveling a wooded slope for approximately 1.3 miles before finally reaching picturesque Multnomah Creek. While an in-between point between waterfalls, this section is lovely, with quiet moments to enjoy the forest, the ferns, and the bird songs. During this section you'll also encounter a slightly tricky intersection between three trails. You'll want to continue straight and slightly to the left on Wahkeena Trail, passing the slight right to Devils Rest Trail.
Shortly you'll reach the top of your elevation gain for the trip (at which point, you'll congratulate yourself for climbing 1600 feet in two miles), and start steadily heading down towards Multnomah Creek. At a one point, after rounding a corner, you'll suddenly hear Multnomah Creek. Shortly after this, you'll head down the side of the canyon, looking towards the creek directly below you before shortly encountering the junction with the Larch Mountain Trail. Take a sharp left, following the sign for Multnomah Falls Lodge and continue hiking along the banks of the creek for the next .6 miles.
The first waterfall you'll encounter in this canyon is Ecola Falls at 55 feet tall, which can be viewed from the top directly to the right of the trail. At any time of the year, the power of these waterfalls are stunning (especially for someone who has lived in southern California for a few years). However, they're particularly impressive after rain.
Next is 50 foot Wiesendanger Falls, which can be perfectly viewed from the trail as it passes in front of the rocky bowl at its base. Like it's neighbor Ecola Falls, it's wonderfully full and powerful during the rainy season, offering yet another reason to (safely) hike in the rain.
Just following Wiesendanger, the trail travels through Dutchman's Tunnel, a basalt overhang veiled in moss and ferns, before encountering  Dutchman Falls, a succession of three short falls. Continuing onward, you'll shortly encounter another stone bridge followed by a short side trail to the Multnomah Falls overlook, a muddy but generally well maintained trail to a wooden platform impressively looking downward from the top of Multnomah Falls.
It's impossible not to be impressed by Multnomah Falls, especially as viewed from the top. Despite the sea of cars visible at its base, its easy to understand its immense popularity and why the Columbia River Gorge is considered one of the "Seven Wonders of Oregon." As an area littered with trails, waterfalls and easily accessible vista points, it's a gem for those looking to get out of nearby Portland with only a short drive.
Return to the main trail, this time going to the left to continue down a series of switchback eventually leading to the base of Multnomah Falls. This section is paved and well maintained. As you'd expect, this portion of the trail is mostly heavily trafficked, with groups and families traveling upwards for a brief view from the top of the falls from the parking lot below. Interestingly, each switchback even features a signpost counting upward. Enjoy your walk downhill (as others do not enjoy their walk uphill). The trail will eventually reach the base of the first section of Multnomah Falls, where one can be splattered by a cold icy mist of water and listen to the sound of water falling several hundred feet. Continuing onward into the throng of tourists, you'll pass over the stone bridge in front of the falls and eventually reach the historic Multnomah Lodge (built in 1915) at the bottom. Here you can find a coffee cart and bathrooms.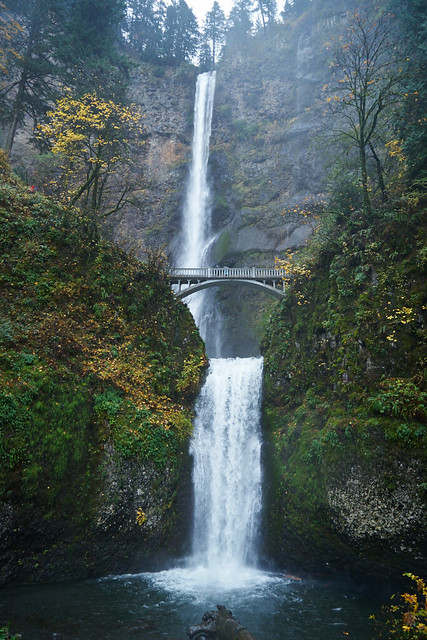 To return to your car, you'll take the short return trail, which begins at the end of the parking lot. While it can be a bit tricky to find, the trail is reached by heading to the left (with the falls at your back) and traveling past the row of cars. A large sign is at the beginning of the trail. This will take you directly to your starting place.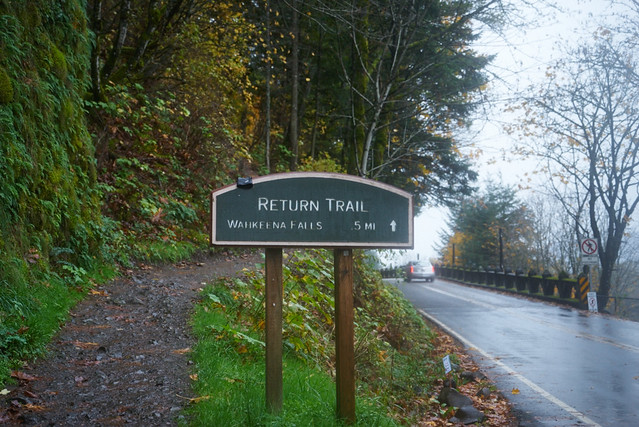 Tags: Columbia River Gorge, foliage, Multnomah Falls Trail, oregon, Portland, transit accessible, Wahkeena Falls Trail