Well it's the end of the year again, which means I'm deciding what kinds of holiday cookies to try baking (answer: all), running outside as soon as a rainstorm passes so I can soak in that magical sage scrub scent, and looking back at all my favorite books I've read in 2019.
Back in 2017, I was sick of my inbox being flooded with gift guide pitches and decided to instead celebrate my version of the Icelandic tradition of Jolabokaflod — which roughly translates into 'Christmas book flood' — by sharing some of my favorite books from the previous year. As I've done before, not all of these books came out this year — and I'm including some books that are kind of on the periphery of what you'd find on most "best outdoorsy books" lists but were things I found interesting and relevant to our strange little position here at the nexus of the outdoor community and the increasingly indoor world of outdoor online influencers. The books here are presented in the order I read them.
Anyway, we could all do a little better in general by buying less stuff — but I'll always make an exception for a good book. If you're an ultra-minimalist, snag an eBook instead, or pick up a copy at your local library. Happy Jolabokaflod 2019, everyone!
… and also, before we get going, now is also a wonderful time to pick up any of these wonderful books from Modern Hiker writers:
Day Hiking Los Angeles – Casey Schreiner
Afoot and Afield in San Diego County – Scott Turner
Hiking the Pacific Crest Trail: Southern California – Shawnté Salabert
75 Great Hikes: Seattle – Melissa Ozbek
Death Valley National Park – Jenna Blough
Crown Jewel Wilderness: Creating North Cascades National Park – Lauren Danner
Hike the Parks: Joshua Tree National Park – Scott Turner
Hike the Parks: Zion and Bryce Canyon National Parks – Scott Turner
… and now, without further ado:
Our favorite books of 2019:
Desert Cabal: A New Season in the Wilderness by Amy Irvine
I still maintain that everyone who loves the outdoors should read themselves some Ed Abbey, but it goes without saying that modern audiences should be able to admit that some of his ideas, philosophies, and arguments are — well — pretty callous and stupid. Published on the 50th anniversary of Abbey's landmark Desert Solitaire, Desert Cabal is an imagined response to the famously cantankerous author — framed as the two of them sitting down over a campfire with beer for Abbey and whiskey for Irvine.
The book is written in a style similar to Abbey's — which is to say it's a quick read even though the ideas are dense. Irvine calls out Abbey when she disagrees with him and for being contradictory — but is also open to being contradictory herself. While that may make for a sometimes frustrating reading experience as you find yourself alternately cheering and jeering Irvine, that's kind of how you have to read Abbey these days, though, and honestly it's a quality I wish was more prevalent — especially in the too often black-and-white world of online call-out culture. Like Desert Solitaire — you won't (and shouldn't, honestly) agree with every opinion in here — but if you're going to read Solitaire (and you should), you should pair it with a response piece like this.
This means the green light is brighter than ever for the usual suspects of industry and motorized yahoo-ism, but the land is threatened by our ilk, the muscle-powered outdoor wanderers, too. Which is to say you, Mr. Abbey, may have developed whole fleets—generations' worth—of desert defenders, but now they're out there en masse, bumping into one another on the very ground on which you taught them to go lightly and alone. They are as much the problem as they are the solution, and it's hard to know how we don't divvy that down the middle, into us and them, right and wrong.
Coyote Doggirl by Lisa Hanawalt
Lisa Hanawalt is a production designer and producer on one of my favorite shows, Bojack Horseman. She's also an illustrator and graphic novelist, and Coyote Doggirl is her first longform narrative. The loose, surreal story follows a half-dog, half-coyote and is somewhat of a feminist take on the classic Western. There are references to famous entries in that genre here as well as subversions of them, but most of all this is a fun, quick, weird, and totally original read. The dialogue is as sparse as our western skies but purposeful. It's kind of trite to say there's not really anything like this, but honestly — there isn't.
After/Image: Los Angeles Outside the Frame by Lynell George
Unlike most folks who write about the outdoors, I actually do like living in cities but living in a city as big, sprawling, and messy as Los Angeles can definitely be a challenge. George grew up here, and as an award-winning essayist and journalist she has seen first-hand how much the city, its people, and its environment have changed over the past few decades. After/Image — more than any book I've ever read — really captures a unique and special viewpoint: that of a person who really loves a place but is watching that place change to something that's not quite recognizable. On her long and extensive walks through the city's streets, alleys, and trails, George expertly captures the unique sense of nostalgic urban grief you get when you realize you're giving someone directions using landmarks and guideposts that no longer exist. Angelenos, you need to read this one.
The Lost Art of Reading Nature's Signs by Tristan Gooley
A big theme of the books I read in 2019 was simply, "SLOW DOWN AND LOOK AROUND." Gooley's The Lost Art of Reading Nature's Signs fits into that category, even if it is somewhat structured as more of a "here's a guy you met who can't wait to tell you all about tree roots" sort of thing. But hey – I'm guessing some of you folks just might be that type of person? I know I can be. Even though Gooley's home landscape is the hilly terrain of England and not every thing will be specifically helpful depending on where you're spending time outside, the cumulative effect is as peaceful as taking one of the long, aimless walks Gooley enjoys. This is not a survivalist's handbook — it's more of a "determining the source type of a river by looking at some of its pebbles" sort of thing, and it's lovely.
Draft No. 4: On the Writing Process by John McPhee
McPhee's Encounters with the Archdruid made it on to my list in 2017. I re-read that book this year but also followed it up with McPhee's guide to writing, which was really fascinating. As a pioneer of a more narrative style of non-fiction storytelling, McPhee helped unshackle non-fiction writers from the chains of chronological order. Instead, he often takes a more cinematic approach — so the beginning of a novel will kick off with something that happened near the end of the story before looping back to the beginning, referencing the past-future, going off on tangents, etc. There are beautiful story flow charts in here, as well as excellent advice for writers and stories from the writing trenches. If you like non-fiction writing and want to try your hand at some of your own — or are already doing so — this is a cracking little read.
Writers come in two principal categories—those who are overtly insecure and those who are covertly insecure—and they can all use help.
Falter: Has the Human Game Begun to Play Itself Out by Bill McKibben
Boy it's tough to read the news these days, isn't it? I felt like a good portion of my 2019 was spent watching wildfires in Southern California to note changes for future printings of Day Hiking: Los Angeles and hoping they didn't too adversely affect the accuracy of Discovering Griffith Park. The rest of the year sometimes felt like an onslaught of bad ecological news, dire predictions of the past come true, and louder alarm bells falling on ever-deafening ears. So, yeah, this isn't exactly a pick-me-up sort of book here. McKibben was one of the earliest to warn about the effects of climate change, and in Falter he weaves those messages into a broader sociological criticism of 20th century political thought to basically say that in this moment of existential crisis for the human species, we kind of have the worst possible people and systems in place to deal with it.
There is a silver lining to the heavy gray cloud McKibben spends most of Falter spotlighting, but to achieve it will take a heck of a lot of work. Again, not a necessarily uplifting read, but an interesting and important one.
We are the first acutely self-conscious species, so wrapped up in our own story that we rarely stop to remember how short that story really is.
Sapiens: A Brief History of Humankind by Yuval Noah Harari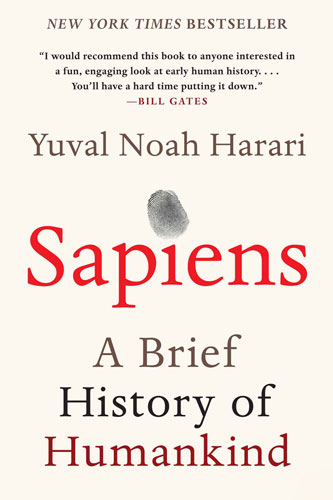 After reading Falter and thinking "well how the heck did we get here?" my library hold on Sapiens opened up — and just in time, too. Sapiens is, I think, a solid companion piece to Falter because it takes a wider lens to the human story, digging back into our origins as a species (and our co-habitating Homo relatives) and — to answer that previous question of mine — how we got here. This supremely engaging and readable book looks at what happened to those other humans, what we gained and lost by adopting agriculture, how religions came about, and how liberal capitalism may be both the reason Western thought came to dominate the world and perhaps also be humanity's eventual undoing. My brain's gears were spinning at full speed the whole time I was reading this one.
So why study history? Unlike physics or economics, history is not a means for making accurate predictions. We study history not to know the future but to widen our horizons, to understand that our present situation is neither natural nor inevitable, and that we consequently have many more possibilities before us than we imagine.
They Called Us Enemy by George Takei
Executive Order #9066 is a profound and important aspect of the history of the West that, unfortunately, is too often overlooked. The order essentially stripped citizens of Japanese ancestry of their rights — both immigrants and American citizens born in the United States. Families were uprooted from their homes at a moment's notice, given hours to gather their belongings, and forced to board trains to distant internment camps without ever knowing what would happen to them.
George Takei, of Star Trek fame, was one such person. At the age of 5, he and his family were ousted from their Los Angeles home and relocated to an internment camp in Arkansas. They Called Us Enemy is written from George's perspective as an adult, remembering what happened to him as a child. As such, we get a 5-year old's view of this tremendous injustice that is not fully understood and contextualized until later in life, when George could have difficult conversations with his parents.
The story and artwork are moving and emotional, and the book serves as a fantastic primer for those who are just learning about this era for the first time and those who are looking for a more personal, human perspective on it. Takei does a great job in highlighting the small and large victories won during the internment period, as well as the inspiration it brought to fighters and activists who came later.
How to Do Nothing: Resisting the Attention Economy by Jenny Odell
First off, this is not what most people would likely consider a "how to" book, despite being called How to Do Nothing. You won't find prescriptions for allowable smartphone notifications or instructions on holding your own digital detox here — but what you will find is a thoughtful and engaging synthesis of why being connected makes you feel so exhausted and agitated and how much more human you are when you disconnect — even just a little bit.
Similar to Jaron Lanier's Ten Arguments For Deleting Your Social Media Accounts Right Now (a 2018 read), Odell isn't calling for everyone to delete their Facebook accounts and smash their smartphones, but rather noting the importance of having people who are engaged in an alternate way of thinking, acting, and doing. And if you won't or can't give up everything, Odell notes that even being aware of how our attention has become a primary resource in a new and mostly unregulated economy is worth the effort. It is OK not to participate, she says, and you might actually find yourself infinitely more personally productive once you ditch the slate of required productivity software and programs designed to turn every one of your waking moments into an economic unit.
Where Odell really spoke to me, though, was her suggestion that we start moving away from the impersonal, fast-moving 'communities' on social media to instead focus more on what is important to our own physical location. She acknowledges that social media is a powerful tool for finding people and spreading messages, but that the most constructive work is done in-person with an actual community. Ideally, Odell suggests we look to the philosophy of bioregionalism — the idea that we're not citizens of a certain town, city, state, or country — but rather members of a community bound by an ecosystem that includes plants, animals, and landscape features. For her, discovering birding on her walks in Oakland was a way she at first gave names (and attention) to the birds she saw, then to the trees those birds were in, the food they were eating, the times of year they were around, etc. Many hikers, I'm sure, have had that experience once they decided they wanted to learn more about where they were hiking. When I was first crawling around the Santa Monica and San Gabriel Mountains, it was all just "brush." Then I learned types of plant communities, then specific plants, then how they lived and worked together, and now anyone who goes on a hike with me can't get me to shut up about all the amazing native plants most non-hikers would just walk past without even noticing.
This was a terrific — and most importantly, mostly uplifting read to wrap up my 2019. It's highly recommended — and might just be my favorite book of 2019, actually.
One thing I have learned about attention is that certain forms of it are contagious. When you spend enough time with someone who pays close attention to something (if you were hanging out with me, it would be birds), you inevitably start to pay attention to some of the same things. I've also learned that patterns of attention—what we choose to notice and what we do not—are how we render reality for ourselves, and thus have a direct bearing on what we feel is possible at any given time. These aspects, taken together, suggest to me the revolutionary potential of taking back our attention. To capitalist logic, which thrives on myopia and dissatisfaction, there may indeed be something dangerous about something as pedestrian as doing nothing: escaping laterally toward each other, we might just find that everything we wanted is already here.
Happy reading, everyone!
That was our favorite books of 2019. Check out our previous book lists for more good reads:
Tags: 2019, favorite books