Have you ever felt as if you lived a week in two days?
That's what the #OmniGames were like.
As some of you may remember, back in 2012 I was asked to join the very first #omniten with Columbia Sportswear. Having no idea what to expect, I got on a plane to Arizona to hike through rivers in Sedona and backpack to Havasu falls with some of the most incredible people I have ever met. We grew as close as any family and we got a ton of soon-to-be-released Columbia gear to test out along the way – including the OmniFreeze Zero shirts that I still use on almost every hike I do here in Southern California.
The program has continued since then with new Spring and Fall groups every year. But a few months ago I received this Mission Impossible style email:
Hello #omniten alumni!

We hope this message finds you well. The #omniten began as a challenge to ourselves. We challenged ourselves to find ten people who love the outdoors as much as we do. We challenged ourselves to face reality by asking you for honest product feedback. We challenged ourselves to create a dialogue with people who inspire us, people who push us, and people who live the #TryingStuff lifestyle.

And while we're not done challenging ourselves, we have a challenge for you. The first challenge is to block out your calendar for 1/7/14-1/11/14. The second challenge is to make sure your passport is up to date. You won't need it in January, but if you play your "cards" right, you may need it soon thereafter. And the third challenge is to tell us by 10/25/13 if you'll be available for an #omnichallenge of sorts. You might even call it the #omnigames…
About a month later, we received another email with GPS coordinates for Park City, Utah – along with word that we would be competing against other teams and that we could bring our own skis or snowboards.
And that's when I got nervous.
I've only been skiing three times before in my entire life. The first two were back in 2005, when I spent two days getting lapped by six year olds on the bunny slopes.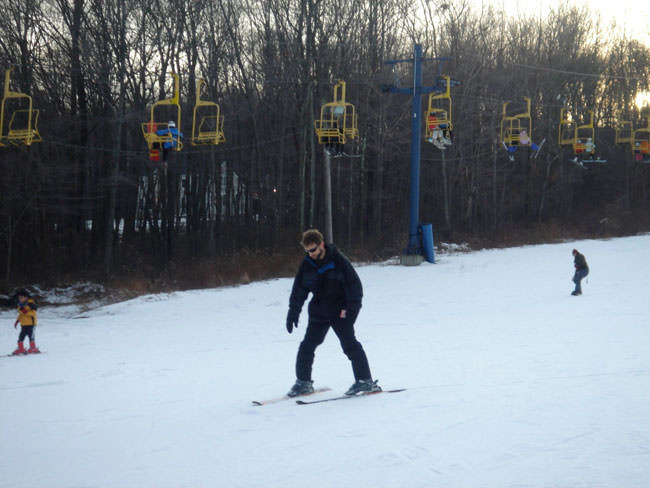 Last year, I celebrated Christmas with my boyfriend's family in Portland, Oregon, and we spent one beautiful day skiing on Mount Hood. This time I fared a little better and managed to complete a blue trail – and all it took was dozens of falls and twice as many curse words shouted at the snow.
I generally have a preference toward activities where my feet have a good amount of traction on solid ground – this site is called Modern Hiker for a reason. But after experiencing the first #omniten trip I made a promise to myself: every time my brain uttered the phrase, "That's something I would never do," I was going to do it. No matter what. Thus, I went skydiving, kayaking, river rafting, indoor climbing, ziplining, did a ten day silent meditation retreat, and now – whatever the heck Columbia had in store for me. I mean, one of their major social media catchprases IS #TryingStuff, after all.
…
Fast forward to January 8th.
I leave the 70 degree temperatures and sunshine of Southern California for Real Winter. Utah didn't mess around here – I left the plane and was greeted by this:
After shuttling to our hotel, I reunited with my Season One alumni and unzipped a giant Columbia duffel bag full of cold weather gear with lots of Omni-Heat items, including several baselayers, a down jacket, heavy fleece, snowpants, boots, and an Omni-Heat lined jacket that I really fell in love with over the trip.
That evening, we traveled to Park City proper to meet the teams from #omniten seasons 2 and 3 as well as the new team there for season 4. After a handful of beers and a LOT of plaid shirts, we still didn't have any idea what the #omnigames were or what to expect.
The next morning, we woke up bright and early and were instructed to come to the hotel's "#omnihub" suite "dressed for skiing." After a short intro on the #omniten program, the Columbia team started tossing us all these paper-wrapped, incredibly light little packages:
Inside was a featherweight bundle that unfurled to Columbia's new TurboDown jacket – described by Columbia Chairman of the Board Gert Boyle as "like down on steroids, but legal." It's a brand new combination of down, Omni-Heat insulation fill, and Omni-Heat reflective coating that manages to pair up the best of both worlds. The synthetic interior wicks moisture away from the body and provides a waterproof, breathable barrier for playing in the snow. Columbia plans on releasing several different variations of TurboDown when it hits stores September 26th, 2014 – from Gold-level jackets with 550-fill down to these Diamond-level jackets with a hydrophobic-treated 850-fill down.
I unwrapped a slick white Diamond jacket and was immediately struck by how light it was – just .35kg. The fit was great – not too bulky or puffy – and I can attest to the jacket's excellent insulation. This thing kept me extremely warm in cold, windy conditions day after day. Columbia put these jackets through some independent testing and found that they were up to 22% warmer than other down jackets on the market, like Patagonia's Nanopuff, The North Face's Thermoball, and Marmot Zeus jackets.

photo by Gina Begin.
And so we finally had our gear – but still had no idea what we were doing.
We were told to board a shuttle from the hotel and drove through a winter storm to a small ranch outside Park City, far away from the main roads. As we braced ourselves against the horizontal snow and raced into the ranch building, all we had were more questions – What are we doing out here? When do we find out our teams? And what are all those snowmobiles for?
ON THE NEXT #TRYINGSTUFF POST …
– The birth of #TeamBeard
– Fur and arrows fly!
– And something priceless catches on fire
If you want to help us win this challenge, be sure to follow Seth and my Twitter accounts, share our stories, and tweet Columbia to let them know you support #TeamBeard!
Tags: columbia sportswear, omni-heat, omnigames, omniten, park city, snow, team beard, turbo down, utah, winter