It's a year's end week of lists here on Modern Hiker – we've already told you our Best Neighborhoods for hikers in L.A., our most popular new trails from this year, our biggest stories, and now – our top trails from the year regardless of when they were published.
There are some truly spectacular trails on this list – if you haven't done them all yet, the new year is a good time to get started!
10. Mount Baldy
Mount San Antonio – Mount Baldy if you're nasty – is the highest point in Los Angeles County and a great counter to anyone who argues there's no "real" hiking in L.A.
Its 10,064 foot summit and infamous Devil's Backbone are not only stellar outdoor destinations, but they're rites of passage for every hiker in Southern California.
9. Cahuenga Peak and the Wisdom Tree
Griffith Park trails can be crowded and sometimes, a little boring. All that fire road really gets to you after a while. The trail to Cahuenga Peak has none of those problems – it's one of the most rugged and fun routes in the entire park.
8. The Bridge to Nowhere
This is another one of those "Rite of Passage" hikes for Southern Californians – a gorgeous and surprisingly tough 10 mile trek along the San Gabriel River to the Bridge to Nowhere – the most prominent remain of an attempted north-south roadway built in the 1930s.
This rugged wilderness trek feels a hundred miles and a hundred years away from L.A. and is a must-hike in the summer, when the cold water of the river is a welcome respite from the canyon heat.
7. Solstice Canyon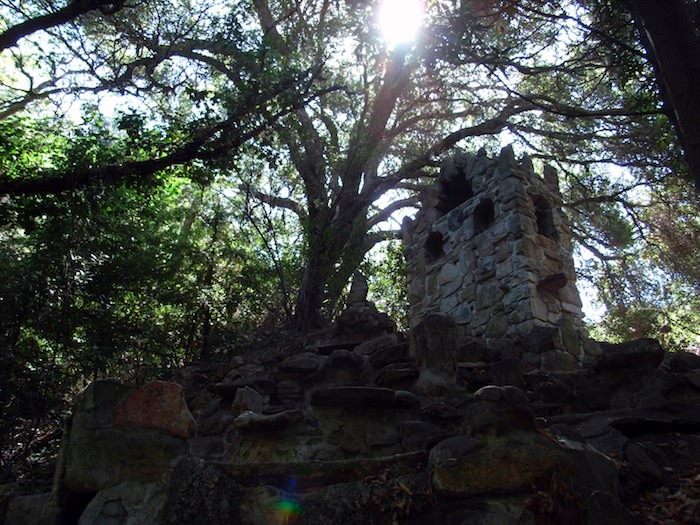 One of finest trails in the Santa Monica Mountains National Recreation Area, Solstice Canyon is suitable for families as well as trail runners and hikers looking for a tougher challenge.
This canyon not only contains the ruins of the Tropical Terrace House, but is also home to the oldest still-standing stone structure in Malibu as well as its oldest tree.
6. Echo Mountain
At the turn of the century, Southern California was in the midst of its so-called "Golden Age of Hiking." Dozens of wilderness resort hotels catered to tourists and Angelenos who could ride the Red Car to the base of the mountains themselves.
A Civil War veteran and the U.S. Army's first Chief Aeronaut moved to Pasadena and built a series of hotels and lodges atop the San Gabriels, linked by an impressive funicular and mule-drawn railway. Today, only the foundations and a few artifacts remain of the impressive site on Echo Mountain, but hikers can enjoy both the existing views and the images of the grand hotel in their imaginations.
5. Santa Anita Canyon
Another area popularized in the Golden Age of Hiking was Santa Anita Canyon, where several camps were constructed along the route to Mount Wilson.
Unlike Echo Mountain, however, Santa Anita Canyon escaped most of the destruction – many wood and stone cabins still stand, Camp Sturtevant has the only remaining functional structures from the Golden Age (and also the oldest existing Forest Service structure!), and Adams' Pack Station is one of the last remaining active mule pack stations in the country.
And if the history isn't enough, the hiking itself is spectacular – with shaded riparian canyons and cascading waterfalls.
4. Los Liones Trail
The Westside's Los Liones Trail to Parker Mesa is a popular route for good reason. It's got a decent elevation gain, easy accessibility, and jaw-dropping views of Santa Monica Bay. On clear days, hikers can see all the way to Catalina – and still be done in time for brunch.
3. Sandstone Peak
If you haven't been to Sandstone Peak – the highest point in the Santa Monica Mountains – you are seriously missing out.
This trail is phenomenal in any season, and features a little taste of everything that makes hiking here so wonderful – epic views of the San Gabriels, Santa Susanas, and Channel Islands, fragrant coastal sage, riparian streams, and balanced boulders that look like they could be at home in a Road Runner cartoon.
2. Mount Lee to the Hollywood Sign
There's been a bit of controversy lately about Hollywood Hills residents blocking access to trails to the Hollywood Sign, but there are still plenty of ways to reach it if you'd like – including this classic hike from Bronson Canyon.
On your way to Mount Lee, you'll pass the original Batcave, along with dozens of other hikers, joggers, and equestrians on your way to the backside of L.A.'s most recognizable landmark. Just don't try to hop the fence!
1. Mount Whitney
The tallest mountain in the Lower 48 is a big draw for anyone, and it remains the most popular hike here on Modern Hiker.
Spend enough time hiking and eventually you'll fall under this peak's siren call. You'll read about how it's crowded and the permit process is a pain. You'll worry about having to poop in a bag or getting altitude sickness. And then you'll get on the beautiful trail and none of that will matter – you'll be on top of the world.