One of the Cardinal Rules of Hiking is – Always Let Someone Know Where You're Going. Whether you're going solo, in a group, on a trail you're just trying out for the first time or one you've done a thousand times before, you should always let someone know where you're going and when they can expect you back … but apparently people don't seem to be heeding that rule lately because preparedness is getting a lot of coverage on SoCal news outlets this week.
The impetus seems to be this very handy and helpful form (PDF) the Los Angeles County Sheriffs Department just posted. It's a great way to leave someone with all the info they'd need to give the authorities if a Search and Rescue mission had to get initiated … but if you're looking for something a little more modern, it might be worth your time to look at the new web app Should Be Back.
I got an email from the developer a while back and finally had the time to test it out – while there is a bit of room for improvement (and the developer will be adding some features soon), I think it's a great, free way to make it easy to not only let people know where you're going – but also to remind you to let them know you made it out of the wilderness all right.
As you can see, you can sign in with a number of social networking services to use the app, so pick your poison and head on in.
The first thing you'll want to do is head to the My Info section to make sure your cell phone and email are correct – then add some emails and cell phone numbers for some trusted contacts. At the time of this review, the app supports up to three contacts at a time.
Once you add someone, they'll get a confirmation email letting them know you've added them to the site.
The next time you head out into the woods, just create a trip on this site before you leave – you can center a Google Map on your location, add a bit of a description, and set your estimated return time as well as a time you would consider abnormally late (surely we've all been lured into a mysterious side trail while hiking, right?)
These times you choose here are fairly important – because that determines when your contacts get notified that you haven't checked in and returned home yet. When your expected finish time rolls around, you'll get an automated text message from the service asking you to reply –
If you reply to this text, you're done – nothing left to do, and the app knows not to bug anyone. If you don't reply, you'll be prompted again at your "late time" and your contacts will all receive a text message that looks like this: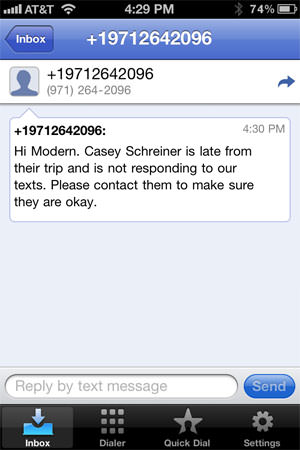 If you don't respond to this, or if at any time you text back "help" to the app, it will also send an email with your trip info and the Google Map to your contacts and ask them to try to get in touch with you or some authorities.
The messaging all works great – and the web site is very simple to understand and easy to use. There is a bit of room for improvement, though – when your contacts get the email with your trip info, the attached Google Map doesn't have a pin showing your location, and sometimes the optional additional trip info you write doesn't show up. Additionally, when I tried texting 'help' after the first text was sent to me, nothing went out to my contacts – although they did get the messages right on the dot at my 'late time.'
As I mentioned, the app's developer is planning on devoting a lot of attention to this during the next few weeks, and you can expect it to get another layer of polish – but right now I would definitely recommend this as a supplement to leaving detailed plans with someone you trust. This is a great way to remind yourself to get in touch with them after your hike is done – and if you are stuck, it's a nice automatic way to alert your loved ones if you don't have a more expensive device like a SPOT locator.
Tags: Hiking, locator, safety, should be back