Over the weekend, Modern Hiker held its first Go Hike L.A. event of 2015 – a trek through Santa Anita Canyon to the legendary Sturtevant Camp, the last remaining wilderness resort of L.A.'s "Great Hiking Era." As I've detailed previously, the circa-1897 camp has been owned and operated by the United Methodist Church since 1945 but the camp has never made a money for them and they're looking to sell. The camp's neighbors at Adams' Pack Station are currently trying to raise fund to purchase the Camp, which they plan on renovating and rejuvenating in order to make it more available for visitors (currently the Camp is usually only available to book on weekends).
On Sunday Morning, about 70 hikers joined Modern Hiker and Deb Burgess of the Pack Station on a hike into the camp. We had several different leaders (including Bob Dollins) who took the groups on different treks, and a reporter from KCET's excellent SoCal Wanderer blog. Deb led a mule train along the Gabrielino Trail while I took those looking for a strenuous trek down toward Hermit Falls, then up Lower Winter Creek and Mount Zion to the camp. The Modern Hiker crew had a pretty big group but everyone made it in one piece.
Along the way, hikers in my group heard some of the history of Santa Anita Canyon – including some info on the cabins, the other, long-vanished canyon resorts, and about the camp's namesake Wilbur Sturtevant. When we arrived at the camp itself, all the buildings were opened up to the public and Deb was already leading a tour.
Sturtevant was mostly a tent camp when it was opened, and many of the small cabins on site were built much later while the camp was run by the Methodists. They're definitely of the rustic sort but not without their campground charm. The "Retreat Cabin" has a larger bed along with bunk beds, as well as its own bathroom and small kitchenette.
As you'd expect from a camp that's been operational since 1893, there's a lot of history here. The dinner bell was pulled off of an old Red Car trolley (which used to take Angelenos to nearby Sierra Madre to start their trek into the canyon), power and running water are both generated from the nearby creek, and original badminton courts are still operational.
The 1897-built Swiss Dining Pavilion is still there, too – and although it's been enclosed it is still unbelievably charming inside. The original wood beams now frame the inside of the building, where mementos from campers past seem to fill every available space in the building. A well-worn wood stove warms the room, while a nearby lounge holds an old stone fireplace and upright piano.
Nearby the dining hall stands Louis Newcomb's 1903 hand-built ranger cabin – the oldest U.S. Forest Service structure still in its original location. The cabin is still in remarkable condition – and the interior is filled with old maps, photographs, and trail signs and tools.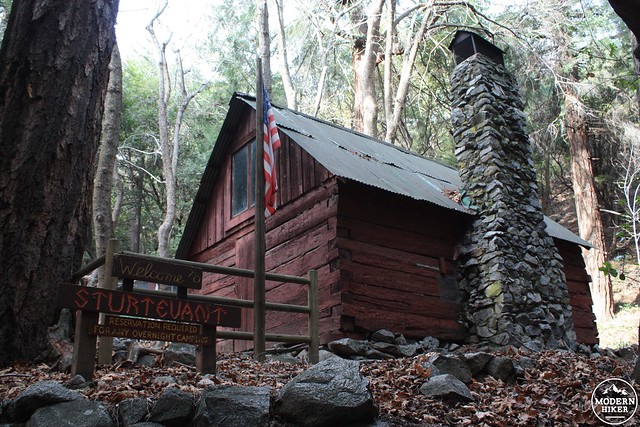 After a quick lunch, Deb brought everyone up to the Camp's zipline, where a group of us went for a quick ride.
I can testify that the zipline is much faster than it looks.
Adams' Pack Station has already raised more than $25,000 of the $75,000 they need to secure the funding for the camp. We raised almost $3,000 on Sunday and an anonymous donor has pledged to match anything that's been raised – but they still have about a month to rustle up the rest. If you're interested in learning more, they have a detailed donor prospectus (PDF) that lays out the planned improvements for the camp – like adding a solar generator and water heater and replacing invasive plants with native species, and redesigning the Camp's web site and increasing outreach and advertising. If that's not enough, if you donate a certain amount of money you can even get one of the cabins named after you!
Even if you just have a few dollars to spare, please consider donating to the Friends of the San Gabriels – donations are tax deductible and if, for some reason they don't meet their goal, you can have your donation refunded.
Tags: adams pack station, friends of the san gabriels, history, Santa Anita Canyon, Sturtevant Camp