When I was at the Consumer Electronics Show in Las Vegas, I met some representatives from Trimble Outdoors, who were kind enough to let me in on a review copy of their iPhone App, AllSport GPS. While I think it has a few shortcomings for hikers, its features really shine as a fitness app, which could be more appreciated by trail runners or mountain bikers.
The first indication that this is a fitness app occurs as soon as you run it, as it asks you for your weight.
After that, the app will ask you to sign up for a Trimble Outdoors account, or to login if you already have one. If you've been using Trimble Outdoors already, you will see all of your trips stored on the server, and will have the option of downloading any of those routes to your phone. If you don't have an account, it's pretty simple process – and one you'll have to do if you want to take full advantage of the app itself.
At the Trailhead
There is currently no way to locally store maps in this app, which is a big drawback for hikers. If you are lucky enough to still have a signal where you're hiking, you can download a partial map in street view, aerial view, or topo, but you won't be able to actively resize or move the map without waiting for another cell signal to download the info.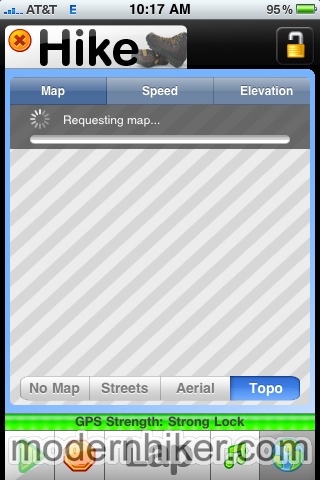 You can download and store a track to your iPhone, but it's an inelegant system. You have to go to the Trimble Outdoors web site, search for a trail or route and click on the iPhone logo in the description to load the track into your online profile.
THEN you have to go to back to your account profile in the app, load your stored tracks on the server, and choose to download the track to your phone. It's easy to do, but it's not very intuitive and it takes a lot more steps than it should.
Options Galore
This app really lets you see data from your trek the way you want to see it. This is the standard information screen view:
As you can see, nothing too flashy at first glance – but every single one of those readouts is customizable. There are 26 different readouts, from time and elevation measurements to calories burnt, current direction, pace, and more. You can even use a previously recorded track to try to beat your previous time or pace, which is an especially nice feature for trail runners.
While you're recording a track, the bottom of the screen has buttons to stop recording, resume recording, mark a lap, view your track on a map, or use an integrated iPod function. If you like to listen to music while you hike, this is a major plus, because you can change songs and even build playlists in the app without worrying whether or not your GPS recording has been interrupted.
You'll either be listening to music or just keeping your phone locked and in your pocket while you're using this, because the app does not allow you to mark waypoints or take photos while hiking.
After the Hike
When your hike is over, click the stop button and choose to save your activity (you can upload, too, if you have a signal). Here, you can see the boatloads of information the app has been tracking, and it's definitely presented in a clear, easy-to-understand manner (although again, if you want to view the track on a map, you'll have to download it).
The app also gives you nice visual representations of all this information, including a map of your speed and the elevation gain (note the GPS-jump):
When you get home, you can upload the track to the Trimble Outdoors web site and use their extensive web interface to tweak your data. When you're done, you can embed your trip to a web site and share it online. The app will automatically mark suspicious-looking GPS data in yellow, so you can see where the receiver went off-the-mark.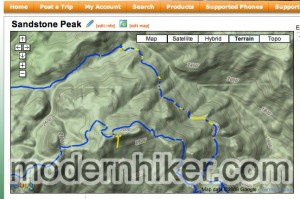 Interestingly, while I expect a few GPS jumps here and there – even with my dedicated GPS receiver – I did not have these jumps when using other GPS apps on the iPhone.
Final Word
Trimble AllSport is a great outdoor sports app, but only a fair one if you're going to use it solely for hiking. Despite using the same database that Backpacker Magazine uses for its GPS-enabled hikes, AllSport's features are almost all more useful for mountain bikers, trail-runners, and other outdoor sportspeople who don't want to mark waypoints or take pictures along the way.
While the app's data presentation and built-in iPod functions are very nice, the lack of downloadable maps and the runaround you have to do to even find trails makes this a weak option for hikers, especially when you also factor in its inability to mark waypoints and $4.99 pricetag.
Trimble does have a dedicated hiking app – Trimble Outdoors – that should offer the full functionality you would expect – but that app is currently only available on Android phones (an iPhone version is in the works – which will hopefully be less than the $5.99/month price offered to Android users).
As it stands right now, though, hikers would be better serviced by the free EveryTrail and pay-by-map AccuTerra apps, but trail runners, mountain bikers, and street bikers may want to check it out.