A while back, the guys at Black Diamond Equipment were kind enough to send me a sample of their new Boost pack to test out. After taking it to Topanga State Park last weekend, I can say it is a more than welcome addition to my arsenal of gear-carriers, even with a few minor quirks.
The Boost is part of Black Diamond's new Spring 2010 line of Active Form Design packs, a three part system that encompasses internal Active Frame Technology, which includes internal frame support along with snug hip and shoulder belts; Form-Specific Fit, which features extensive adjustable parts to make sure the pack fits perfectly to a variety of body types; and Efficient Design.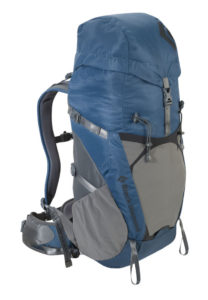 In terms of Efficient Design, this pack really nails it – when fully packed, it's got a slim, minimalist form. Its toploading design keeps things simple, but it still has an easily accessible top pocket, as well as side compression pockets and two small zippered pouches on the hip belt. There's also a larger center compression pouch on the back, and built in loops for additional gear. These loops on the bottom of the pack are not adjustable, however, so they're limited to gear that can clip in or onto them (I wouldn't want to try to compress a bedroll into there, for instance).
The interior of the pack is roomy, and easy to stuff. The mens' medium can hold 32L of volume (1,950 cu in) and weighs 2 pounds, 14 ounces, while the Large model holds 34L and weighs in at 3 pounds. In one of the few things I didn't like about the pack, it is hydration compatible, but the hydration sleeve isn't very expandable near the mouth. I was able to fit my 3L Platypus bladder into the pouch, but it did take some effort on my part, and the bladder wasn't filled completely. I'd probably still have problems with a 2L bladder, but a 1 or 1.5 should fit alright.
The other minor problem I had with the hydration system was that the hose comes out in the center of the pack, just behind your neck. This normally wouldn't be much of an issue, but there are also no guide loops along the shoulder straps to keep the hose in place – only a clip on the chest strap. As a result, I had to keep brushing back the hose from my neck. A minor irritation, but an irritation nonetheless. You can fix this with a small clip on one of the shoulder compression straps, but I really wish it were better incorporated into the design of the pack itself.
In terms of form-specific fit, this pack is really quite impressive. The shoulders and hipbelt both have adjustable straps – which is pretty standard – but where the hipbelt connects to the back of the pack is also adjustable with a 4mm hex key. If you spend a bit of time with the pack, you can really make it work with whatever's the most comfortable for you.
I did a bit of setup work before I took the Boost onto the trail, and it paid off big time. The pack felt like it was a part of my back, and the hipbelt never felt like it was digging into my sides. I should also note that the mesh OpenAir back panel worked incredibly well. I tend to get a pretty sweaty back when I'm hiking, and despite various packs' claims of breathable backs, this one definitely outperformed them all. I still got a bit clammy back there, but the pack dried much faster than my others when I took it off, and was overall very comfortable to wear.
Final Word:
Despite some issues with hydration compatibility, I would definitely recommend this backpack. The levels of adjustability and customization are pretty impressive, and the pack was extremely comfortable to hike with. It might be a bit big for summer day hikes, but you'll appreciate the extra room on longer treks or on winter hikes or snowshoe trips where you'll be adding and removing layers as you go. This pack is also available in a Women's version, called the Flare.
See a few more pictures of the Boost on Flickr.
For more information on this new line of packs, visit Black Diamond Equipment's Active Form Design web site.
The Boost is expected to retail at $149.95 when it hits stores later this season. Some of the other Active Form Design packs are available now at REI.
Tags: active form design, backpack, black diamond equipment, boost pack, gear, Review