Not every backpacking trip has to be an ultralight ounce-counting physical challenge. Sometimes you just want a decent hike with good friends and a bed under the stars, and maybe you'd like to take a nice bottle of wine along with you to help pass the time as you wait for the Milky Way to appear.
I have backpacked with wine before – on an easy trail in the summer, so I didn't have to worry about taking all those cold-weather layers with me. But a pair of wine bottles sure does add some weight to your pack – not to mention a decent amount of trash to carry on the way out. Enter Bandit Wines.
Part of the Three Thieves imprint, the Bandit Wine family is a collection of value-priced wines aimed at the casual or active oenophile, and as you can see, they've got more than a few features that make them perfect for backpackers.
Instead of glass, the containers are made of lightweight cardboard made from renewable resources. There are no corks, so you don't have to worry about packing a corkscrew or fumbling with your Swiss Army Knife to get to the vino, and if you're into ratios, they let you know the box is "96% wine, 4% packaging." If you've ever had one of those Muscle Milk protein drinks, it's the same exact packaging … and the best part? When you're done, it collapses down to almost no space, the cap can be screwed back on to prevent leaks on the way out, and it weighs as much as … well … a small piece of cardboard.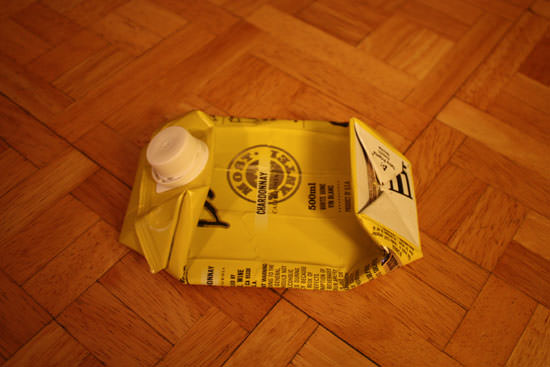 The guys at Bandit Wines sent me four bottles – a chardonnay, pinot grigio, merlot, and cabernet sauvignon – although they also offer riesling and sangria. You're not going to get any world-class experiences out of a cardboard box, but for the most part the wines were pretty tasty. I'm more partial to dry wine, and the cabernet sauvignon definitely didn't disappoint. The merlot had some nice plum and cherry notes with a pleasant finish and the pinot grigio was full of great, dry citrus and a mild apple nose. The only one I didn't like was the chardonnay, which was more watery than buttery.
I couldn't find any stores that sold the cartons in L.A., but you can order them online and get them shipped to you (depending on what state you live in). The 500mL cartons will cost you $4.50 each, while the liter models are $8.99. It's a bit more than you'll pay for Two-Buck Chuck, but it's lighter to carry and tastes better, too.
Tags: backpacking wine, bandit wine, product review, wine