We try a bunch of meals so you know what's worth packing
Here at Modern Hiker Headquarters, we like food a lot. Whether experimenting with new recipes in our dehydrators or scanning the aisles of local outfitters to find tasty treats, we know that what goes into our bodies affects what we get out of them on the trail. Lucky for us, long gone are the days of brick-hard protein bars and bland freeze-dried grub: brands understand that modern hikers (ahem) don't just want food that fuels us – we want it to also taste great in the process.
During last summer's Outdoor Retailer trade show, we had the opportunity to sample an amazing array of new flavors and products. While we wanted to share our favorites with you, we decided to try something a little different and invited ten intrepid Modern Hiker readers to join us for the inaugural Modern Hiker Taste Test. Our hungry volunteers enjoyed an array of bars, jerky, and meals, then shared their thoughts with each other – and with us.
BARS
It's hard to imagine that anyone still buys traditional Powerbars with so many different options now available on the market. In fact, our testers were a bit overwhelmed with the selection – they tried twenty-four different bars during our event! Here are a few of the highlights:
Picky Bars: While the results were favorable for all three flavors, Lauren's Mega Nuts came away in the lead with its crunchy texture and "pleasant peanut butter finish."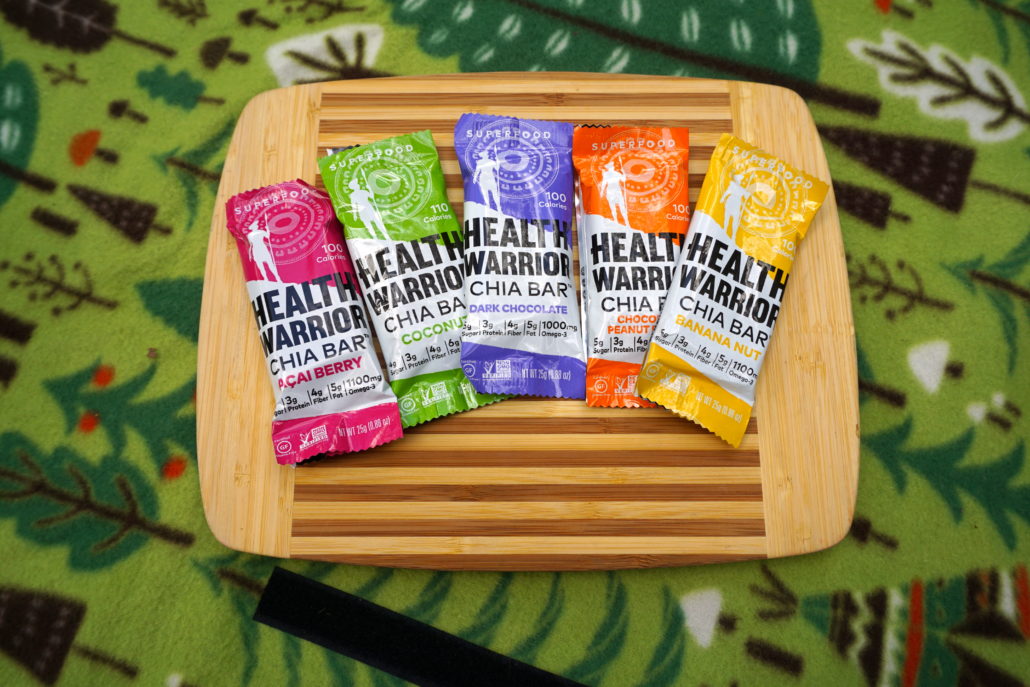 Health Warrior Chia Bars: While some felt the abundance of, yes, chia seeds was a bit too much for their current floss routine, the brand's Banana Nut flavor was one of the most popular picks from the entire bar lineup, with people comparing it to banana bread and dried bananas. A close runner up was the Dark Chocolate flavor (more than one person compared it to a s'more), followed by the Coconut version ("tastes like a piña colada in a bar").
Health Warrior Superfood Protein Bars: These are more traditional protein bars, and as such, they received the lowest marks of the lot. Still, the Lemon Goldenberry flavor rose above its humble protein base, described as "tart," "refreshing," and "more complicated than my love life." (Um, good luck with that.)
GoMacro Macrobars: Overall, these were the crowd favorites, universally praised for their soft texture and incredible taste. While all received high marks, the Sunny Uplift was the runaway favorite – a cherry-packed bar that barely edged out the apple-cinnamon delights of the Morning Harvest Bar and the bowl-of-oatmeal-in-a-rectangle vibe of the Balanced Goodness flavor.
GoMacro Thrive Bars: Unique flavors again took center stage, with the Blueberry Lavender bar winning fans, and the Ginger Lemon version receiving universal acclaim. While someone aptly categorized this as a mix between a gingerbread cookie and a lemon bar, my favorite comment was simply, "WINNER WINNER, GINGER DINNER." Well played.
SIMPLE Squares: These slightly crumbly, but incredibly delectable square bars won over nearly everyone at the table with their short ingredient lists and bright flavors. The Cho-Coco was described as being not dissimilar to an Almond Joy candy bar; the Coconut was compared with a macaroon, and the Cinna-Clove drew parallels to pumpkin spice, chai, and…"fall." About half the group also loved the brand's most unique offering – a more savory Sage bar. While it was described as "if grass and a sweet backpacking bar had a baby," testers with experimental palates loved that it tasted "like outside."
JERKY
While you can still snap into a Slim Jim if you so desire, dried meat snacks have been elevated to a higher level over the past few years, with both exotic meats and unique flavors now making their way into jerky form. Brooklyn-based Field Trip Jerky, launched by a trio of adventurous friends, is experimenting with the latter, and our omnivorous testers chewed on Sweet & Spicy, Cracked Pepper, Teriyaki, and Maple BBQ jerky strips.
While the majority of the tasters felt the Teriyaki flavor wasn't pronounced enough and that salt somewhat ironically overpowered the Cracked Pepper, the Sweet & Spicy was deemed a good balance of the two flavors, and tender to boot. The clear runaway, though, was the Maple BBQ flavor, described as "like Korean spicy pork," "juicy," "pleasant" and "different in a good way." One person even suggested they might start incorporating it into their meal planning: "I could see cutting this up and putting it in dehydrated instant potatoes and dehydrated veggies for a delicious backpacking meal."
MEALS
While we would love nothing more than to enjoy a home-cooked meal every single day while backpacking, the fact remains that lugging fresh food and all of that camp kitchen gear can feel a bit cumbersome. Enter pre-packaged meals. While we've already reviewed Good To-Go's amazing offerings on the site, we were excited to dig into new recipes from Backpacker's Pantry, especially after being impressed with the samples we tried at Outdoor Retailer.
My personal favorite of Backpacker's Pantry's new meals is the Cuban Coconut Rice & Black Beans (okay, being Cuban myself, I might be biased), a subtly complex dish elevated with a tropical undercurrent courtesy of bananas and coconut milk. On that same token, I enjoyed the Persian Peach Stew with Chicken, although the sweeter taste was a bit too off-putting for some testers used to completely savory dinner options. Still, one person agreed with me, feeling that it would be "refreshing after a hot hiking day."
With the more "traditional" offerings – Chana Masala and Mexican Charros Beans & Rice – the impressions were more enthusiastic. The Chana Masala comes with a kick ("Holy spice!"), and despite a few folks suggesting it could use additional sauce or creaminess, it received high marks all around for flavor and texture. In fact, one tester said of the chickpea-centered dish: "I wouldn't kick this out of my pack." Commentary on the Mexican Charros Beans & Rice also centered around texture (people loved the addition of quinoa) and flavor (almost universally described as "smoky"). One person was ready to take it into the office for lunch, and another mused, "For some reason, I want to cut up hot dogs and add them. I don't know why." Neither do we, but we support your culinary experimentation.
[ngg_images source="galleries" container_ids="2″ display_type="photocrati-nextgen_basic_imagebrowser" ajax_pagination="1″ order_by="sortorder" order_direction="ASC" returns="included" maximum_entity_count="500″]Many thanks to our taste testers (Tara, Nikki, Brady, Jennifer, Chris, Maddie, Molly, Jacqueline, Lindsey, and Sarah) and to the brands who sent along samples (and swag for the participants) for making the first-ever Modern Hiker Taste Test a rousing (and tasty) success!
Tags: backpackers pantry, backpacking food, Field Trip Jerky, GoMacro, GoMacro Macrobar, GoMacro Thrive, Health Warrior, Health Warrior Chia Bar, Health Warrior Superfood Protein Bar, hiking food, Picky Bars, SIMPLE Squares, trail food