While it's a bit of a drive from Eugene, the hike to Upper Trestle Creek Falls is completely worth it. The area teems with rushing water and lush forest, a perfect hike for a hot day.
The hike begins with a bridge that takes you across cheerful Brice Creek. More views of the creek will follow, so get on your way to see the first waterfall. Start at Trailhead #1403.
Dense ferns and trees form a trellis above the trail. Only half a mile in, follow the sign to Trestle Creek Falls. The trail takes a sharp turn upwards, then levels out to take you far above the creek, bringing you back down just in time to stand face to face with the first waterfall on this hike.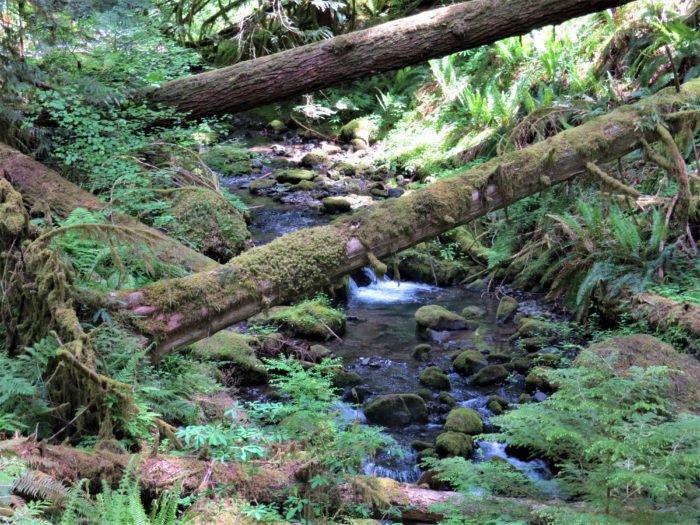 Trestle Creek Falls holds a special appeal because you can climb over fallen logs to get closer to the water as it tumbles from above. In the summer, it's warm enough to wade into the pool and take a dip before you continue on with the hike.
The path dead-ends at Trestle Creek Falls. You'll retrace your steps until you hit the first trail junction and continue on to Upper Trestle Creek Falls. The path turns steeply up, so get yourself in gear for some elevation gain. Keep your eyes peeled for wild rhododendron and iris.
Also look out for poison oak, which shows up in patches throughout the rest of the hike. It's avoidable if you're vigilant! Keep trekking upward. The next waterfall soon appears ahead.
Note that the path behind Upper Trestle Creek Falls remains slippery and narrow throughout the year. Make sure to watch your footing! You get a gentle misting of water as you pass through and pop out into a moss-covered canyon.
A novel feature of this waterfall is the ability to hike nearly all around it, so you see it from every angle.
The trail loops around and takes you back to the beginning of the hike, but first you get to enjoy dense evergreen forest as you climb your way back down the hillside.
Tags: brice creek trail, champion creek trailhead, cottage grove, oregon, trestle creek falls, water, waterfalls, wildflowers