It's tough to imagine a more perfect two-mile hike than Sweet Creek Falls. This hike packs a lot of fun into an easy, quick stroll, including a catwalk that takes you up and over the creek. You'll meet people of all ages and abilities at Sweet Creek, and they're all thrilled to be there. In the spring, the creek gushes powerfully with water, particularly after a rainy winter. Visit later in the summer, and you'll get to climb down to the creek bed and hop along the rocks, searching for salamanders and crayfish.
The hike starts off with a small parking lot, typically packed with cars. Most of the time, there's room to squeeze in, but if crowds worry you, go earlier in the day.
To start, cross a wooden bridge, and you're on your way.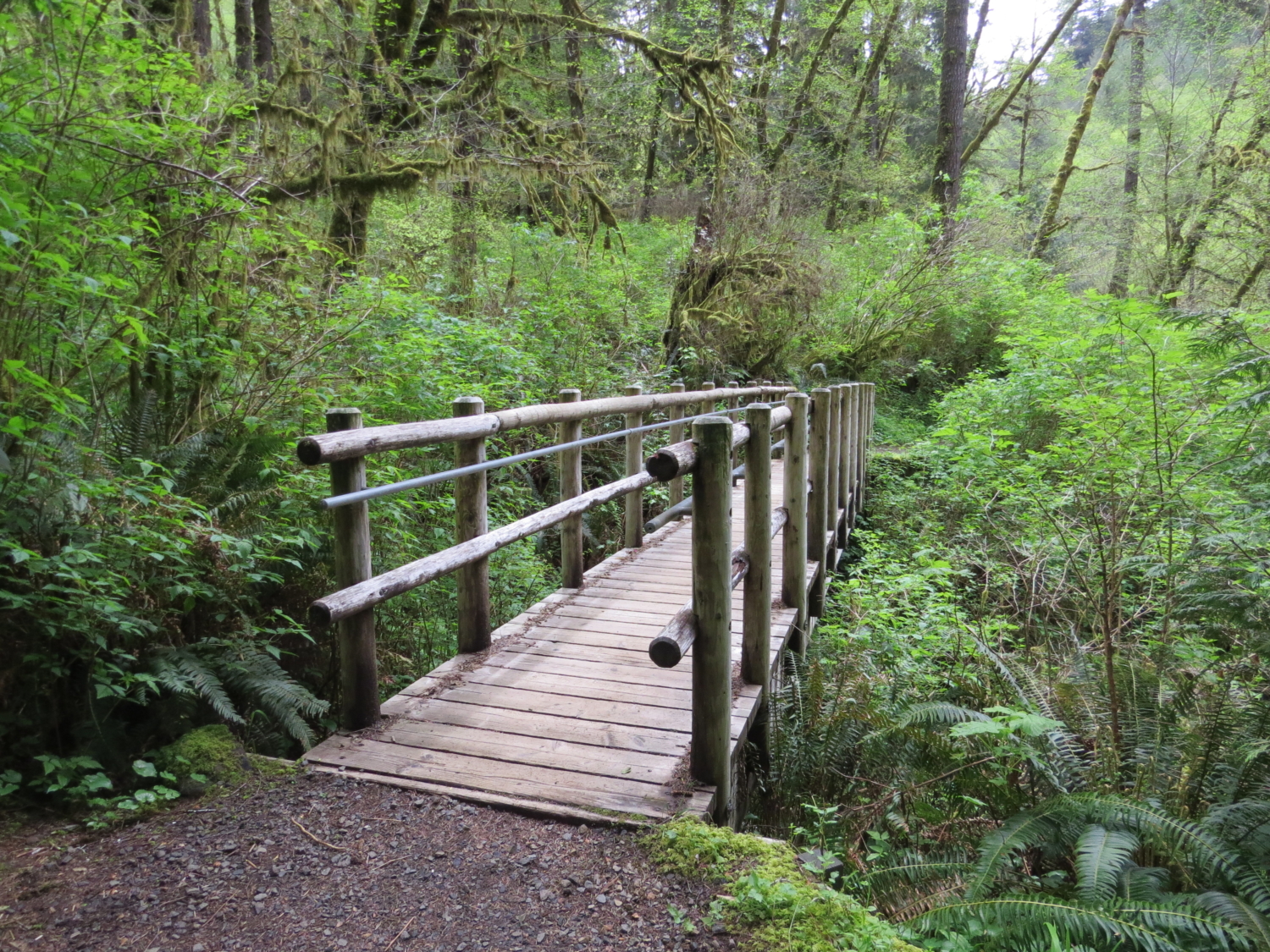 Lush greenery smacks you in the face as you continue along with the creek flowing to your right. On warm days, sunlight filters in through the tree cover and brightens the already gorgeous forest. Before you know it, you're up on the catwalk, peeking down at the rushing water below.
The walkway, while see-through, forms a sturdy platform that takes you along the moss-covered cliffside. Canine companions may hesitate to tread on the strange metal grate, but most can be coaxed over with a treat.
As you navigate this series of platforms, don't miss Annice Falls, a bonus waterfall dedicated to the memory of Annice Ellingson Johnson, who worked at nearby Mapleton Elementary School.
Springtime brings a smattering of delicate wildflowers blooming along the path. Look for trillium, bleeding hearts and fairy bells.
About a mile into the hike, you'll reach Sweet Creek Falls. Normally a gentle cascade of water, heavy rains make it a gushing torrent in the spring.
Once you've taken in the sights and sounds of the falls, head back the way you came. You can also take a trail junction to the left of the falls that lifts you above the waterfall for a slightly different perspective. Just be aware that if you follow this path to its conclusion, you'll land in a different parking lot.
Either way, an hour at Sweet Creek is an hour well spent.
Tags: creek, florence, forest, hike, Lane County, oregon, pacific northwest, pnw, sweet creek, water, Waterfall