West of Dorst Creek Campground lies one of the most intriguing spots in the Lodgepole/Giant Forest area. Atop a wooded knoll in the midst of a 215-acre sequoia grove, a nearly circular arrangement of giants surrounds an open clearing. This arrangement evokes numerous possibilities to vivid imaginations. Could this have been a Native American meeting place? Is this an Entmoot that became frozen in time? Did John Muir once stand upon this spot and assume he had stumbled upon a pantheon of woodland gods? Whatever tone your musings take, Muir Grove is sure to leave a lasting impression.
Begin by finding the trailhead on the west end of Dorst Creek Campground. Dorst Creek Campground is generally open between June and September, although the specific dates tend to fluctuate according to year and even to the availability of water. If the campground is closed when you intend to visit, it may be possible to find street parking on or near General's Highway, after which you can walk through the campground to find the trailhead. The trailhead itself can be found south of the group campgrounds and north of the campsite ring for sites 193-218. A small parking lot lies near the trailhead.
Once on the trail, plunge into a dense mixed-conifer forest featuring predominantly red and white fir and sugar pines. The trail loses a faint amount of elevation as it drops into and back out of a tributary stream feeding Dorst Creek. On the other side of the stream, the trail gains a quick 200 feet of elevation as it wraps around a hillside and then switches back to come to a gentle saddle.
At the saddle, you find a large, open granite dome presiding over Dorst Creek Canyon. While exploring the nooks and crannies of the dome, you can enjoy a pleasant view to the north over heavily forested, rolling hillsides. Allow yourself plenty of time for exploring the expanse of this large exfoliation dome. If you look due west from here, you'll see the rounded crowns of giant sequoias inside Muir Grove rising over a ridge just across another tributary canyon.
Beyond the dome, the trail follows the 6,800′ contour into another tributary canyon to cross a second stream. As you approach and depart the stream, you'll pass through a vividly green corridor of Pacific dogwoods. These graceful deciduous trees produce showy blossoms in May and June, and the leaves turn a sometimes vivid scarlet during October.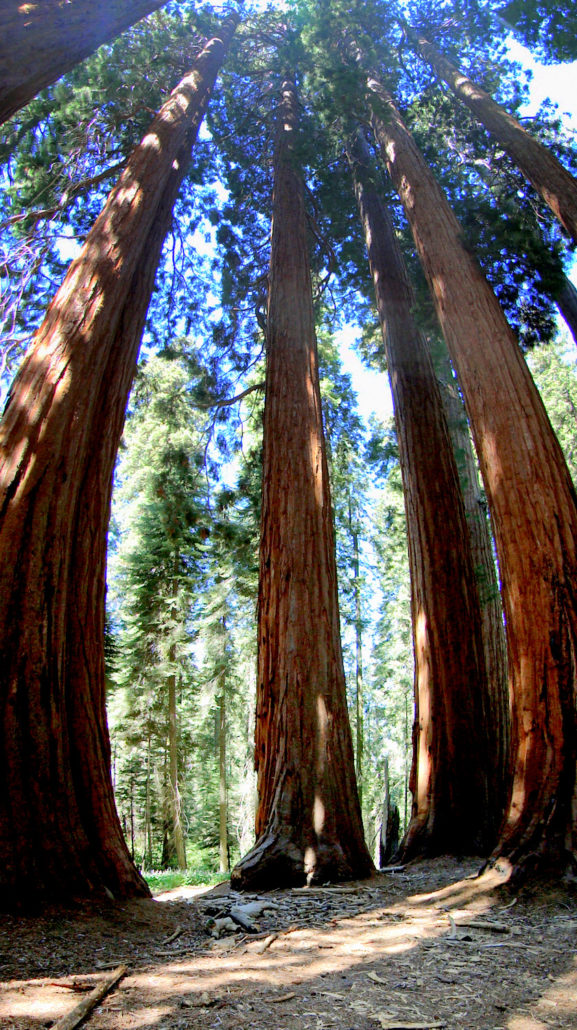 After crossing the stream and switching back to travel due north, the trail begins a gentle climb up to a saddle atop the ridge upon which sits Muir Grove. When you reach the saddle, you will find yourself standing in the aforementioned clearing surrounded by over a dozen massive sequoias.
There are a handful of side trails that explore other parts of the grove, although these trails eventually diminish into obscurity before petering out altogether. When you have completed your explorations or repose, retrace your steps back to the campground to find your way to your next destination.
Tags: dogwoods, Dorst Creek, Giant Forest, Lodepole, Muir Grove, Sequoia National Park, Sequoias