From the northern Tillamook Head trailhead, hikers will be treated to a dense — and damp — coastal rain forest. The town of Seaside, just to the north of the trailhead, has an average of 194 days of precipitation each year and an average annual rainfall accumulation of more than 6 feet. So if you're headed here for a hike, be sure to pack your waterproof boots and maybe bring a change of clothes if you expect to get good and muddy. Although the hike is passable most times of the year, you'll encounter the least amount of mud and mist if you're hiking during the summer.
This route begins on the north side of Ecola, in the Elmer Feldenheimer State Natural Area. At the end of Sunset Boulevard (ready for your close up?) look for the very clearly marked trailhead.
Note: One-way distance from this trailhead to Indian Beach is 6.1 miles.
You'll see signs about the Oregon Coast Trail, which meanders 382 miles along the entirety of the Oregon Coast (get some section maps here). You can hike as much or as little of that route as you like — for this write-up, we traveled about three miles in, passing the high point of this stretch of the OCT before fog and rain turned us around — but if you hike about another mile from where we turned around you can reach some viewpoints for Tillamook Head itself, a coastal landmark and high point noted by those wayward Lewis and Clark fellows. Much of this stretch of the Oregon Coast Trail follows the route of Clark's coastal exploration of the area during the winter of 1806. There is also the remnant of a concrete bunker that once housed a radar installation during World War II.
The hike begins with a quick switchback that puts a bit of elevation on your legs almost immediately.
If you're looking for views, you're not going to get a ton of them on this trail unless you're hiking on an exceptionally clear day. What you will get, however, is completely and totally enveloped in green. In every direction, you'll see dense groves of dripping pine and fir trees and carpets of ferns. Mushrooms grow on nearly every downed tree surface and the trail itself is blanketed in a pillow sorrel and mud mixture that'll cushion your steps … and potentially hold on to them a bit longer than you'd like.
But oh man is it beautiful.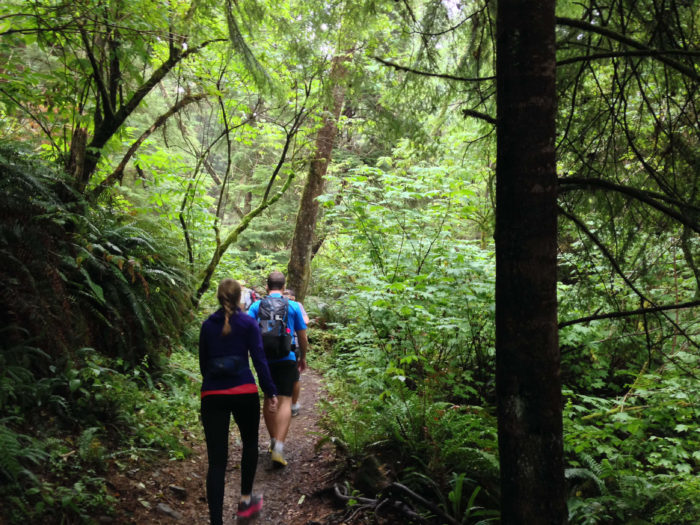 There are a few breaks in the wall of trees along the way, where you may get a chance to spot the Pacific Ocean from the trail.
As we've noted though, on most days it's going to be pretty dreary … and you may have a tough time discerning the ocean from the sky if it's especially murky out there.
At about 0.6 mile, the trail turns to the south and makes its way up another series of tight switchbacks, climbing up the coastal range and trekking deeper into this dense wilderness.
Because of the nature of the switchbacks here, it's also a really fun place to stand and watch your group zig-zag through the trees.
After this point in the hike, a thick afternoon marine layer rolled in from the Pacific, dousing everything in some extremely moody atmospheric lighting. Think "Forest Moon of Endor meets Twilight and maybe a bit of Jurassic Park thrown in for good measure." It meant that the views of the coast were gone, but the trails got even more otherworldly.
Just before the 2 mile mark, you'll reach the high point of this route — a bump on the trail known as Clark's Mountain. The official summit is somewhat in dispute, as there are several high points along this long ridge that are in contention for the honor. Again, at most times there won't be a decent view from here, due to the ever-present grayness of the coast along most of the Pacific Northwest — but it's still good to know about for you high-point junkies.
Tags: Cannon Beach, Ecola State Park, Elmer Feldenheimer State Natural Area, Oregon Coast Trail, Seaside, Tillamook Head