The Fall Creek-Big Ben Loop in Henry Cowell Redwoods State Park, a quarter mile west of Felton, is a challenging hike along beautiful Fall Creek and through coast redwoods. Your loop travels around the watershed, climbing to lime kilns and an ancient redwood called Big Ben, then descending to the Barrel Mill Site and Fall Creek once again. Since Fall Creek flows year-round, it's a great choice for a soothing, shady break in summer.
Pick up the Bennett Creek Trail from the parking lot, heading northwest towards the Fall Creek Trail. A wide single-track descends 75 feet under shady California bay, live oak, and second growth coast redwoods. Rounding the first switchback, you will hear the sound of Fall Creek and see a familiar carpet of trillium, sorrel, and wild ginger.
At 0.3 miles, turn left at a T-junction onto the Fall Creek Trail , heading deeper into the canyon toward the lime kilns. As you hike upstream, you will see giant bracken fern, sword fern, and chain fern. This section is mostly flat and particularly photogenic, paralleling Fall Creek among the tall, stately redwoods.
Cross a wooden pedestrian bridge over South Fall Creek at 0.9 miles, and then turn left onto the South Fork Trail (unsigned). The narrow dirt trail clings to the edge of the gulch beside the tributary, gaining 180 feet over the next 0.3 miles.
At 1.2 miles, reach a kiosk, interpretive sign, and the lime kilns on your left. The kilns were used between 1874-1919, when workers heated limestone and converted it into lime. That lime, mixed with sand and water, created building materials like mortar and plaster that were vital for construction in San Francisco in the late 1800s. Redwoods were chopped down and used as firewood to heat the kilns. In 1972, the Cowell Family Foundation deeded the property to the state of California and this land became a sister location to the main Henry Cowell Redwoods State Park a couple miles southeast.
Turn left at the interpretive kiosk, following a faint trail for an up-close look. Past the kilns, in 200 feet, make a sharp turn right to climb above them, following signs for the Cape Horn Trail. Now you have top-down view into their spooky depths.
Continue on the Cape Horn Trail at 1.3 miles, heading east towards the Lost Empire Trail. Pass a former powder magazine on your left, hiking along a relatively flat dirt trail. The forest here is sunnier, giving you the chance to soak up vitamin D for the next 0.5 miles. You will pass huge Douglas firs clinging to eroded slopes, tanoak shrubs, and the occasional evergreen huckleberry.
At 1.8 miles, turn left onto Lost Empire Trail—the one heading menacingly uphill. This is where your real climbing begins, gaining 800 feet over the next 1.8 miles. The trail is narrower, steeper, and dustier here, with rocks and roots. Although it is mostly shady, light filters generously through the canopy. A few flattened sections provide nice breaks from climbing.
At 3.6 miles, cross Barrel Mill Creek at Lost Camp. Here you begin the second half of your climb on the Lost Empire Trail, gaining over 500 feet in the next 0.8 miles. Redwood family circles and carpets of redwood sorrel are highlights along this stretch, but what you are probably thinking is when the blasted climbing will end. Less than a mile to go.
At 4.4 miles, reach the Big Ben Tree, an ancient redwood spared from logging. At nearly the halfway point, the tree and the Big Ben Trail junction is a good place to rest and refuel. Conveniently, a small wooden log beside the tree is just big enough for you and you bud to take a break on.
After snapping a few pictures, stay straight onto the Big Ben Trail towards the Truck Trail. Over the next 1.3 miles, descend a partially shady forest of redwood family circles, nurse logs, tanoak, and Douglas fir, slowly transitioning back to the familiar ferns, elk clover, and California bay at Fall Creek.
At 5.7 miles, cross Fall Creek on a rudimentary log bridge and then turn right to rejoin the Fall Creek Trail (unsigned). Hike southeast towards the Barrel Mill Site. After a short stint in the forest, reunite with Fall Creek and redwoods, hiking downstream with the flow of the creek.
The Barrel Mill Site is a worth a stop at 6.5 miles. A short spur leads to old, rusted machinery that helped make barrels used for transporting lime. The mill was in operation from 1912-1925, and redwoods were the main building material for them. Barrels were convenient at the time for transporting lime due to their sturdiness and rounded shape, which was easy to roll around a work site.
Past the Barrel Mill Site, continue southeast on the Fall Creek Trail. This next section is prone to landslides and fallen trees, so watch your head and your step as you work your way through the blow downs. Here, the rocky creek bed deepens and gushes with mini-waterfalls.
At 7.3 miles, bear left at a Y-junction onto the North Fork Trail, heading southeast towards the Bennett Creek Trail. Rejoin the Fall Creek Trail in 0.1 miles, criss-crossing Fall Creek on seasonal wooden footbridges in a deeply forested, gulch-like environment.
Close your loop back at the South Fork Trail at 8.0 miles, recrossing the same wooden bridge you met earlier. Retrace your steps southeast on the Fall Creek Trail, enjoying the Fall Creek and coast redwood tableau once more.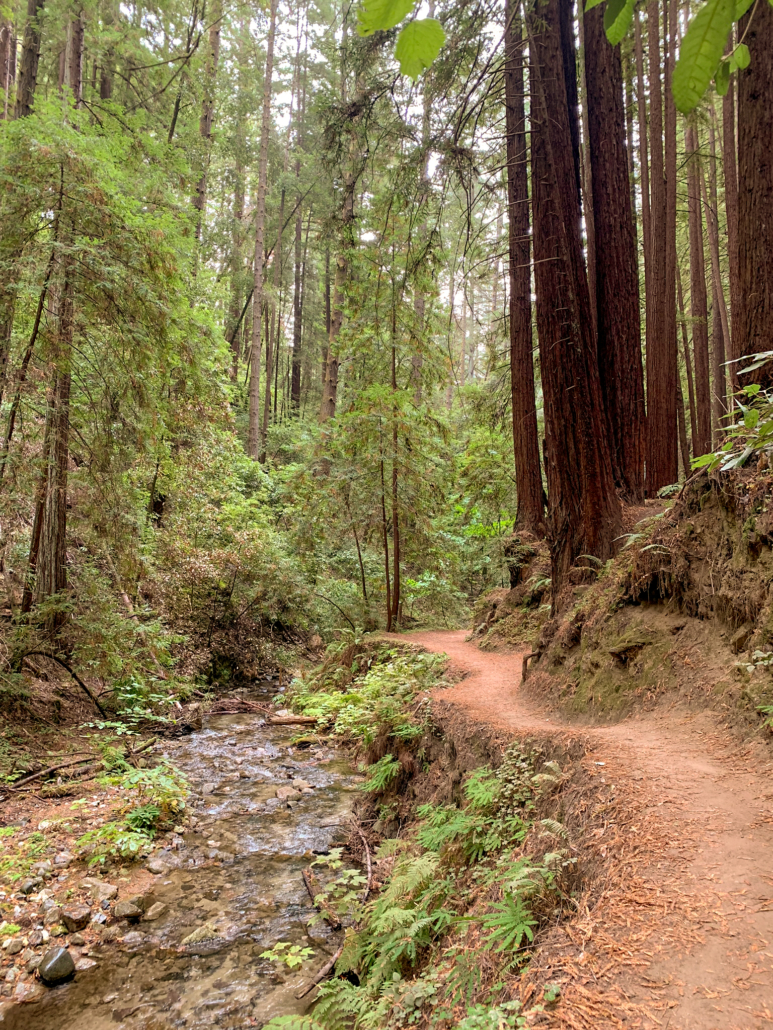 At 8.6 miles, stay straight onto the Bennett Creek Trail towards the Felton Empire parking lot. This junction can feel confusing: The trail on the left is wider, sunnier, and more inviting than the one in front of you. Fight against your intuition and stay straight, climbing 75 feet back to the trailhead.
Notes:
The park is open from sunrise to sunset.
Parking at the Fall Creek Unit is free and can fill early in the morning on summer weekends.
A trail map is available on the Henry Cowell Redwood State Park website.
Dogs and bikes are not allowed in the Fall Creek Unit. Horses are allowed on designated trails.
There are no trail maps, restrooms, or trashcans in the Fall Creek Unit. Please pack out your trash.
For an easy hike with less elevation gain, head to the lime kilns and back for a 2.6-mile round-trip hike, or follow the Fall Creek Trail along Fall Creek and turn around when ready. The trail is roughly 3 miles (one-way) from the Bennett Creek junction, heading northwest.
Historical Interest
Multi-Use Trail
Shade
Views / Vista
Water Features
Browse all 10 images
Trail Conditions
Most trail junctions have signs; however, signage is missing at a couple junctions. Trails are mostly dirt single track and some have rocks and roots. The Fall Creek Trail southeast of the Barrel Mill Site is prone to downed trees and landslides. There are some sunny stretches where tree cover is light. Sunscreen will come in handy.
Camping Info
Camping is not allowed in the Fall Creek Unit, but you can camp a couple miles away at the main Henry Cowell Redwoods State Park Unit. The campground there has over 100 reservable campsites. Some are "tent campsites" and some are simply "campsites," the difference being that a campsite has a more level parking area for RVs. None of the sites have hookups. Camp fires are allowed in fire rings. Showers and restrooms are available. Reservations can be made online at www.reservecalifornia.com.
How to get there
From San Jose, take CA-17 south to exit 3 for Mount Hermon Road. At the end of the exit ramp, turn right onto Mount Hermon Road. Drive 3.5 miles, and then turn right onto Graham Hill Road. Drive 0.8 miles, staying straight through the Highway 9 intersection. (Graham Hill Road turns into Felton Empire Road.) Turn right at the sign for Henry Cowell Redwoods State Park into the parking lot .