Welcome to Joshua Tree's most dangerous hike! It's not rugged trails or exposed ridges that make this trail so treacherous; it's the Teddy Bear Cholla that you need to watch out for. Ironically this is exactly the reason why you should absolutely stop here and stroll through this casual 1/3 mile garden trail. As you are walking be aware that even slightly brushing against a cholla will cause the spines to dive into your shoes, clothes, and/or skin. Speaking from personal experience, pulling out the spines is quite unpleasant. The cholla detaches its joints onto unsuspecting animals and birds as a means of dispersal; when these joints fall off they create new stands of cactus, just like this one.
This trail is located on the lonely western edge of Pinto Basin. More importantly, it's located on the western threshold of the Colorado Desert, just as it starts to gain elevation. This area provides a unique blend of seasonally plentiful water (4 inches) from Wilson Canyon, and a loose mixture of soil and rock (to trap and hold the water).
This trail is well worth the drive any time of the day, but if you can visit during the last hour of light before sunset the cacti really glow. Spring bloom is another special time to stop by, which usually happens in March or April.
Grab a free interpretive brochure and start by hiking counter-clockwise. 16 markers are found along the trail, which refer to the topics in the brochure describing the unique blend of flora and fauna found within the garden.
The trail focuses on teaching hikers why the cholla cactus garden is so unique and what adaptations plants and animals have developed to live here successfully. Take your time and read through the brochure at each sign-post — there is a lot of good information here 0n both the plants themselves and the unique desert transition zone that makes up most of the land in Joshua Tree National Park.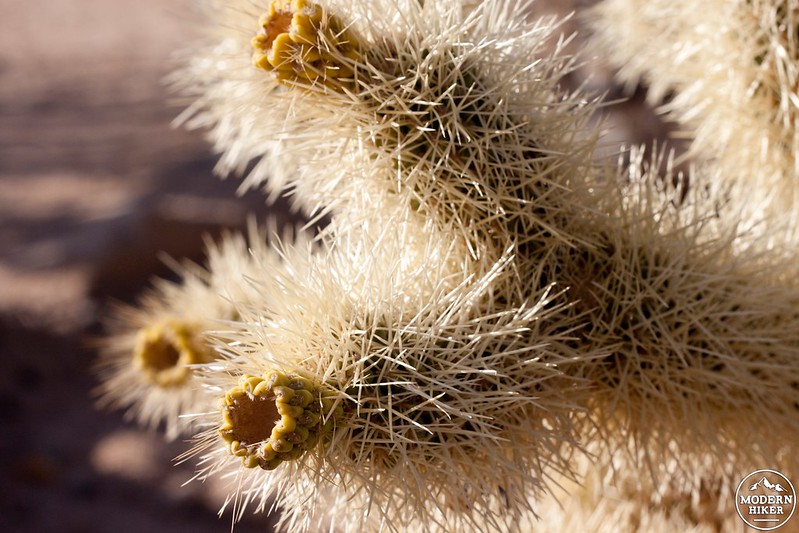 If you plan on spending a day driving around the park, this is a great addition to your itinerary (along with other quick stops such as Key's View, Skull Rock, Hidden Valley Trail, and Barker Dam Trail). If you are coming in from the Cottonwood entrance (south side of the park), then this trail is an easy stop on your way in. Even though it doesn't offer a long or challenging experience (other than avoiding the cholla!) this hike is well worth the side trip next time you are in Joshua Tree.
Tags: cactus, cholla, colorado desert, desert, joshua tree, Joshua Tree National Park, pinto basin