An exceptionally beautiful route for day hiking or backpacking, this trek along the North Fork of Big Pine Creek passes several stunning alpine lakes and offers numerous opportunities for idyllic backcountry wilderness camping as well as several more strenuous technical routes to nearby peaks and the Palisade Glacier.
Note: This is written as a multi-day backpacking trip but can also be done as a very strenuous dayhike.
It's no secret that the Eastern Sierra is not short on jaw-dropping views and epic scenery of all kinds, but in terms of "bang for your buck" and "crowd avoidance," the North Fork of Big Pine Creek is a solid bet. In the fall, it's an amazing place for California fall foliage (Scott wrote an excellent description of the lower portions of this hike during peak foliage). And in the summer, adventurous types can venture farther up the trails past the Big Pine Lakes to elevated subalpine meadows, towering peaks that require technical climbs, and one of the largest glaciers in the Sierra Nevada.
Note: If you are planning on overnighting in the John Muir Wilderness, you will need a Wilderness Permit from the Inyo National Forest. Permit information can be obtained here or at the Interagency Visitor Center in Lone Pine. Bear canisters are not required here but proper food storage is important — both to protect yourselves from accidental bear encounters and to protect your food from mischievous marmots. Campfires are prohibited along this entire route, and standard wilderness procedure applies for campground establishment, food storage and washing, and human waste disposal (WAG bags not required here).
This route begins at the day use / backpackers' trailhead just past the Palisade Group Camp. Bear lockers are provided near the trailhead and ALL SCENTED ITEMS should be stored there, and not in your car.
Once you've packed up and secured your Wilderness Permits, start hiking west in Big Pine Canyon. Although you're beginning your hike at just under 7700 feet of elevation, the plant life here is highly reminiscent of mid-height elevation sage scrub. Great Basin sagebrush and rabbitbrush abound here, along with pines and some higher-elevation prickly pears — but keen eyes can also spot some locals like the California wild rose, granite gilia, and paintrbushes.
This trail does not waste time with the elevation … and if you're wearing heavy packs and just coming up from sea level, you're likely to be moving a bit more slowly than you're accustomed to at this point. No worries — the scenery is lovely and you'll get some epic views of Kid Mountain and Mount Alice to your west as you approach.
Just before the 1.1 mile mark, the trail bends northward just above the Glacier Lodge, where a spur trail descends to the dirt Glacier Lodge Road near a lovely picnic area and First Falls. This is where you'll come in if you start your hike near the Glacier Lodge (as described here). Continue northwest on your slightly elevated (and unfortunately shadeless) route, listening for the distant sounds of the cascades of Second Falls just further up the canyon.
You are now along the North Fork of Big Pine Creek, and while you can't see the waters from here you will note the lusher vegetation and dense pine groves hugging the banks of the creek below you. Up where you are, it's got a little more of a "high desert" feel, but worry not — water is on its way.
At 1.75 miles, a connector trail makes a steep climb up from the Glacier Lodge Road on the canyon floor and continues climbing northeast toward Logging Flat and Grouse Spring. Stay hiking straight (and climbing) and you'll enter the John Muir Wilderness at 2 miles and edge close to the long tumble of Second Falls shortly afterward — which is a great place to dunk your head and soak your hat or bandana if you're hiking in the summer.
In the next stretch of trail, your sun-hiking takes much-appreciated rest as you enter the tree canopy that hugs the banks of the North Fork. The temperatures here are almost always cooler, thanks to the trees, the cooling glacial meltwater, and the looming form of Mount Alice, which casts a heavy shadow on this branch of the canyon.
A bit of steep climbing gets you to a relatively flat area called Cienega Mirth, just to the east of the Lon Chaney Cabin, which is currently used by Forest Rangers. From Scott's description of this canyon:
After passing through the flat section through the aspens, the trail will commence its climb through a patchwork of dense forest, spring-fed patches of willows and aspens, and open areas from which to view streaks of orange and yellow deciduous leaves streaking up the canyon walls. You will come to an old cabin built by the Man of a Thousand Faces – actor Lon Chaney. A Forest Service sign identifies it as an old ranger cabin, but Chaney built this structure as a getaway from the bustle of Hollywood. Chaney and his wife would stay up here for weeks cooking fish caught in the creek and attempting to climb high enough to reach the nearby glaciers. Lon Chaney was a smart guy.
More local history for any Angelenos in the crowd: the architect of Chaney's cabin was none-other than Paul Revere Williams, a prolific and renowned African-American architect who more than left his mark on Southern California. He designed more than 2,000 homes and many more public buildings, including homes for Frank Sinatra, Lucille Ball, and Barbara Stanwyck, as well as the Los Angeles County Courthouse, the Hollywood YMCA, the Arrowhead Springs Hotel in San Bernardino, and a redesign and remodel of the Beverly Hills Hotel. He also designed the Tropical Terrace House in Solstice Canyon.
Beyond the cabin, the trail picks up with the switchbacks again, and you'll continue climbing through aspen and willow groves. Just before 4.7 miles, keep left to head toward the Big Pine Lakes — named in helpful sequential order from First through Seventh, east to west (with the bonus addition of Black and Summit Lakes).
You'll only catch a slight glimpse of First Lake from this trail and you'll mostly be above the shores of Second Lake when you get to see that one at about the 5 mile mark (easy to spot use-trails will take you down to the water if you'd like). This route continues, and by 5.8 miles you'll be just above the shores of Third Lake, which sits directly beneath the striking profile of Temple Crag.
I mean, come on, right?
OK, so you've had it relatively smooth for a bit … and now it's time to get some more elevation on this trail.
From here, the route bends to the northwest and makes another circuit of twisting switchbacks to climb up another 300 feet before giving you another short break near a boggy meadow at 6.4 miles. If mosquitos aren't too bad here, it's a lovely little place to stroll around, enjoying the blooming Mountaineer's shooting stars.
At 6.5 miles, stay left again to head toward Sam Mack Meadow, ignoring the trail to the Upper Lakes.
And yes, the trail does finish up with yet another steep climb, so get ready.
Here, you'll cross a few more boggy meadow areas before heading up a rocky, narrow, switchbacking climb. If you're racing to set up camp in Sam Mack Meadow, this will likely be your least favorite section of the trail — but if you do have a chance to take your time you'll find some spectacular views of both the mountain scenery and the diminutive mountain flora that's usually hiding out between or underneath boulders.
You'll reach Sam Mack Meadow at about 7.3 miles and 11,000 feet up.

Sam Mack Meadow itself is what I like to call stupid gorgeous — in that particular breathtaking, "how is this even" sort of way. If you're camping here, scout out a good spot and enjoy a restful night with the sound of rushing water around you. But definitely be sure to soak all of this in.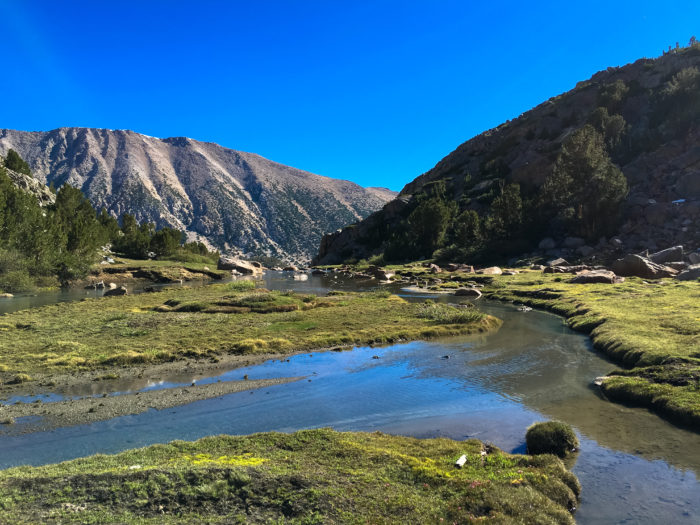 The terrain is this beautiful cradle of alpine bog and forest clinging to a tiny valley just below the subalpine zone, where the landscape is mostly treeless. Walking around on the meadow's spongy soil, you'll find all sorts of ephemeral and semi-permanent pools lodged between what are clearly moss-covered boulders and avalanche debris. Fresh glacial meltwater rushes past you and tumbles both below the meadow and from above. It's all kind of magical (except for maybe the mosquitos).
Although you won't be able to see all of them from the meadow, you are surrounded by some of the most impressive mountaineering routes in the Eastern Sierra. Mount Robinson stands guard to your immediate north. To the southwest, Mount Agassiz, Mount Winchell, and Thunderbolt Peak. And to the south, Mount Gayley, Mount Sill, and 14,242-foot-high North Palisade and the Palisade Glacier.
If you have your eyes set on the Glacier (or North Palisade or Mounts Gayley or Sill and don't want to or can't climb up the snow-and-ice pack southwest of the Meadow), hop across the creek and look for a rough but established trail that climbs up a steep ridge to the south.
This route (called the Glacier Trail) meanders its way up and above a ridge that hangs southwest of Third Lake. On your way up, you'll have some great bird's eye views of Sam Mack Meadow … and some crazy epic views of the Big Pine Lakes, too.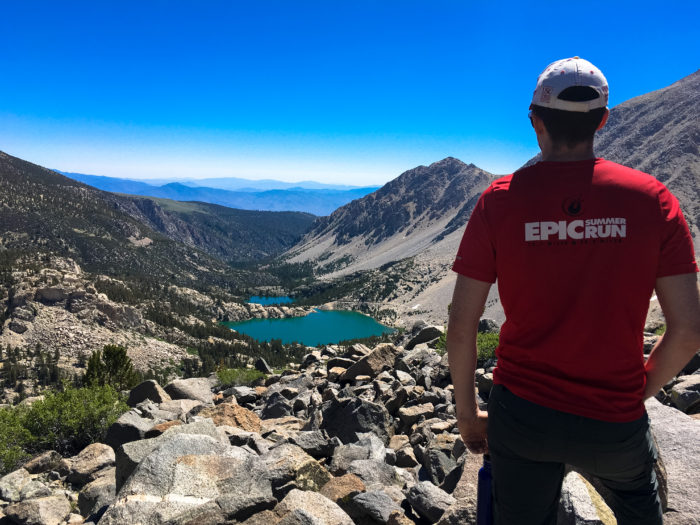 The "established trail" (as much as you can call it that) ends at about 8.6 miles, but you can continue following cairns and rough use trails to the base of the Palisade Glacier if you'd like.
Or, you can just sprawl out on a nice looking rock and soak in some sun and spectacular views.
Tags: Big Pine Lakes, Eastern Sierra Nevada, fall foliage, Glacier Lodge, Inyo National Forest, John Muir Wilderness, Lon Chaney Cabin, Mount Gayley, Mount Sill, North Palisade, Palisade Glacier, Palisade Group Camp, Sam Mack Meadow