Artist Ridge is a stunning introduction to Mount Baker. Located at the end of Mount Baker Highway (SR 542), this short trail begins from the 5,000-foot high Artist Point parking lot and gently ascends to Huntoon Point. Perhaps the finest roadside viewpoint in Whatcom County (and among the best in Washington), Artist Ridge is a must-see spot in the North Cascades. Just don't expect to have it to yourself.
Home to several trailheads, Artist Point parking lot is extremely popular on summer weekends. Its short season contributes to the crowding — the parking lot is only accessible between July and September most years. Check the Washington State DOT website before setting out to ensure that the parking area is open. Consider visiting during weekday mornings and evenings for the most enjoyable experience. Sunrise and sunset are incredible here.
Hiking Artist Ridge
The signed Artist Ridge trail begins from the southeast corner of the parking lot. 9,131' Mount Shuksan is visible from the trailhead on clear days. Said to be among the most photographed mountains in North America, Shuksan often steals the show when Mount Baker is hidden by clouds.
Set out south along the paved, wheelchair-accessible trail for 0.1 miles to a Mount Baker overlook. If the mountain is out, you'll be treated to a lovely view of the 10,781' glaciated volcano.
From here the gravel trail turns left (east) and begins to climb up big steps. Views grow with each step — look down on the winding highway and alpine environment.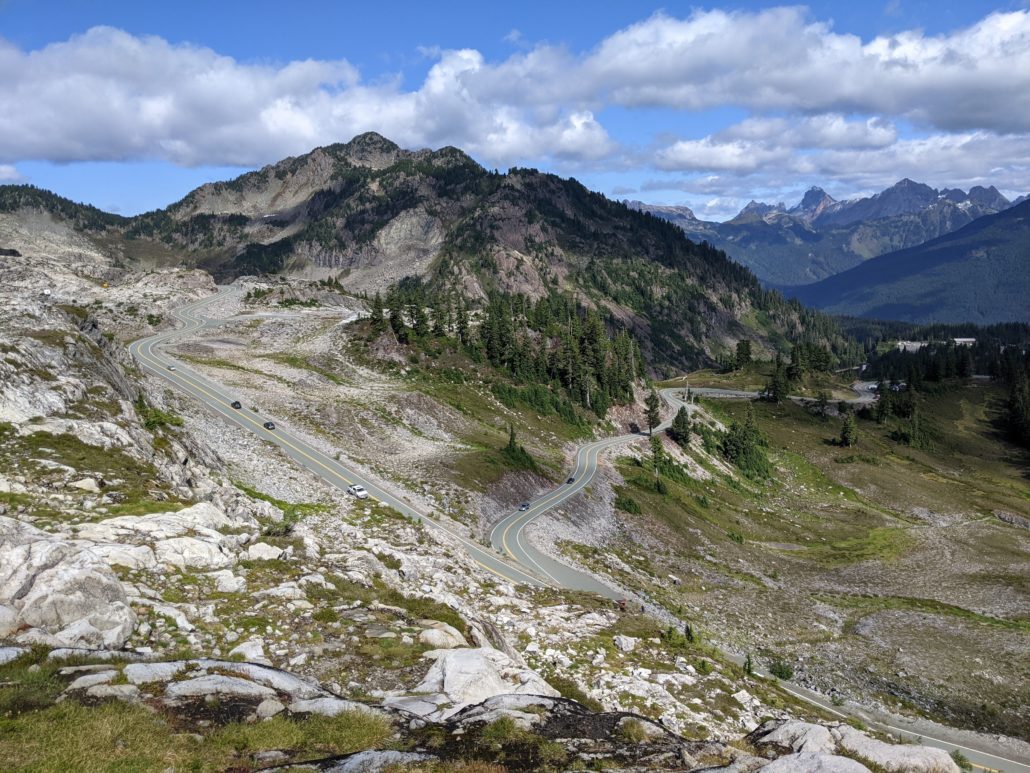 Trees are sparse and rugged; wildflower meadows add color to the rocky landscape. For a place covered in snow 9 months out of the year, it's remarkable to see such abundant life here each summer.
You may encounter snow patches here well into August. Mount Baker Ski Area (which operates just down the hill at Heather Meadows) set a world record for snowfall during a single season: 1,140 inches in winter 1998-99. Snowmelt accumulates in tarns along the Artist Ridge trail, creating incredible opportunities to photograph Mount Shuksan mirrored in still waters.
At 0.5 miles reach a junction. The trail makes a small lollipop loop here — go either way to explore Huntoon Point. Just be sure to stay on the gravel path and avoid the numerous social trails in this fragile environment. Snap some photos of Shuksan, then return to Artist Point for nice views of Table Mountain on the descent.
Additional Hikes Nearby
If you have more time to spare, consider climbing short, steep Table Mountain for an even higher perspective. This trail gains about 700 feet in 1.3 miles one-way. Unlike Artist Ridge, Table Mountain does not allow pets and is not recommended for children due to its rocky, potentially dangerous terrain. For a more family-friendly excursion, stop by Picture Lake beneath Heather Meadows. This 0.5-mile loop is paved and flat, providing access for all abilities. Plus, it's a great stop for even more pictures of Mount Shuksan.
Artist Point parking lot is also the trailhead for Chain Lakes Loop and Ptarmigan Ridge, two longer day hikes with backpacking options.
Tags: artist ridge, mount baker, washington