The Alta Vicente Trail is the main trail that traverses the 55 acre Alta Vicente Preserve in Rancho Palos Verdes, CA. This multi-use trail is moderately difficult due to some looser sandy soil, rocks, inclines and descents. That said, Alta Vicente Trail is still a great choice for hiking, mountain biking or horse back riding. You'll get stunning ocean vistas and fresh ocean air while also getting a birds eye view of the Point Vicente lighthouse and surrounding homes and village shops. The cliffs above the Pacific in Rancho Palos Verdes offer 180 degree ocean views.
In the spring you'll see flowering cactus, wildflowers and many birds. The trail is full sun, so be sure to dress appropriately on full sun days because even lower temperatures won't protect you from the sun especially in spring and summer. The trails can be accessed from the free parking lot at Rancho Palos Verdes City Hall and span the downward slopes and rolling hills above Palos Verdes Boulevard. It's easy to stay on route with the topography and ocean as your trail markers. The trailheads to Alta Vicente Trail aren't accessed easily, so you'll have to take other trails down from the Rancho Palos Verdes City Hall parking lot to connect with the trail. The specific trail names weren't easy to locate from parking area, there was simply a general sign marked "Trail" and an arrow.
The South Spur Trail and Nike Trail begin from the Point Vicente Park and are marked with white stones. We followed the generic trail sign and found ourselves starting down hill on the South Spur Trail.

RPV City Hall was closed when we hiked on Sunday, but on weekends (as well as weekdays) the parking area/Point Vicente Park offers shady picnic tables, water fountain, bathrooms as well as tennis courts. A quick glance at the Alta Vicente Reserve maps shows that you have multiple options on trails to take down to connect with the Alta Vicente Trail. You can take North Spur Trail, South Spur Trail, Nike Trail or Prickly Pear Trail. We connected with South Spur Trail down to Alta Vicente Trail. Again, the trails were very generally marked at the City Hall entrance. Once you get onto the official trails, the signs are more clearly marked.


South Spur Trail leads you to the approximate center of the Alta Vicente trail, we opted to first explore north, and then turn around and take the entire Alta Vicente trail to its southern most end point.
Heading north on Alta Vicente trail you'll find a wide easy trail with a birds eye view of Point Vicente Lighthouse. The lighthouse is on the National Registry of Historic Sites and still sends light across the Catalina Channel. The Coast Guard uses the facility to house personnel as well as track distress calls from boaters across the Catalina Channel. Note that you won't be able to explore the lighthouse from this trail but it's worth a stop before or afterwards if you have the time during your visit to the area. The northern end of the Alta Vicente Trail looks like it's easily accessed by locals who live in nearby housing developments, but most everyone else will need to utilize the ample free parking at RPV City Hall.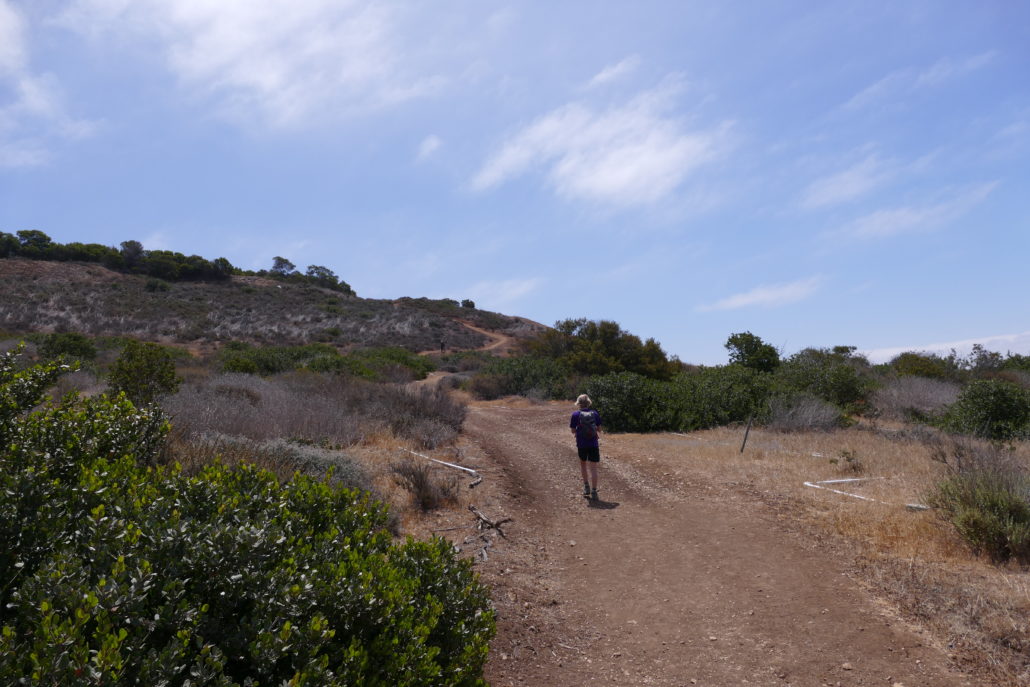 Heading south on Alta Vicente Trail will be an undulating and scenic route. While there are some ascents, they are not overly difficult and should be easily managed by most hikers. Our visit was the end of spring and while most brush was dry we did see some flowering cactus and succulents off the trail.

Most of the trail is wide and open, only a short portion leads you through more dense foliage and brush.


There are great spots to stop and use binoculars to view the ocean bluffs, rocky shore and Catalina Island, or take photographs.


Despite the proximity to houses and Palos Verdes Boulevard the Alta Vicente Trail is quiet and peaceful. We encountered a few other hikers and bikers but in general it wasn't busy or crowded.


We explored the entire trail in about an hour, which makes this a great choice for those with a limited time frame. It's possible to add on other trails to extend your hike such as the Prickly Pear Trail. The free parking and proximity to Point Vicente Lighthouse make this a nice destination for a day out exploring Rancho Palos Verdes. Don't forget your hiking boots or hiking sneakers to handle the ascents and descents on the somewhat loose sandy soil. The southern most end of Alta Vicente Trail takes you through a small farm and then abruptly ends at Palos Verdes Boulevard.
With no safe way to cross Palos Verdes Boulevard you'll have to turn around and take one of your trail options back up hill to the RPV City Hall Parking lot. We took the same trail back up, South Spur Trail. To change it up you could safely take any trail as they all lead to the Point Vicente Park area. Pack a picnic or tennis rackets to spend a little time at the park after your hike. Unlike the hike you will find shade at Point Vicente Park.