If the name SCARPA sounds familiar, chances are you either speak Italian (the word translates as "shoe") or are a climber. For those in the latter camp, it's an Italian footwear company revered by rockhounds as one of the best in the business, makers of exceptional approach kicks, sticky climbing shoes, and technical mountaineering boots. If you're a hiker, however – at least one outside of Europe – the name probably conjures nothing more than blank stares. However, the nearly 80-year-old brand hopes to fix that with an ever-expanding line of shoes meant less for alpinists and more for everyday wanderers.
As a climber myself, I'll admit that I was a bit surprised to discover just how extensive SCARPA's non-climbing quiver has become. Between a tour of the brand's line at the Outdoor Retailer trade show, a lengthy scroll around their website, and its expanded presence in local gear shops, it's clear that the brand has a serious commitment to creating high quality footwear for a variety of users.
While I own some of SCARPA's climbing and approach shoes, I wanted to see what their hiking line was made of, so I spent several months kicking around in a pair of their R-Evolution GTX boots. From the get-go, I was impressed with the aesthetics – the dusty turquoise, grey, and black colorway is sophisticated, the suede insets offer a luxe appearance, and the overall styling offers a nod to mountaineering gear while still remaining sleek.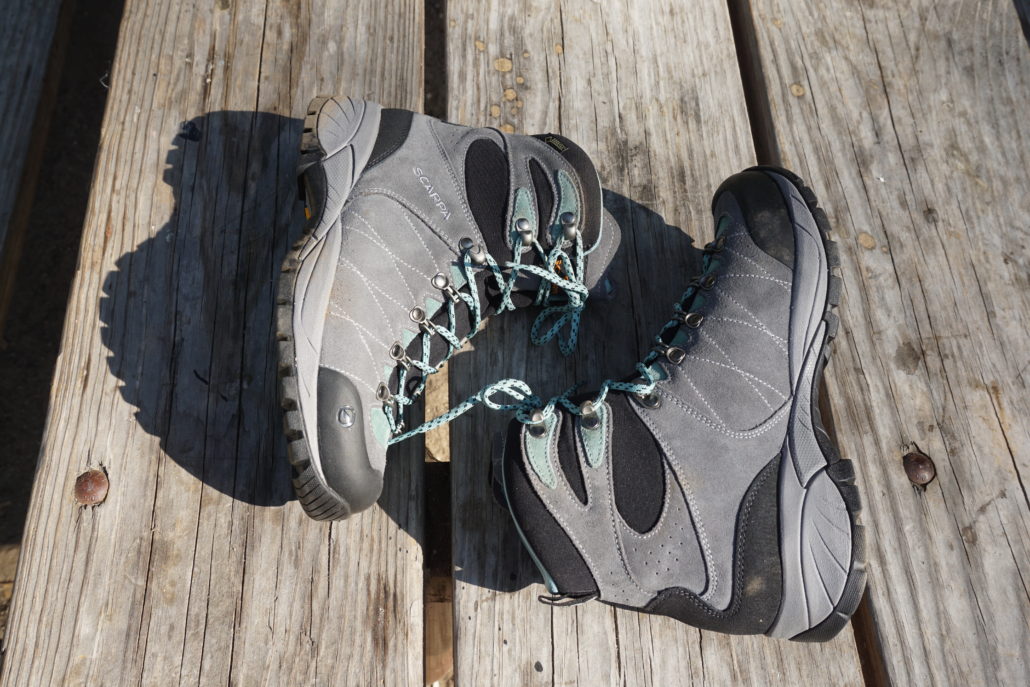 Lifting the boots out of the box, I expected them to be heavy (an issue with some waterproof, above-the-ankle boots), but they weren't – in fact, they felt surprisingly lightweight on my feet, an unusual admission from someone who typically wears trail runners while backpacking! The boots were also comfortable from the first wear, thin enough to avoid being bulky, while still cushioned (with memory foam) in a few key areas: ankle cuff and tongue. While the height provides ample ankle support, it does so without completely immobilizing the area – something I find crucial when I am on uneven terrain.
I was able to dial in a snug fit between the boot's sock liner construction and the "speed lace" system – no surprise given the brand's background in technical footwear. However, this may be a deal-breaker for someone with a high-volume foot. While I found the toebox to contain plenty of space, the fit overall is fairly snug; size up if you plan on wearing these with thick socks.
The R-Evolution is a Gore-Tex lined waterproof boot, and it performed well in wet conditions. However, considering the lack of insulation, it's clear that these are meant for tromping around in water and mud, rather than extended play in the snow. They do, however, offer good handling in mixed conditions, with a sticky lugged Vibram sole that amps up the grip factor. Don't expect to get too technical with these boots, though – while there is a slight rubber rand similar to those you'd see on more technical climbing footwear, the toecap doesn't provide much of an edge as it curves up.
Overall, SCARPA's R-Evolution GTX proved to me that while the brand is known for its mountaineering footwear, it's found a way to translate that craftsmanship and quality to its hiking line, as well. As with other high-end brands (Asolo comes to mind), the price is somewhat steeper than other waterproof boots, but the quality (and styling) is legendary, and these boots made for the long run.
Tags: hiking boots, mountaineering, Scarpa, waterproof