Once upon a particularly dreadful time, my pathetic backpacking dinner menu consisted of pouched tuna and potato flakes, or freeze-dried meals that left a bad taste in my mouth…and digestive issues in their wake.
I fart – I mean, fear no more, because in addition to my much-improved backcountry culinary skills, there now exists a line of portable meals that escalate backpacking food far above and beyond the typical flavorless, salty offerings. Enter Good To-Go (tagline: "Real Food. Real Adventure."), a Maine-based company helmed by professional chef Jen Scism and her husband David Koorits. When the two began dating, outdoor exploits were a big part of the equation; Jen found the traditional backpacking meal offerings quite lacking, so she developed her own recipes for the trail.
While I first noticed Good To-Go's colorful packaging in stores, I was introduced to the actual contents during the Outdoor Retailer tradeshow in January. I absentmindedly grabbed a sample of the brand's Thai Curry, then snuck back for a second helping. It wasn't just good – it was freakin' fantastic. I took a much larger portion out on the trail and was equally blown away. The meal comes with a packet of coconut milk powder that serves as a perfectly creamy, slightly sweet complement to the exquisitely spiced rice and veggies. I will cop to having also eaten this for dinner on at least one occasion, and it was just as good even when I hadn't hiked 16 miles with a full pack.
I had the opportunity to try three more dishes that Good To-Go sent over: Herbed Mushroom Risotto, Classic Marinara With Penne, and Smoked Three Bean Chili. As with the Thai Curry, these absolutely blow all space food…I mean, freeze-dried food…out of the water.
The penne tasted legitimately homemade – and actually, better than the penne and dehydrated spaghetti sauce leather I usually take on backpacking trips. The noodles held their shape and the sauce was surprisingly robust; to take it over the edge, I sprinkled on a packet of grated Parmesan harvested from my last pizza order. The risotto was equally tasty – thick, rich, and hearty, I could have lingered over that pouch for hours. The chili wasn't quite as remarkable as the other three dishes I tried, but that's not to say that it wasn't good – I just added a bit of my favorite Cajun seasoning to knock it up a level. Good To-Go also has two brand new flavors, Indian Korma and Pad Thai, but I haven't had a chance to check those out quite yet…although I can't imagine they'd be any less tasty than the other meals in their line!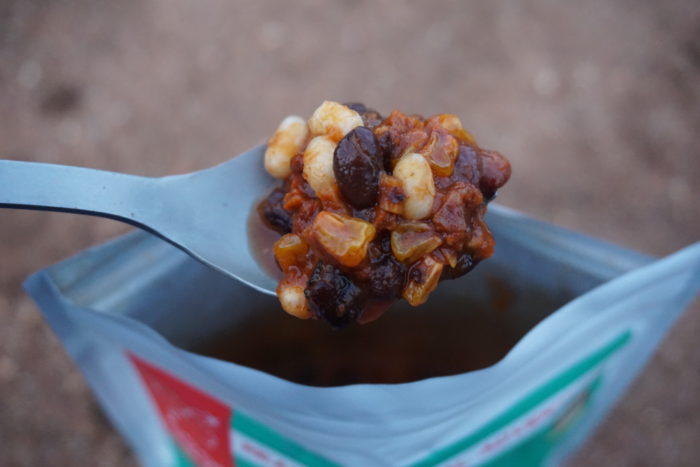 A slight caveat – I found that they do take slightly longer than freeze-dried meals to reconstitute once you pour in the hot water. However, if I'm really hungry, I just boil the water before setting up camp, and let everything heat (and soften) up while I'm cozying up the place. One other note is that the meals are a little pricier than old school freeze-dried offerings, although they're not only completely in line with companies like Mary Jane's Farm, Packit Gourmet, and Outdoor Herbivore, but also absolutely worth the cost.
Overall, Good To-Go is my new go-to for pre-packaged backpacking meals. While I enjoy dehydrating my own food to an almost perverse degree, I can't help but throw these in my pack when I want something a step above what I can make at home. I seriously had a near-transcendent experience while enjoying a packet of Thai Curry during a beautiful sunset while on the Pacific Crest Trail recently. A longer boil time and a bit more pocket change buys me next-level trail dining, and when you spend as much time hoofing around the mountains as I do, that's as good as gold.
Good to Go provided items to Modern Hiker for review free of charge. They did not influence the post or exercise editorial review over the writing.
Tags: Backpacking, backpacking food, dehydrated food, dehydrated meals, Good To-Go, Thai Curry