Chimani is in the process of releasing detailed iPhone and Android apps for America's National Parks. They're basically an interactive, expanded version of the park brochures you get when you pay your admission at the Rangers' Stations – fully using your phone's technology to provide GPS-enabled directions and the most up-to-date information available. The information about ranger-led hikes, campfire talks, presentations and museum exhibits is updated in real-time as soon as the app detects a cell or wi-fi signal, for instance.
After a short loading screen, the app provides you with 27 different options, ranging from general park information and shuttle schedules to hiking trails, scenic views, food and lodging, waterfalls, and – of course – where the nearest bathroom is.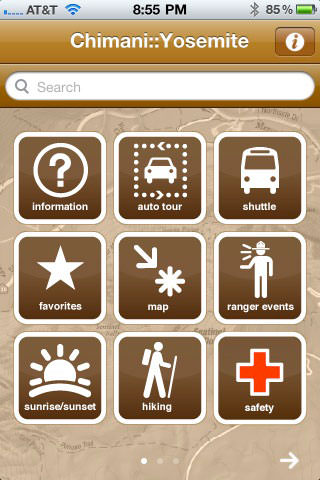 As I mentioned, the app has a very similar look and feel to the official NPS brochures – except the information here is much more in-depth. Hit the "Scenic Views" icon and you'll be presented with thirteen of Yosemite's most picturesque areas.
Each scenic point comes with its own robust informational entry. From there, you can learn about the area's history, any important facts about the area, see where the area is on a map and use your phone's GPS to show you how to get there, too (although you should note the app does not give turn-by-turn driving directions, you're a hiker – you know how to read a map).
The hiking section of this app is the real highlight, though. The Yosemite app features 27 hiking trails which – like the other featured areas of the park – have short write-ups and map locations. The hikes can be organized by length, elevation-gain, the time it would take to finish the trails, and overall difficulty, making it incredibly easy for people to find whatever sort of trail they happen to be in the mood for.
The maps are zoomable as well, and get down to a fairly impressive level of detail, too. They're not topo map quality, but they're much better than the free park maps and are surprisingly comprehensive.
Chimani currently has National Parks apps for Yosemite, Grand Canyon, Acadia and Cuyahoga Valley National Parks, as well as the Cape Cod National Seashore. This spring, they will also release apps for Grand Teton, Great Smoky Mountains, Olympic, Rocky Mountain, Yellowstone, and Zion National Parks.
Normally the apps would cost you between $5 and $10, but through April 24th the apps are free on the iTunes Store and at the reduced price of 99 cents on the Android Marketplace (use keyword "Chimani"). At that price, you really can't argue with a download!
Tags: android, app, chimani, Hiking, iphone, Review, Yosemite National Park