Sunglasses are one of the Ten Essentials, and I always recommend you bring a pair with you no matter how long your hike is or what the weather looks like it's going to be for your trek. They prevent snow-glare in the winter, keep your eyes from getting damaged by the sun's rays in the summer, and can also help shield your face from pokes from errant branches year round.
BTB Sunglasses is a new sunglass company that aims to offer the quality of more expensive glasses at a price that's significantly more affordable – so when they offered to send me a pair to test out, I agreed to put them to the test.
Anyone who spends a lot of time outdoors needs to make sure their sunglasses have UV protection – blocking 99.9% of UV-A and UV-B rays. A lot of cheaper glasses actually do not have this feature, and the dimming effect of the glasses will keep your pupils open, exposing more of your eye to the sun's rays. Not good. The lenses on the 500 series do have several color tint options, as well as a polarized version and an "HD" lens as well.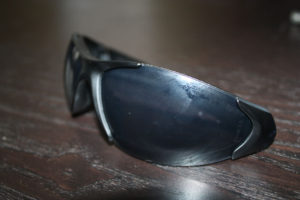 The 500's lenses have a very light tinted 'smoke' color, which provides a light but decent amount of shade without altering the colors. The lenses are completely encased within the frame, which is good for anyone who's ever had a lens pop out of their sunglasses on 'em while they're wiping off some sunscreen or sweat. The lenses were wide enough to offer full coverage in my field of vision, and I also found they did a pretty good job of keeping wind out – also really helpful for city or mountain bikers.
The frames themselves feel incredibly light – almost to the point where it feels like the plastic might not hold up to wear and tear – but since the company has videos of their glasses literally getting shot at by shotguns and surviving intact, I'm not too concerned about handling these things with kid gloves.
[youtube]http://www.youtube.com/watch?v=BdV0baZoO7w&list=PL49E75EA338E27CFC&feature=player_embedded[/youtube]
The hinges on the glasses held up to a lot of normal use and the fit was nice and tight, too – the glasses never slipped down my face while I was wearing them.
Performance wise, I never had these glasses fog up on me. The frames are also coated in an anti-bacterial agent to prevent any sort of funk from forming when you're sweating all over the place. I've never even heard of something like that happening, but if it does – I guess these'll take care of ya.
Overall, I can say that I liked these glasses quite a bit, and at the price point they're tough to beat. I've tested frames costing three times as much and I'm not really sure I could tell you the difference.
The BTB 500 retails at $39.95 and includes a microfiber carrying pouch.