Let me be the first to admit: I have a gear problem. I love delving into technical specs and obsessing about different weights and materials. Do I go with the ultralight backpack that carries a smaller load, or a more sturdy backpack for heavy trucking? Which waterproof material is the best? I also love generally daydreaming about how such gear can help me climb more mountains and see more places. While some readers might at this point be sighing in exasperation, I will proudly admit that I adore the process of figuring out what exactly I need (and don't need) to stay safe and happy on my outdoor adventures.
Whatever your feelings are on gear and the industry that sells it, one point is undeniable: gear helps us in a number of ways. It can make us safer, warmer, dryer, and just more comfortable in conditions that might otherwise be miserable. Could I hike without trekking poles? Couldn't I just hike in a cotton tee-shirt and socks and skip all that fancy merino wool? Of course. However, my knees are sure happy to have those poles on big downhills, and I can definitively say that I was very thankful to be wearing merino wool in the pouring cold rain of the Pacific Northwest on countless occasions.
This is where the Nomadik subscription box comes in. Depending on the plan you choose, Nomadik sends you a monthly box filled with 3-5 curated outdoor items usually based around a central theme (for example, the box I'm reviewing here is "preparation + inspiration"). Prices range from one box for $30 billed monthly, to $26 per box for 6 boxes billed semi-annually at $158. The more time you sign up for, the less you pay per box, as is the case with many popular subscription boxes. The items in the boxes are valued at up to $50, which varies by each month. In addition to the larger items, boxes generally also include coupons for big discounts from those brands. So, if you really love a specific first aid kit, or generally want to explore some of their other products, you have a code to use for that.
For this review, I received the April 2017 box. I was pleasantly surprised by the fun array of items, some of which I'd heard of, and some of which were new to me. While I'm not 100% convinced that subscription boxes work for every interest group, I do think (as I mentioned above) that outdoor gear can translate beautifully into outdoor experiences. This might especially be true for individuals who are new to the outdoor world, and feel overwhelmed by or unsure of gear choices. What are these "ten essentials" I keep hearing about? What kind of things would make a backpacking trip more comfortable? For me, the April 2017 box addresses some of these questions.
What's Included
Wild Hedgehog Tactical Ouch-Pouch ($15) –> Stay safe
Steri-Strips! Finally a first-aid kit that includes more than just gauze and bandages for wound care. I've been adding these to my kits for years in case of deep cuts, and it's nice to see someone think of this ahead of time. Seems like a great little kit which also only weighs 2.1 oz and comes in a handy resealable/waterproof bag.
Also included is a 20% off coupon for Wild Hedgehog on their website.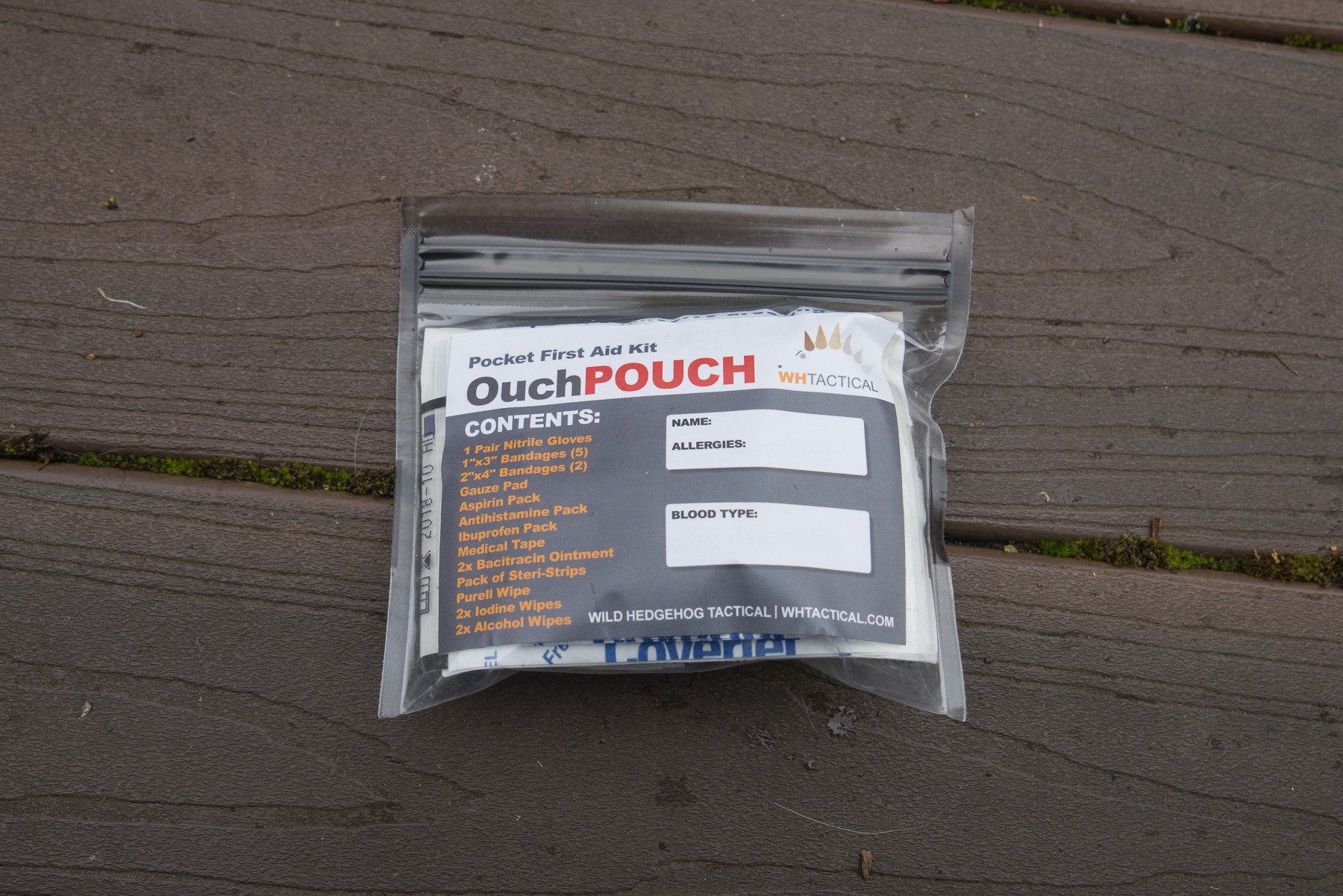 GearAid ReviveX Durable Water Repellent ($9) –> Stay dry
I've been using GearAid's repair patches for years, and regularly carry them in my backpacking repair kit. I've never used this waterproofing spray, and will be curious to try it in the future (now that I happen to have some). DWP spray can be a quick and easy way to breathe some new life into older waterproof gear that's become a bit more … permeable over the years.
GSI Infinity Backpacker Mug ($10) –> Stay warm/hydrated
I use a few GSI products regularly in my backpacking kit, and find them to be a good combination of utility and affordability. They offer really great first-time cooking kits at a nice price-point for people new to camping and backpacking.
Epic Wipe's Massive Wet Wipe ($3) –> Stay clean
Epic Wipe ran a successful Kickstarter last year to develop and produce towel-size wet wipes to be used in a variety of activities and environments (their idea came from being in Afghanistan). The result is a pretty sweet looking (HUGE) wet-wipe made with biodegradable bamboo and essential oils. Interestingly, this is a product I recall seeing in the past, and thought, "neat idea, but I don't want to order those." I like the idea that now I just have one to try.
Rova Magazine –> Stay inspired?
Rova is an entire magazine devoted to road tripping. It's full of fun interviews and photography that might make you a little jealous while you're stuck at a desk.
Overall, I like the categories covered by the April 2017 box, and even for an experienced outdoors-woman, I can see that a lot of thought went into the selection of items and their relationship to each other.
Supporting the Outdoor Industry
While again, we can argue that selling outdoor gear is partially about selling gear, it's also about enabling people to be safe and confident in the outdoors. In addition to larger more well known brands, Nomadik often features small cottage brands and products as well. Not only do those new names reach a wider audience, but Nomadik subscribers receive some interesting and innovative items. Many of these brands in turn give back to trails and parks, and to take it one step further: More people getting out enjoying nature means more advocates for those special places.
It's also important to note that beyond getting cool new gear to try out, Nomadik is a 1% For The Planet member. That means that a portion of their earnings go directly to environmental non-profits.
Bottom line
Nomadik is a fun, well-curated monthly surprise box that is sure to please any gear lover. I think it's an especially great product for new adventurers who don't yet have a selection of gear, or don't yet have very specific gear needs or choices.
However, it's important to note a few points. First, as is the case with most subscription boxes, the products you receive are pre-selected, thus you don't get to pick what's in your box. Don't need ANOTHER external battery or camp lantern? Tough luck. Second, don't have extra space to store more gear? Perhaps try a shorter subscription (but, you'd be surprised what you can fit into a closet. Or under the bed. Or in the linen cabinet).
Fortunately, almost any item in Nomadik subscription boxes makes a great gift on its own.
Overall, I really like what Nomadik is doing, and look forward to seeing where it goes in the future. Personally, I may be all stocked up on gear already… Or, am I?
Tags: Camping, camping gear, epic wipes, gear, gear aid, gear review, gearaid, gsi outdoors, Hiking, nomadik, rova, subscription box, wild hedgehog