Carrying a camera in the outdoors can be daunting. There's really no way around it. For adventurers who have a passion for the outdoors and also love capturing all of the beautiful moments, bringing the camera along is as essential as the hiking boots you wear on your feet.
Luckily, gear has evolved from the old method of just slinging the camera strap around your neck and dealing with the weight and added wobble to your stride.
I was introduced to professional photography carrying equipment a few years back, and have now had experience with multiple models. Each one seems to have its ups and downs, so really when it comes down to it, it's all about what works best for the individual photographer. Typically the major factors to consider when looking at a camera holder include durability, ease of use, and price.
Most recently I have been working in the field with the Cotton Carrier Strapshot series. This is a different type of camera holster compared to others I have used in the past, so it was refreshing to see a new take on the idea. Apart from chest straps and utility type belts, for the outdoor photographer the best method I've found are those of that clip to your pack — an essential piece of gear in the outdoors that you are most likely already bringing along.
The Cotton Carrier Strapshot EV-1 Holster and Hand Strap:
The Strapshot by Cotton Carrier is a backpack clip holster that carries any DSLR or compact camera. It attaches to most backpacks on one end, and on the other it clips right to your camera. A velcro wrap that holds the actual lock of the holster links the carrier to your backpack strap. With a simple and quick one-handed maneuver rotating the camera 90 degrees, your camera is released, accessible, in hand, and ready to shoot.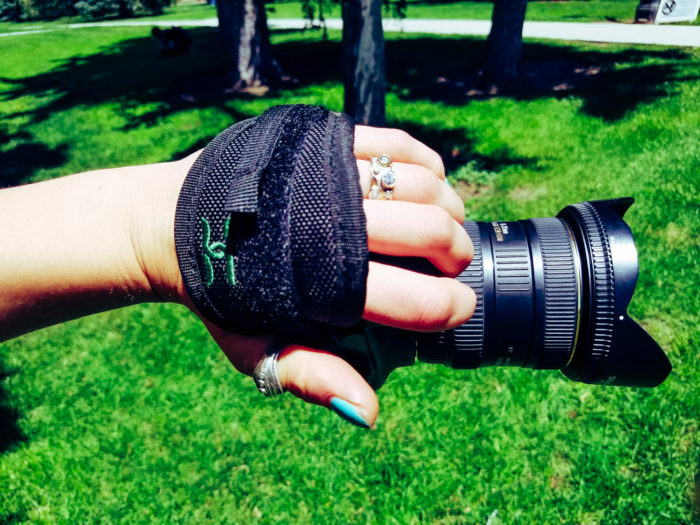 There are two added measures of security in the Strapshot that really stoke my confidence in the equipment:
The hook and clip that attach to the D-Ring of a backpack.

The strap that attaches from the camera to the carrier, so if you miss the holster or your camera slips and falls out of place, it is still attached to the holster by a tether which will minimize the damage to your camera.
The Strapshot also includes a hand strap that links the strap hub on your camera body to the bottom tripod plate where the holster screws in. Hand straps are new to me, and I was really surprised at how much I actually enjoyed using it. Often times when I'm hiking with my camera, I get tired of pulling the camera in and out of the holster I'm carrying, and I find myself just kind of walking with it in hand, no strap, no nothing. This is dangerous business – and I know it – but sometimes distraction and eventually laziness kicks in on the trail, and that's when accidents happen.
Having this hand strap has changed that for me. Instead of just relying on my grip alone to keep the camera in my hand, I can rely on the strap to do the work for me. Not only in this convenient when you're shooting in time-sensitive situations like capturing wildlife, but it takes the weight of the camera off your hands and wrists. I never realized how tired my hand was after shooting on the trail all day until this hand strap came into my life.
The Strapshot is lightweight and weatherproof, will hardly add any weight to your pack when using it, and it doesn't take up a lot of space when you're not.
Specs:
1680 Denier polypropylene, metal mounting plate and rubber washer
Attachment Method Mounting clip
Touch-fastening fabric rear wings
Clip to D-Ring
Safety Tether/Wrist Strap with swiveling snap hook
Split Ring on camera's strap lug
Carrying Options: Wrist, belt, or strap
Testing in the Field:
I've spent some quality time with the Strapshot on various hikes since I received it, and for the most part I like it. What I really like the most about it is all of the added security. This alone is reason enough to buy it. It's like having a plan B (the tether to the camera) and a plan C (hand strap) if things somehow start to go awry and the holster breaks on the trail. This is superior to other holsters I've tried, where traditionally your only security and peace of mind comes when the camera is actually in the holster. The Strapshot certainly puts me more at ease, here.
There are some things that I do think Strapshot could improve upon, though. The adapter piece on the bottom of the camera is not universal to my tripod plate, so if I want to use my tripod, that part has to come off, or I have to buy an adaptor. Although assembling the holster is not extremely difficult to do, some basic assembly instructions would be a help. As far as the sizing and placement of the holster goes on your pack, as a female, I did find that it sometimes got in the way and was not exactly located in a comfortable place for me. I adjusted and readjusted the straps on my pack in a variety of ways, and somehow could not quite find that sweet spot. I also noticed that the camera tended to rotate or swing back and forth in the holster. I had complete confidence in it remaining locked in place, but it was somewhat of a nuisance when hiking.
Conclusion:
Overall I think the Strapshot is a great carrying method for your camera. To me, it might be more ideal for a photographer who is focused on architecture or street photography in an urban environment, or even a portrait and wedding photographer. It is also a fine choice for the backpacker and avid hiker, but like I said before, every photographer is unique, just as every environment the photographer is in is also unique. I encourage you to try to get your hands on one to see how the fit works for you before you decided on anything!
Tags: cotton carrier, photography gear, strapshot