"Raindrops on roses and whiskers on kittens"… We all know the song. When it comes to backpacking and camping, the right gear can make and break a trip. Everyone has their go-to, must have, better be in the pack items that we carry on epic adventures or toss in the car before we head out. Maybe it's a warm hat, a pair of socks, or even a favorite water filtration system. After testing out the Cotopaxi Sueño Sleeping Bag this summer, I can confidently say that it has made it to the top of my list of favorite things. Now give me a mountaintop to sing on!
Design:
Cotopaxi gear stands out. The design is an array of wild and bright colors that are unique and definitely draw eyeballs. Their creative use of color and the quality of their design makes for gear that will last the changing of seasons as well as style trends. Their goal is to make gear that will last and stay with you in your pack or car for adventures and adventures to come.
The simplicity of their design makes for a product that is not only pleasing to they eye, but is also easy to use. It's all in the details, and the Sueño sleeping bag is full of them. For example, the EyeLok toggle on the hood of this mummy style bag makes sure that the adjustable hood stays tight and in place on those extra cold nights when burrowing in your cozy down is a necessity.
The quality that goes into the details makes those tasks that always seem to be more difficult in the backcountry a lot easier. Like unzipping the bag when you're hot. With tactile zipper pulls, it's easy to find and easy to adjust as needed, and the zippers don't snag. How many times have you been in the pitch black night trying to zip or unzip your bag and struggled for far too long to free the down from a zipper line? I've been there.
The bag also comes equipped with a pocket at the head of the bag to stuff your flannel or insulated jacket into, creating the most comfortable of backcountry pillows (and saving you the trouble of packing a dedicated pillow, too). There is an insulated media stash pocket for your phone's precious battery power, as well as a stuff sack pocket at the feet to keep yourself organized.
Probably the coolest part of the bag and its design is the way it converts. There is a full length zipper on one side, as well as a zipper line that goes half the length down the bag. This allows you to simply fold down the top of the bag when you're hot, or unzip just the bottom to free up your feet. It also unzips entirely into a blanket if quilt-style camping is more your speed.
Testing in the field:
Over the past summer, I have put this bag through the wringer. It was with me in the freezing torrential downpours backpacking in the San Juans. It was there for the warm nights in the Weminuche Wilderness, as well as those extremely frequent "let's get in the car and go somewhere" car camping adventures.
When it comes to backpacking with the Sueño bag, there are few things to note. First of all, the bag weighs 2 lbs 13 oz, not necessarily the most lightweight piece of equipment for ultra lighters. However, don't be discouraged. On my first backpacking trip with it, I opted for stuffing it the big compartment of my pack, where I usually keep my sleeping bag. I found that it took up too much space in there, and made it difficult to reach other items, so I changed it up. I decided to attach it to the outside of my pack where the tent usually goes. This was a game changer. It's light enough that it didn't offset my balance and it freed up space in my pack.
Overall, bringing the Sueño along as my source for warmth was worth the extra weight when I get a 15 degree rating out of it, as well as all of the other perks. Having a bag in the backcountry that also serves as a blanket can come in handy in a lot of different situations. In my case, my partner and I have a double sleeping bag setup. In this case, one of us can carry the double setup and the other the Cotopaxi. In this way, it's an extra measure of security for those really cold nights where we need a bit of added warmth. Though if you are a solo backpacker carrying all of the weight yourself, this might not be the case.
The Sueño is also one of my favorite pieces of gear for car camping. I do a lot of quick mini adventures here in Colorado. Depending on the weather, that could mean sleeping in the tent right by the car, or simply sleeping in the back of the 4 Runner. This is where the Cotopaxi shines. When my adventure partner and I sleep in the car, the Sueno bag has us both covered. We unzip it entirely and use it as a blanket. The Cotopaxi becomes a giant down comforter and feels like you're sleeping right at home in your own bed.
Why I absolutely adore it:
My favorite part about the Sueño bag is that I get to share it. The blanket feature makes it just a hands-down winner for me. I can wake up, roll out of my tent and stay wrapped up in colorful down. I can stay cozy on the chilliest of mornings, drinking a hot cup of backcountry coffee and taking in some views, all from the comfort of my cozy Cotopaxi before moving on for the day.
Did I mention their logo is a llama? I mean… llamas are the coolest. Just looking down at my bag every time and seeing the friendly animal insignia makes me smile, and smiles are priceless.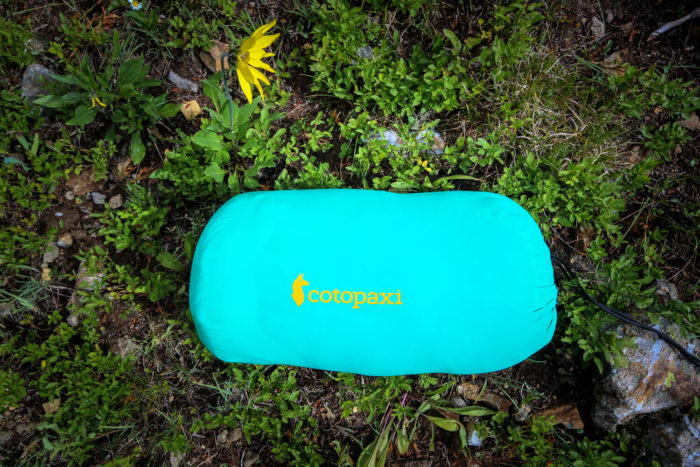 If you haven't heard of Cotopaxi yet, then you should know that they are one of the most exciting outdoor gear companies in the business right now. So let me bring you up to speed.
About the Company:
"Gear for Good" is the motto at Cotopaxi. If you need a little inspiration today, these guys are the ones to give it to you. Cotopaxi is a proud Benefit Corporation and is also B Corp. Certified. If you aren't familiar with B. Corp., it is basically the equivalent of a Fair Trade or USDA Organic certification for business. It means that Cotopaxi has whole heartedly aligned all aspects of their business model to connect commerce with charity. Being B. Corp. certified allows the folks at Cotopaxi to truly use business as a positive force for change and for good.
Cotopaxi has focused most of their efforts on the alleviation of extreme poverty around the globe. They use innovative outdoor gear products to inspire adventures that will in turn fund poverty relief.
Impact:
Cotopaxi funds real solutions by partnering with organizations that are creating consistent and sustainable change in local communities. Basically, the company dedicates a lot of time and energy into seeking out groups and organizations that are making a big difference, and then partners with them. They select their grantees based on demonstrated success as well as impact, then work to collaborate with the targeted community together.
Once Cotopaxi has selected their grantees, then comes the funding. That's where the outdoor community comes in. 10% of their profits are then directed towards the nonprofit organizations, so when you go online and buy their super rad backpack or their awesome llama logo t-shirts, your are not only influencing your own adventure, but you are shaping the bigger one unfolding around the world.
In 2016, Cotopaxi has funded organizations like
Educate Girls- India
Fundación Escuela Nueva- Latin America
Proximity Designs- Myanmar
International Rescue Committee- Middle East and Europe
Nothing But Nets- Sub-Saharan Africa
Cotopaxi isn't just creating change by funding charities, but their force for good reaches all the way to the production. Cotopaxi takes the sourcing and production of their products to heart. There is a large auditing process they go through before they decide to partner with a factory. Cotopaxi wants to change they way we (the consumers) purchase gear. Their products are not made in some distant, mysterious factory, or by robots and machines, but by people. Hardworking individuals who put their whole hearts into the products they create. Ethical production connects the consumer to the producer, and ultimately creates a community around the product itself. They are changing the lives of their employees, their families, their children, and the local community.
Tags: cotopaxi, gear, product review, Review, sleeping bag, sueno