There's a new adventure sandal in town, and it is rapidly taking over the market.
The Bedrock Cairn is what I would consider an all-around sandal. It is a highly versatile piece of gear that serves a wide range of purposes and does them all well. I first came across Bedrock after seeing folks mountain biking in them. Now, people typically don't choose to mountain bike in sandals, so I was intrigued by the choice and decide to try them out for myself.
(Get ready for a bunch of pictures of my feet.)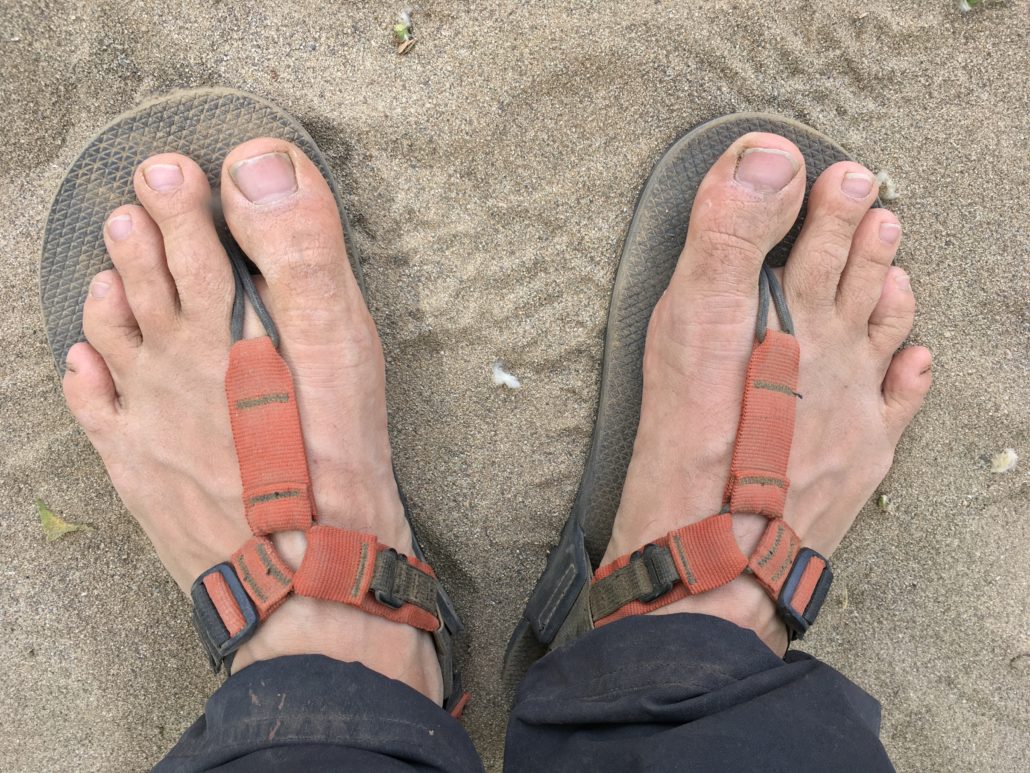 BEDROCK COMPANY
Bedrock began as a Kickstarter in 2011 with the intent to create a sandal that harnesses our natural human-inherited flow of movement. Over the years they have grown, tested, and refined their sandals to strike a balance between performance, durability, and comfort. This year Bedrock released the Cairn – the latest iteration of their sandal design.
Bedrock is based out of Richmond, California where they manufacture the sandals and run their operations.

HOW I TESTED THE BEDROCK CAIRN
I've been using the Bedrock Cairn as my primary sandal for over 4 months now. In that time, I've used the Cairn to:
Scramble up 3rd class boulders in Joshua Tree
Hike up to 8 miles a day with a daypack
Swim through fast alpine streams
Road bike up to 14 miles
Walk over 150 miles
Based on that experience, here are my thoughts on the Bedrock Cairn Sandal.
SIZING
If you are on the fence between two sizes, Bedrock makes sizing the correct sandals super easy. All you need to do is print off the Cairn Sandal Sole Template and follow the instructions to choose the correct size.
FIT
The Cairn uses a 3-part strapping system to optimize fit based on the activity you are doing. For casual use, I simply slip them on and am good to go. For a more aggressive fit, you can tighten up the Velcro strap on the back, a hooked tab on the inside, and a toggle on the outside. When fully tightened, the Cairn can be used for high-energy activities such as mountain biking, whitewater boating, and long distance hiking.
I am a little skeptical of the use of Velcro on shoes. It's easy for dirt and sand to work its way in which reduces the strength of the hold. So far, I've rarely needed to adjust the Velcro on the back of the sandal and it is holding up well.
TRACTION
A Vibram outsole provides a good degree of traction for this sandal. While scrambling over wet rocks, I found the grippiness to be very reliable. In order to feel truly secure, make sure to tighten down the straps so that the sandal does not slip around underneath your feet.
COMFORT
The sole is thick enough to eliminate bruising even on mixed rocky terrain but thin enough so as to provide a high degree of "trail feel." One aspect of the design that I particularly appreciate is the use of rounded cord where the strap runs between your toes. The cord is a much more comfortable alternative to the webbing typically found on sandals. There is no rubbing from the straps, despite the numerous adjustment points present on the Cairn.
AESTHETICS
While the strapping system works very well, it isn't visually elegant. The numerous hooks, straps, stitching, and Velcro are very utilitarian in design – an aesthetic that may or may not work for you.
You can choose between six strap colors including Copper (pictured), Light Denim, and Charcoal.

RESOLE PROGRAM
In an effort to reduce environmental impacts and increase the lifespan of the sandals, Bedrock offers a comprehensive repairs program.
Need a resole? Bedrock will move your straps over onto a new footbed and outsole for $60.
Need new straps? Send your sandals in for a repair or replacement for a reasonable fee.
What's covered under their Rock Solid Warranty? You can send in your sandals for free repairs and shipping due to a manufacturing defect for the lifetime of the Vibram soles.
OTHER BEDROCK PRODUCTS
I love it when a company focuses on doing one thing really well, which is certainly the case for Bedrock. Beside the Cairn, they also offer the Cairn Pro and Classic Sandals.
Cairn Pro vs Cairn
Exactly the same except the Cairn Pro comes with the MEGAGRIP Vibram outsoles which increase traction in particularly slippery areas (boating).
Classic vs Cairn
The Classic is a lighter and more minimal alternative to the Cairn, with a thinner sole and simplified strap design.
BOTTOM LINE
It might be hard to justify spending almost $100 for a sandal. But with Bedrock, you get what you pay for, which is superb design and high quality.
I am a huge fan of highly versatile gear – I'd rather pay more to buy one item that services a variety of purposes than having multiple "specialized" items. In that respect, I'd buy the Cairn again in an instant. This sandal has now become my camp shoe for backpacking trips, my leisure shoe for strolls around town, and my boating shoe for both flat and whitewater adventures.
Bedrock is on its way to becoming a household name brand, and I am excited to watch the company grow and continue to deliver fantastic products.