4 Stars
Backcountry.com has its very own clothing line!
Last spring, I received an email announcing the catalog for the Spring Basin and Range clothing line, Backcountry's new in-house brand. Now, I love pretty much everything about Backcountry.com — they are consistently my go-to online retailer — so, of course, I had to check out Basin & Range.
Basin and Range is a growing clothing line which encompasses a mixture of active wear and performance wear for both women and men. I received three items from Backcountry to try out over my spring work season.
Wasatch 800 Hooded Down Jacket – Men's

Current Quick Dry Pants – Men's

Flying Dog Plaid Shirt – Men's
Over the last couple of months I used these three pieces while climbing in Joshua Tree National Park, backpacking in the Sespe Wilderness, and camping throughout the Southern Sierra Nevada. Each item was used at least 30 field days in a mixture of conditions ranging from 20-degree hailstorms to 95-degree desert days.
WASATCH 800 HOODED DOWN JACKET – MEN'S
Insulation: 800-fill down (responsibly sourced)
Sizing: Runs slightly large
Pros: Lightweight, affordable, warm, and looks great!
Cons: Sheds feathers
Best For: Lightweight insulation for casual and active use
Price: $229
If you're in the market for an affordable, lightweight, and WARM down jacket then look no further than the Wasatch 800. Long sleeves and an extra long back means your bubble of warmth doesn't break while moving around. The lightweight shell and insulation makes this an easy layer to stuff away when not in use, but don't worry about getting cold, this puffy is an insulating machine.
The sizing on the Wasatch 800 runs big. I consistently wear a men's medium (I'm 6' tall – 160 lbs) and the medium feels a little loose on me. I decided not to size down because that leaves room for an extra layer underneath, but the Wasatch is so warm that I have never needed one. The hood was the only true sizing issue I had. There is no cinching mechanism to tighten the hood down and there were times I felt like it was going to blow off my head.
All down jackets shed their feathers, especially as the down compresses with long-term wear. From my experience, the Wasatch seemed to be shedding more feathers than comparable 800-fill jackets. While it wasn't to the extent that I'm concern about extended durability, it was still noticeable.
I've yet to find an 800 fill jacket that is more affordable than the Wasatch. If you watch Backcountry.com for sales, it would be easy to pick one of these up for as little as $120, which is a STEAL for a puffy coat of this quality.
One last thing. The colors used in these jackets are amazing!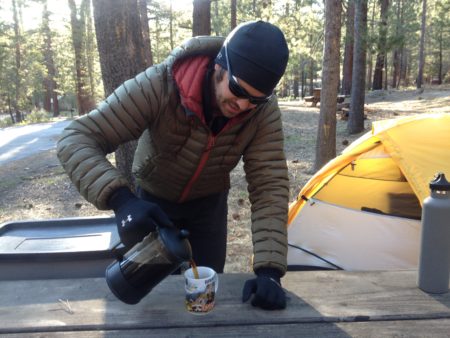 FLYING DOG PLAID SHIRT – MEN'S
Materials: 49% Nylon, 51% Polyester
Sizing: Runs large – I went down an entire size
Pros: Cool and durable
Cons: Large boxy fit
Best For: Casual use from day hikes to hanging out around camp
Price: $69
Over half of my year is spent working on backpacking and camping trips, so I'm always on the lookout for durable and professional looking outdoor apparel. The Flying Dog Plaid Shirt is a nice looking short-sleeved shirt that comes in either a light blue or turquoise pattern. One thing I really like about this shirt is how cool it feels while still maintaining a tight enough weave to protect me from the sun. The nylon/polyester blend feels really good on the skin and will easily stand up to extended use in the field.
Be aware – this shirt runs LARGE. I ordered a medium and immediately knew it was too big. The small size works much better for my 6 foot 160 lbs frame. The shirt fits a little tight across the shoulders and a little boxy around the waist.
CURRENT QUICK DRY PANTS – MEN'S
Materials: 93% Nylon, 7% Spandex
Sizing: True to size
Pros: Quick to dry, doesn't affect your mobility, protects from sun and brush
Cons: May loosen over time
Best For: Backpacking through water or brush, climbing, casual wear
Price: $79
Of the three Basin and Range items I tested, the Current Quick Dry Pants were my favorite. These pants fit true to size. The medium I ordered suited my 32 x 34 legs perfectly. A semi-stretchy nylon/spandex blend allows for extreme mobility; these pants didn't get in the way even while I used them rock climbing. They are quick to dry (just like the name), lightweight (no unnecessary frills), and keep surprisingly cool despite their dark color (I ordered the charcoal option).
One concern I had was that the stretchy material would become loose over time which is a common issue with this type of blend. However, with over 40 days of use, I haven't seen any sign of this happening.
I can safely say my previous pair of outdoor pants have been fully usurped. No matter what activity I'm doing, the Current Quick Dry Pants are my go-to leg apparel.
ADDITIONAL BASIN & RANGE ITEMS
There is a plethora of great looking Basin & Range items in addition to the three I tested, including plenty of women's pieces. Make sure to check out the complete Basin and Range line.
FINAL THOUGHTS
I was happy with every item I tried out. Basin & Range is building clothing that will hold up to the rough conditions often present in the outdoors while not sacrificing looks or price. The sizing of two of the items ran almost an entire size large so if you're on the fence I'd suggest dropping down one size. Clothing fit is very specific to the individual. I'm a pretty skinny guy so just because items felt a little boxy on me doesn't mean they won't fit you perfectly.
If you're in the market for some new outdoor apparel then I'd highly recommend you check out Basin & Range, especially as they continue to refine and develop their clothing for future seasons.
Tags: Backcountry.com, basin and range, clothing, gear review, hiking pants, puffy coat, shirt