The Ahnu Coburn is a mid-height boot suitable for long day hikes and backpacking trips with extremely solid construction that's surprisingly lightweight – but you'll learn that after you spend a bit of time with them. The first thing you'll think to yourself when you pull a pair out of their box is "that is a damn good-looking pair of boots." Even the logo placement and stitching is aesthetically pleasing.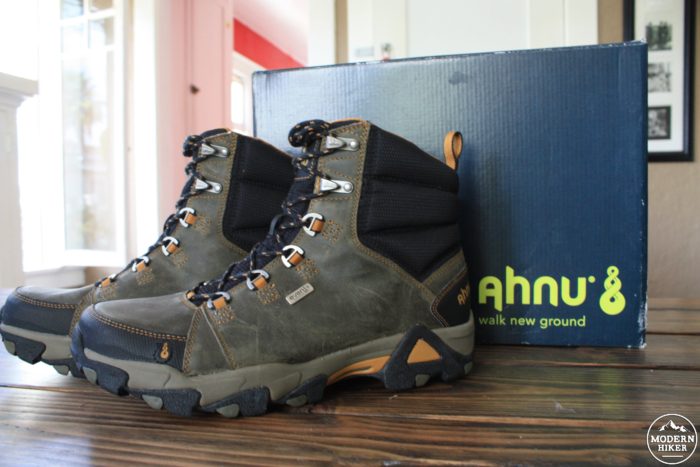 I know fashion is not a leading consideration when buying your next pair of hiking boots – nor should it be – but it's a nice bonus when the design of your footwear wouldn't embarrass you if you had to spend a day walking around town in them between hiking trails.
The construction is very high quality – the soles are thick and sticky on slick rock (and a small rubber wrap-around helps protect your toes), the majority of the outer is waterproofed leather, and the lace hooks are all metal. I personally like my laces tied tightly (many would say too tightly), and I was able to pull these boots around my feet so that they felt almost like a second skin. In other words, if you're looking for a boot that feels secure, you've found it.
The boots also have a built-in waterproof/breathable eVent lining that will help keep your feet dry in wet conditions and mostly free of sweat funk.
On my feet, I was surprised at how light the Coburns felt. Despite their rugged construction, they felt more like low-cut hiking shoes or trail runners than they did boots – and if I was blindfolded (and couldn't feel the tight ankle support), I'd probably be shocked to see their true size.
I will say that unlike the Chaco Holbucks I reviewed earlier, the Coburns definitely need a little bit of breaking in before you go on longer treks (chalk that up to those beautiful leather exteriors). I tested these out on a few miles of steep, dusty trails in Griffith Park and while I was never uncomfortable, I did find the boots to be a little on the stiff side.
I was hiking those trails on one of this year's many hotter-than-average days, and I don't know if it was the eVent fabric or the light weight of the boots or the super dry air or a combination of the three, but my feet stayed nice and cool on a six mile trail in full sun, mid-day, in 90 degree temperatures (don't worry, I brought a lot of water). Most of the time those waterproof/breathable fabrics trap a lot of body humidity for me so I tend to stay away from waterproof boots for the vast majority of my hikes, but I would feel pretty comfortable wearing these on summer trails.
I'm putting these boots near the front of my gear closet and will keep testing them out as we (hopefully) get some rain and snow, too. And even if we don't, I'll still enjoy simply looking at them.
Tags: Ahnu, Coburn, hiking boot, Review