The following is a sponsored post for Cycle Central Coast. All opinions expressed here are our own.
Located approximately halfway between Los Angeles and San Francisco, Cambria, California, offers a refreshing and welcoming vibe that can seem rare after traveling through more well-known areas of the state. Cambria not only offers incredible seaside views with little to no crowds (plenty of parking… seriously), but it is also a perfect gateway to riding in Big Sur and the surrounding areas. This past weekend we were fortunate enough to partner with Modern Hiker and Cycle Central Coast for an unforgettable weekend of cycling, hiking, and a private wine tour (for good measure).
We flew in from Salt Lake City to San Jose and then made our way south. Because road crews are still fixing the Highway 1 closure from a mudslide in 2017 (currently on track to open by the end of July, 2018), we took a different route through an agricultural region. After a three-and-a-half-hour drive we arrived in Cambria, where we were greeted by a town full of character, beautiful beaches, and a welcoming community. Since we got in late we opted for a quick ride exploring downtown Cambria and Moonstone Beach, and then rode north along the coast to enjoy the sunset. After the long day we enjoyed dinner at Robin's, eating tofu panang curry and drinking local wine.
Finally, we retreated to our hotel, El Colibri Hotel, which was conveniently located right between the coast and downtown. El Colibri Hotel was perfect; the rooms were spacious, staff was extremely friendly, and there was a wellness center equipped with a sauna and hot tub — what's better than that after a long ride?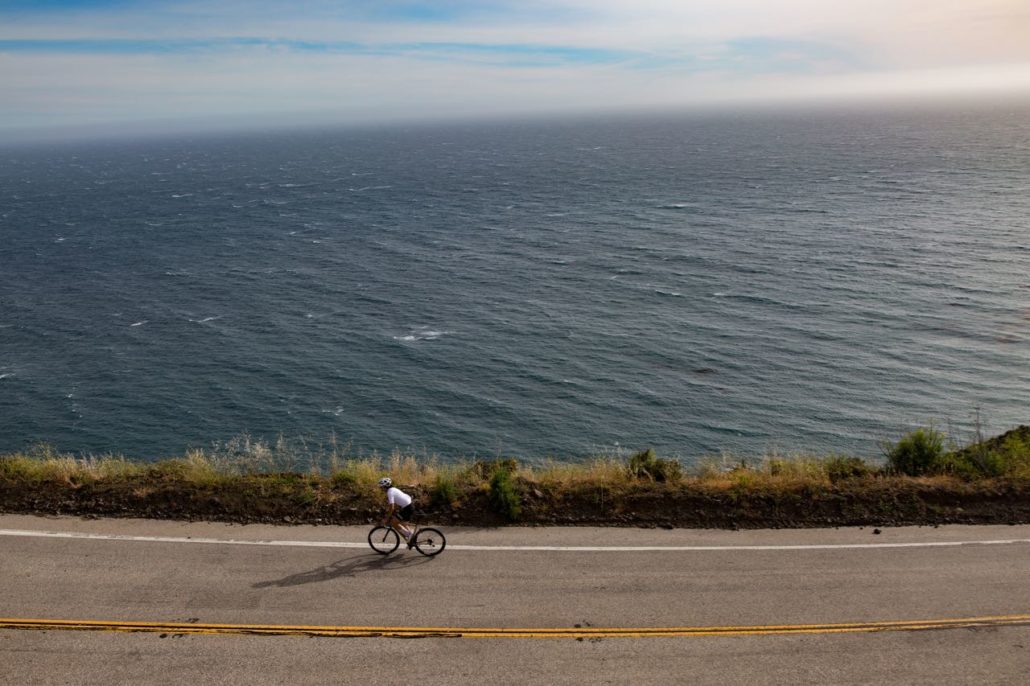 Saturday morning we fueled up at Cambria Coffee Roasting Company and then set out to ride the Highway 1 Adventure Route 2.0 route (from Cycle Central Coast) to Salmon Creek Falls (approximately 60 miles roundtrip). Most of the ride is rather flat, which provides you a nice chance to warm up and enjoy the scenery. However as we hit the hills the ride was as challenging as it was rewarding.
The contrast between the shadows of the pines and early evening light was hypnotic as I snaked up the coast. Each pedal stroke and traverse exposed more of the rugged coastline which motivated me to dig even deeper. Between the sounds of the crashing surf, the salty air, and the endless coastline the entire experience was cathartic.
After completing the climb we made it to Salmon Creek Trailhead, where I threw on a pair of sneakers and ascended the quick, 15-minute hike up to the the Salmon Creek Waterfall. As you begin the hike the trail slowly disappears under the enormous boulders and old growth trees. Listen closely and you can hear the sound of the 100 foot waterfall guide you while you scramble over boulders. Once you reach the plunge pool it's a perfect place to relax, have a snack, and remind yourself of how truly beautiful the natural world is.
After our two exciting days of riding we had the opportunity to conclude the trip with a private tour of the Stolo Winery. As walked up and down the vineyards the owners explained their winery is especially unique because the the site has been referred as a 'rogue cool climate gem,' since it's one of the closest Californian vineyards to the Pacific Ocean — less than three miles from the coast. The owner's enthusiasm and passion for Cambria and their winery was contagious and you could taste it in each wine we tested – our personal favorite was the 2015 Estate Reserve Pinot Noir, Hillside Vineyard.
The punchy, hard climbs followed by fast descents create an incredible riding experience for all cycling levels. Between the sounds of the crashing surf, the salty air, and the endless coastline the entire experience was cathartic and reminded me why I love cycling.
Tips on riding in Cambria:
I recommend checking out Cycle Central Coast to find additional routes, accommodations, and more tips on visiting and riding out of Cambria.
Because of the proximity of the coast I recommend bringing arm warmers and a light wind jacket.
Give yourself more time than usual because you're going to want to stop and take photos of everything.
I recommend eating in Cambria and bringing enough food to get you to Ragged Point (approximately 25 miles). The options for eating, coffee, or using the restroom are pretty slim between Cambria and Ragged Point. Although, there a couple places to eat in San Simeon, I wouldn't recommend them.
If you really want to experience the Cambria area give yourself an extra day. The riding can be challenging and you'll want more time to take photos and ride longer.
Most restaurants close around 9:00 PM – as a result, start riding early to have an opportunity to have a nice, relaxing dinner.
This post was made possible with a sponsorship from Cycle Central Coast. Modern Hiker received compensation for this post but the opinions expressed here are our own. Sponsored posts help Modern Hiker continue to produce original content and provide free trail guides to its readers.
Tags: california, Cambria, cycling, weekend plans