2016 is the celebration of the National Park Service's Centennial … and from April 16th through the 24th, the Park Service is also celebrating National Park Week. During this time, visitor entrance fees are waived in every National Park unit across the country.
So we thought now would be a good time to highlight some of our favorite NPS trails. We picked one in each of the park units we cover and yes, we're including NPS-managed sites so National Recreation Areas and Seashores count!
Continue reading to see which trails we chose … and be sure to check back as we keep adding more to the list!
Did we miss any of your favorites? And where are you hiking during National Park Week?
Santa Monica Mountains National Recreation Area: Paramount Ranch
The Santa Monica Mountains National Recreation Area bills itself as the world's largest urban National Park, and although there are many different agencies that encompass this groundbreaking public-private partnership, the National Park Service does operate several sites within the NRA boundaries … including Paramount Ranch. The former raceway and still-active moviemaking ranch is, in fact, the ONLY unit of the National Park System dedicated to preserving and presenting the story of American filmmaking. A small Western Town set still stands here – much to the delight of visitors of all ages – and a network of trails through oak savannah provides stunning views and great opportunities to spot hawks in the sky and wildflowers on the ground. See more trails in the Santa Monica Mountains here.
Joshua Tree National Park: Ryan Mountain
For desert rats, Joshua Tree National Park is an amazing place to show off how diverse and full of life the desert can be. Straddling the transition zone between the low Colorado Desert and higher Mojave, the park's southern and northern halves are almost like two different parks. But the prominent, centrally located peak of Ryan Mountain is perhaps the best place to soak in (almost) the entire park in one panoramic view. It's a steep climb in places, but the 3-mile round trip means this hike can be done as part of a drive-through park visit … or even better, as an introduction before you find your own private corner of the park's massive backcountry. See more Joshua Tree trails here!
Death Valley National Park: Golden Canyon and Gower Gulch
One of the lowest, hottest, driest places on the planet, Death Valley National Park is truly a place of superlatives. No one trail makes you feel like you're on another planet as much as this loop in Golden Canyon and Gower Gulch, though – and perhaps for good reason. Golden Canyon can be seen in Star Wars: A New Hope as the Jawa Canyon and many other sites in the park were used in the famous space opera. More Death Valley hikes can be found here.
Sequoia National Park: Trail of the Sequoias
Looking for trees? Well, you've come to the right place, my friend. Sequoia National Park is home to its namesake trees — the world's largest living things by volume. The Trail of the Sequoias is a great place to get up close and personal with these giants — and perhaps experience a bit more solitude than you'd find at roadside stops further inside the park. We've got more trails, too!
Kings Canyon National Park: Rae Lakes Loop
Although it's jointly managed with Sequoia National Park, Kings Canyon is its own place with its own character and charm … not to mention stunning scenery like this. Scott writes, "the Rae Lakes Loop in Kings Canyon National Park contains some of the most stunning and celebrated scenery in a mountain range world-famous for stunning and celebrated scenery" – and you can't argue with that. This epic backpacking trip will surely stay etched in your memory for years to come.
Yosemite National Park – The Panorama Loop
It's impossible to pick just one trail to do in Yosemite National Park, one of the most iconic parks anywhere on the planet, but if we had to, we'd choose the Panorama Loop. Beginning near Curry Village (sorry Delaware North, we refuse to call it Half Dome Village) the trail forms an epic path along the south rim of the Valley, showing off highlights like Half Dome, Mist and Vernal Falls, Illouette Falls, and Glacier Point. Unlike just about every other trail in Yosemite Valley, the stretch between Half Dome and Glacier Point is downright secluded – but at nearly 13 miles you'll definitely have to work for it. In the summer months, a free Valley shuttle will take you back to the trailhead, though!
Point Reyes National Seashore – Coast Trail Loop
Yes, Point Reyes National Seashore is geologically unique and biologically diverse. It's also one of the most stunning places to hike on the west coast. A fantastic spot for bird watching, whale watching, and people watching, this moderate 3-day backpacking route is the perfect way to get a taste of just about everything this incredible park has to offer.
Pinnacles National Park – High Peaks Loop
A relatively new addition to the National Park System, Pinnacles National Park (formerly National Monument) packs an insane variety of terrain into its diminutive size. On the full-day highlight reel known as the High Peaks Loop, you'll see crags, caves, California Condors (if you're lucky) and yes, pinnacles. An excellent set of in-park campgrounds provides a great base to explore all the nooks and crannies of this park – and during springtime wildflower shows you will definitely want to linger.
Haleakala National Park – Haleakala Crater
If you want to feel like you're walking around on Mars but don't feel like waiting for Mars One to get off the ground, you may instead want to book a trip to Maui's Haleakala National Park. In drastic contrast to the lush terrain of the Maui coast, Haleakala Crater is basically a rocky desert nearly 10,000 feet above the sea. Dotted with tough endemic plants that manage to eke out an existence and littered with towering cinder cones in shades of red, this dayhike inside the crater of a dormant volcano is an unforgettable place to watch a sunrise, sunset, or even just walk around.
Grand Canyon National Park – Rim to Rim to Rim
An epic canyon deserves an epic adventure, and this 43-mile journey takes you (as you may have guessed), from the South Rim to the North Rim and back again. You'll cross the legendary Colorado River, pass through just about every kind of ecosystem in the Southwest, and enjoy an expertly-built trail in one of the most famous landscapes on earth. What more could you ask for?
Zion National Park – Observation Point
The hair-raising chain climb of Angel's Landing and tight-space adventure of the Subway get most of the attention when you're talking about trails in Zion National Park, but our favorite is still Observation Point. This quad-busting route climbs from the canyon floor to its rim, squeezes through slot canyons, and clings to cliffsides on its way to the absolute best vantage point of Zion Canyon … which just so happens to be taller than Angel's Landing, in case you were keeping score.
Bryce Canyon National Park – Peekaboo and Navajo Loops
Try as hard as you'd like – you're just not going to find another place quite like Bryce Canyon. Green pines and redrock hoodoos form an absolutely otherworldly landscape – and if you can visit after a dusting of snow it becomes even more spellbinding. The figure eight route described here stitches together the Peekaboo and Navajo Loops inside the stunning Bryce Amphitheater for a great mix of terrain and scenery.
Canyonlands National Park – Chesler Park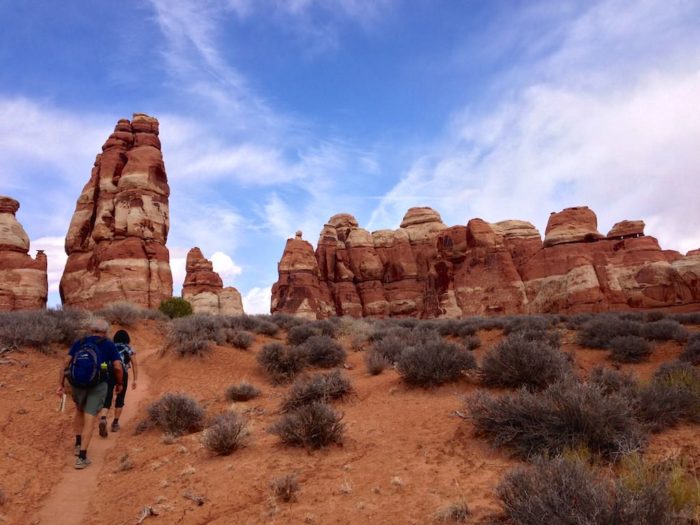 The expansive Canyonlands National Park is really three parks in one – there's the super remote Maze District, the Moab-travel-friendly Island in the Sky District, and the extremely-well-off-the-beaten-path Needles District. Travel between the three districts is made impossible by mind-boggling terrain and roaring rivers. This 10.4 mile loop in the Needles' Chesler Park area is unlike any other trail we've ever been on. You'll walk amongst giant melted ice cream rock formations, discover secluded desert meadows and hidden arches, squeeze into a tiny slot canyon crack in the ground and even explore some subterranean halls.
Arches National Park – The Devil's Garden
Situated just outside the outdoor recreation Mecca of Moab, Arches National Park can get pretty crowded – especially during the peak season. But if you can make a trip in the winter or early spring you have a decent chance of getting away from other hikers the further you venture onto the Devil's Garden Trail. This is the longest and most rugged maintained hiking route in the entire park, and along the way you'll pass 8 large named arches and a towering monolith within full view of the snow-capped La Sal Mountains to the east.
Tags: best trails in national parks, centennial celebration, find your park, national parks week