Alberta Highway 22 runs some 363 miles near the province's western border. Riding the boundary between the epic prairies of the Great Plans and the equally epic Rocky Mountains, the road is a stunning and picturesque way to experience the landscape — and some uniquely Alberta places.
Because the road passes through huge stretches of ranch land as well as many examples of the region's 'Wild West' history, the route is known as the Cowboy Trail. The landscape is stunning, the drive is peaceful, and it's a great way to experience some of the local charm of small-town Alberta.
If you're returning to Calgary from a trip in Waterton Lakes National Park and can spare a bit of time on this incredible road, here are three must-stops along the Cowboy Trail.
The Bar-U Ranch National Historic Site
When traveling through the grasslands of Alberta, it's almost impossible to ignore the region's ranching history — most often because ranching is still a dominant land-use in the province. The first cattle herd arrived here in 1873 and the Bar-U Ranch was founded in 1882 and eventually grew to become one of the most prominent ranching operations in western Canada. At its peak, the Bar-U Ranch sprawled over almost 158,000 acres — and encompassed seven townships!
The now-370 acre Bar-U Ranch became a National Historic Site and part of Parks Canada in 1991, and today it serves as a living history museum for this period of Canada's past.
We visited the Ranch on a drizzly day. The clouds blocked the road's legendary views of the Rocky Mountains but also meant that we essentially had the entire Bar-U Ranch to ourselves. A self-guided walking tour takes you around and inside the 24 buildings along Pekisko Creek to learn about the unique lifestyles and oversized characters who spent time here, including renowned Western artist Charles M. Russell, a Prince of Wales who would become King Edward VIII for a few months in 1936, and a horse breaker named Harry Longabaugh who would later become better known as the Sundance Kid.
Occasionally you may run into re-enactor / docents on the Ranch, who will be more than happy to spin long Western yarns, take you through the still-working gardens and underground storehouses, or share some delicious homemade cookies with you. We met a pair of amazing docents who gave us an incredible impromptu tour of several of the buildings and were generous with some cookies made with recipes from the original Ranch cookhouse.
It's easy to spend a full day exploring the Bar-U Ranch, or you can just spend a few hours here on your Cowboy Trail roadtrip — but it's definitely worth a stop. We both
The Bar-U Ranch is generally open from mid-May through the end of September. You can also book wagon or cowboy tours for a fully-guided experience, as well as visit docents at the different buildings to get live demonstrations of ranch life (and maybe pick up some cowboy coffee, too!).
Chuckwagon Cafe
By now you've likely worked up an appetite, so it's probably time to stop for lunch.
When traveling, it's generally a good idea to try to eat whatever's local. In Alberta, that's gonna be beef — and it's gonna be good beef.
The unpretentious and longstanding Chuckwagon Cafe in Turner Valley does serve a solid breakfast all day, but if it's your first visit and you don't order the House Burger, you are doing it wrong.
The House Burger is a house-made patty from the owner's Longview cattle, topped with grilled onions, mushrooms, bacon, mozzarella, cheddar, and Monterey Jack cheeses, mustard, relish, mayo, lettuce, and tomato. I spent two weeks in Alberta last year and ate a lot more beef than I usually do, but this was absolutely, hands-down the best of the best — and the other entries were pretty amazing, too!
The Chuckwagon Cafe open at 8AM every day and serves food until 2:30PM on the weekdays, 3:30PM on the weekends.
Eau Claire Distillery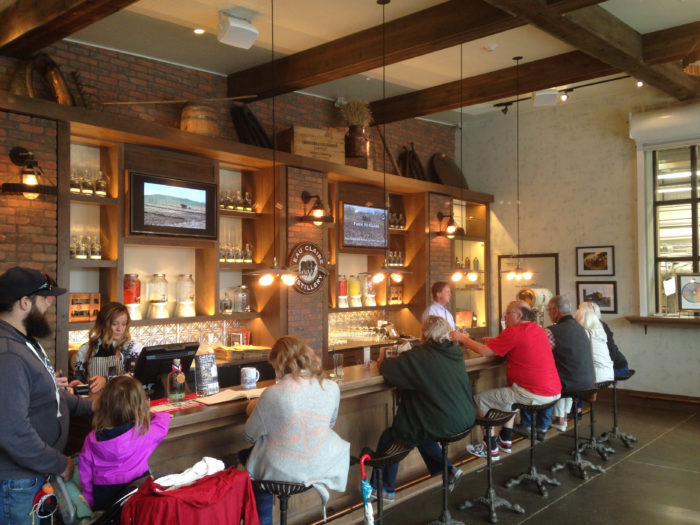 After you've totally stuffed yourself with burgers and fries (or the slightly healthier salad option), all you have to do is walk next door to the Eau Clair Distillery for a little digestif.
Housed in the circa-1929 Turner Valley Movie Theater and Dance Hall, Alberta's first craft distillery pays homage to the region's history. Elements of the theater remain inside the beautifully-renovated tasting room and distillery, and the staff will happily show you postcard's from the region's bootlegging past. Alberta had prohibition from 1916 through 1923, and like everywhere that has tried that tactic, pockets of clandestine consumption and production were rampant. Turner Valley was one of them. A nearby set of hills was known as Whiskey Ridge for its numerous stills, and a street on the north end of town became known as Whiskey Row.
Of course, by the time Alberta came to its senses about booze, the United States still had another decade of its own prohibition to get through. Which meant a lot of American tourists bought postcards like these:
Today the distillery lives the philosophy of "Farm to Glass." Almost all of the ingredients used to make Eau Claire vodka, gin, and botanical spirits are grown inside Alberta. While the whiskey is still aging in casks (they don't expect to have a batch ready for the public for some time), the vodka is exceptionally smooth and the gin is fantastic. Flavored with rosehip, coriander, and local Saskatoon berries, it's a unique and extremely local flavor that's a great sipping gin.
And they also have some experimental flavors, including some that have a distinctly SoCal taste:
A tour of the distillery includes a number of sample tastings and a cocktail of your choice from the bar.
Hours and tour availability times are seasonal, so be sure to check before you head out — and budget time to sober up before heading back to Calgary!
Tags: alberta, bar-u ranch national historic site, chuckwagon cafe, cowboy trail, eau claire distillery