Featured In
One of the advantages of being the largest State Park in the California while accounting for half (yes, half) of the California State Park system is that Anza-Borrego contains such a rich variety of geological wonders that you sometimes get the feeling that there is no end to it. In addition to the spring-fed oases at Mountain Palm Springs and Borrego Palm Canyon, botanical islands atop rugged Whale Peak, ancient sea beds and marine fossils at Split Mountain, and a bewildering granitic wilderness at Bow Willow and Rockhouse Canyons, Anza-Borrego also serves up intricately carved sandstone canyons with numerous slot canyon off-shoots and geologic mysteries.
Canyon Sin Nombre is a fine example of the latter. Here, you will find weathered sandstone cliffs interspersed with bands of igneous and metamorphic rocks. Late afternoon is a fine time to visit the canyon when the low angle of the light draws out some of the color in what at first appears to be a limited beige palette. The more adventurous-minded will enjoy exploring the slot canyons, while those with off-road, high-clearance vehicles will be able to navigate down the canyon to find some remote and isolated camping spots.
The hike begins at a dirt parking lot on the east side of Sweeney Pass Road (State Route 2). From the lot, you will descend a steep slope that becomes more gradual on the way down. This steep initial descent is an important consideration, as you will have to come back up it at the very end of your hike. On a hot afternoon, this ascent on the return trip could be a bit of trouble.
Continue walking along a broad slope that descends to a wash, which narrows as it approaches the entrance of the canyon. Along the way, you will notice some of the intricate carving caused by monsoonal flooding over soft sandstone in the hills to your left. These hills are part of the eastern boundary of a vast region of shallow canyonlands that produce a number of fantastic showcases for geologic action and erosion. This heavily-faulted region includes the Carrizo Badlands, Split Mountain, the Domelands, Arroyo Tapiado and its famous Mud Caves, Carrizo Creek, and the Alverson lava flows.
The sandy road you'll be traveling on gradually comes closer and closer to the entrance of the canyon proper between two large rock bodies. Both of these hills are banded with different kinds of rock, which will be a common occurrence along the way. As you pass the mouth of the canyon, the walls close in and you pass through reddish-brown and gray layers of metamorphic rock shot through with thin bands of white igneous (granitic) rock called "dikes." Not too long after this section, you will see a swirl of sedimentary rock layers in which various strata of rock have twisted inward due to movement from the nearby Elsinore Fault. I don't know much about geology, but even as a complete novice with a limited understanding, it is easy to see that some really awesome stuff is/was happening here.
After a series of sharp curves, the floor of the canyon opens up into a broader plain. At this point, the rock transitions from metamorphic and granitic rock to a mixture of soft sandstone and mudstone. Water and time have carved some of these cliffs into formations reminiscent of the area around Zabriskie Point in Death Valley. Late evening light adds a warm glow and tinge to the walls of the canyon, while smoke trees dot the sandy wash through which you walk.
About 1.3 miles into the canyon and 2.2 miles total, you will find a series of metal posts designed to prevent automobile traffic from entering what becomes a rapidly narrowing slot canyon on the left side of the canyon. Turn left here to enter the slot. The walls around you are up to 150′ tall, and at some points, this slot is only about 3 feet wide. It is possible to scramble up this slot canyon to the upper rim of Canyon Sin Nombre, but this should be reserved for those with more confidence in their climbing ability than I have. The walls of the canyon are very soft sandstone and footholds can easily come loose. Additionally, the upper reach of the slot is nearly vertical, which is a sketchy proposition for the casual hiker.
This marks the final destination for this particular hike. From here, you have the option of returning to the start by retracing your steps to the parking area. Or, you can continue down canyon and follow the many twists and turns before it merges near the entrance to Arroyo Tapiado and Arroyo Seco del Diablo.
If Canyon Sin Nombre has any drawbacks, it is that the canyon receives a large amount of vehicle traffic from off-road enthusiasts. While we in no way question their rights to enjoy the canyon in their own safe and responsible way, you can expect to have to step off of the dirt road frequently as vehicles make their laborious way through the canyon, breaking the silence and leaving a whiff of exhaust in their wakes. This should not deter you from visiting the canyon, as this is as beautiful of a place as the low deserts have to offer.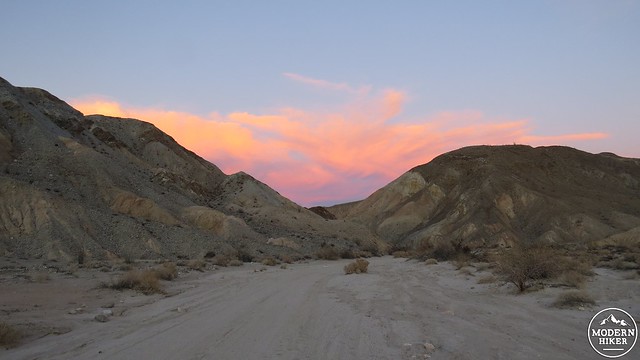 We would also like to note that, while you can camp no further than a car's length away from the road, you MUST bring a metal container to hold your fire, should you decide to camp here. You will also need to pack out your ash. The scarring from a fire burning in an illegal fire ring takes years to disappear, which mars the natural scenery and damages the environment. While here, we destroyed an illegal fire ring and scattered the ashes as broadly as possible to discourage this sort of thing. Please do not contribute to the gradual diminishment of the desert's natural beauty by burning illegal fires and leaving behind waste.
Browse all 19 images
Trail Conditions
The trail occurs entirely on sandy dirt roads. There are no junctions, and it is very difficult to stray from the road. The one exception is a narrow slot canyon at the end of this track, wherein the trail disappears and your only option for moving forward is to climb.
Camping Info
As is the case in much of Anza-Borrego Desert State Park, you can camp anywhere off of the road, provided you are no more than a car's length away. You will also need to burn your wood in a metal container so as not to damage the habitat. If you are looking for a more developed campground, nearby Bow Willow Campground is an excellent option. No reservations, but there is a $15 fee per night.
How to get there
From San Diego, take Interstate 8 east toward El Centro. Exit and turn left on State Route 2, which is variously called Imperial Highway and Sweeney Pass Road, depending on which county you are in. Follow SR-2 for 13 miles until you reach the Canyon Sin Nombre parking area on the right hand side.